The default answer to a long gun for home or self-defense has become the AR-15. For that service it may have even surpassed the shotgun in popularity. But there's another long gun that deserves serious consideration for personal protection. It's the gun that won the west—the lever-action rifle. 
Many modern shooters look at lever guns as antiquated contraptions belonging on the mantle above the fireplace, or as guns only used by old-timers and first-time hunters. They discount the fact that a lever-action rifle can deliver a reasonably fast rate of fire and that it is the only rifle action that can be loaded or topped off without disabling the gun or removing the ammunition source. And, lever-action rifles are offered in a variety of cartridges suitable for self-defense from two- and even the most heinous of four-legged predators. Finally, the lever-action rifle does not run into the same restrictions imposed on semi-automatic rifles by many jurisdictions.
I have several lever-guns I use frequently. In fact, my only dangerous game rifle is a Marlin 1895 chambered for the .45-70 Gov't. However, I wanted a lever-gun dedicated to the defense of my home; defense from potential home invasions, rioting, rabid critters, and even the occasional black bear that wanders onto my property. After a long look at the currently available commercial options, I settled on the Marlin 1894 CSBL.
This rifle is chambered for the .357 Magnum, has a 16.5-inch barrel, measures less than a yard long, and weighs in at 6.5 pounds. It's also built of stainless steel, has a laminated hardwood stock and a WILD-West Guns big loop lever, and it comes out of the box with an XS Sights Lever Rail. The tubular magazine holds eight rounds of .357 Magnum and the rifle will also fire .38 Special ammunition. The suggested retail price is $1,214.64.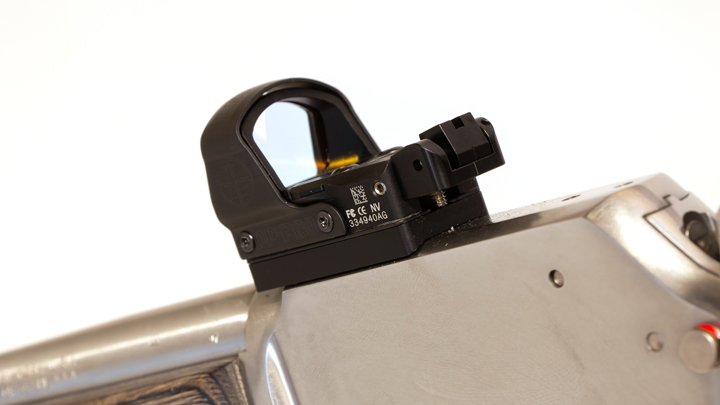 As it comes, it's reasonably configured for personal protection. However, I wanted to tweak the rifle to better suit my needs. I'm a solid fan of XS Sights but I wanted to run a compact reflex sight on this rifle and the obvious choice seemed to be the 
Leupold Delta Point Pro
. This was partly because of Leupold quality, partly because its excellent operational interface and partly because Leupold offers a mount to attach this sight to the Marlin.


But, I also wanted a redundant sight system in case the reflex sight failed. (All electronic devices have a potential for failure.) To orchestrate this, I added the rear sight accessory to the Delta Point Pro. Because this notched rear sight rides higher than the factory rear sight, a taller front sight was needed. I replaced the factory front sight with an XS Sights' dove-tail base and a 0.70-inch white-striped front blade. It looks a bit like a shark fin on the barrel but works perfectly for co-witnessing. Additionally, should a perpetrator grab the rifle's muzzle, he'll let go when I jerk that big blade through the palm of his hand.
The next addition was a light mount from
Hill People Gear
. This unit retails for only $110 and allows for the easy attachment of a short section of Picatinny rail, which in turn permits a compact, high intensity light to be mounted to the rifle. I used a
Crimson Trace
unit I had on hand but the options here are endless.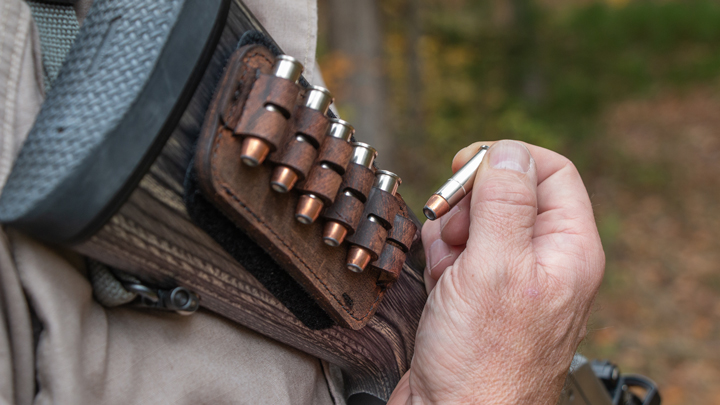 The next issue needing addressed was ammunition. Eight rounds make for a decent combat load for home defense, but I wanted easy access to more ammunition and the ability to switch to a different load if necessary. As with a tube-fed shotgun, this is just as easy to do with a lever gun, you just shove the different load into the magazine tube and cycle the action. You could easily go from an anti-personnel load to a bear-stopping load in seconds. To allow for this I installed a Versacarry AmmoCaddy on the buttstock. It attaches with a sticky, industrial strength Velcro pad, and will hold six additional cartridges.
Finally, just as a handgun needs a holster, a long gun needs a sling, and a long gun for personal protection needs a sling that will allow a smooth transition to a handgun. To facilitate this, I attached a Blue Force tactical web sling that allows the Marlin to be carried cross-body and hand free.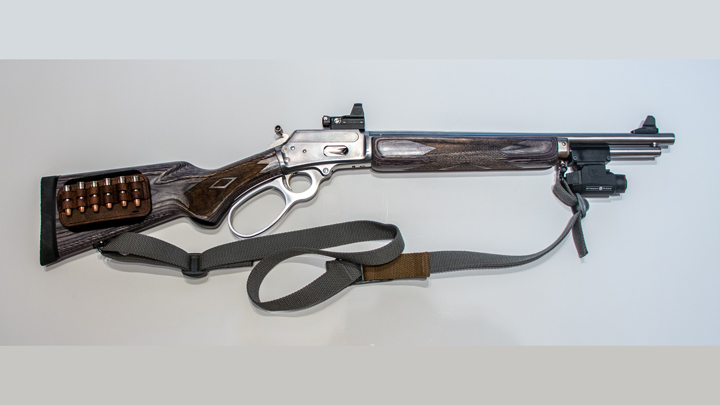 What can I do with this rifle? Well, at 100 yards I can put five rounds on a torso target in less than eight seconds. At 50 yards I can do it in less than six seconds, and at 10 yards it only takes three seconds. It's comfortable to shoot, can deliver all the necessary power I need, and with savvy ammo selection it is suitable for home defense, bear defense, perimeter security and even hunting. (The 130 pounds of pork in my freezer delivered by a single bullet is testament to that.)
The rifle can also share ammunition with my Ruger LCR, and it's never a bad thing for your long gun and handgun to feed out of the same trough. What .357 Magnum loads are best out of a .357 Magnum rifle? Well, that's a topic for another time and the answer is not as simple as you might think.