by
Evan Brune, Associate Editor, Shooting Illustrated
posted on September 19, 2016
Support NRA Shooting Illustrated
DONATE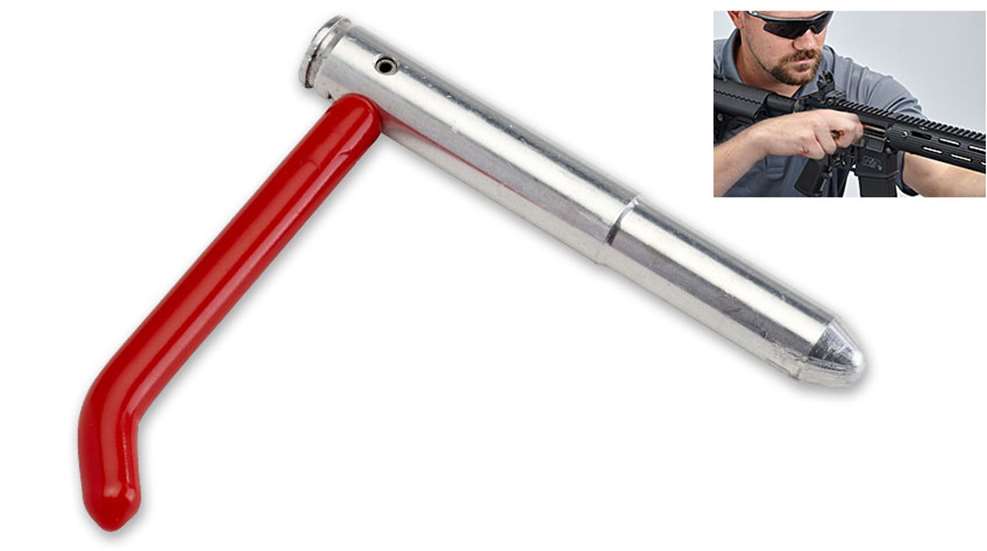 The Hornady Rapid Rack gives shooters a new option for loading their AR-15, AR-10 or magazine-fed semiautomatic shotgun.
The Rapid Rack is an empty chamber indicator and charge-assist device that is inserted into a clear chamber on an AR-style rifle. Once inserted, the bolt is closed on the rear of the device, which is designed with the same rim profile as the firearm's cartridge chambering.
After closing the bolt, shooters can then insert a loaded magazine into the rifle. However, with the Rapid Rack in place, there is no round inserted into the chamber, and the firearm is indicated safe with a bright red handle outside of the ejection port.
This bright-red handle acts as a chamber flag and also works as a handle for the Rapid Rack's titular feature.

With a single rack of the handle, the firearm can go from an indicated safe status to ready-to-fire. As the handle is pulled, the bolt carrier is retracted to the rear of the receiver. Once the nose of the Rapid Rack clears the rear of the chamber, the device flies out of the ejection port.
Once the Rapid Rack clears the receiver, the bolt carrier closes on the next available round on the already-inserted magazine. In one smooth motion, the rifle is ready to fire.
The Rapid Rack makes it easy for those who prefer to keep an empty chamber with an inserted magazine. Instead of reaching for the charging handle, which may not be immediately accessible, the Rapid Rack offers a fast and easy solution to get loaded quickly without compromising safety.
In particular, the Rapid Rack is law enforcement-approved and is an option for patrol officers who prefer to carry a rifle with an empty chamber. This tool allows them to respond to situations without additional time loss.
The Rapid Rack is available for AR-platform rifles in 5.56 NATO and 7.62 NATO and is also available in 12-gauge for tube-fed and magazine-fed shotguns. The suggested retail price on the Rapid Rack is $12.48 for rifle calibers and $14.15 for 12-gauge.