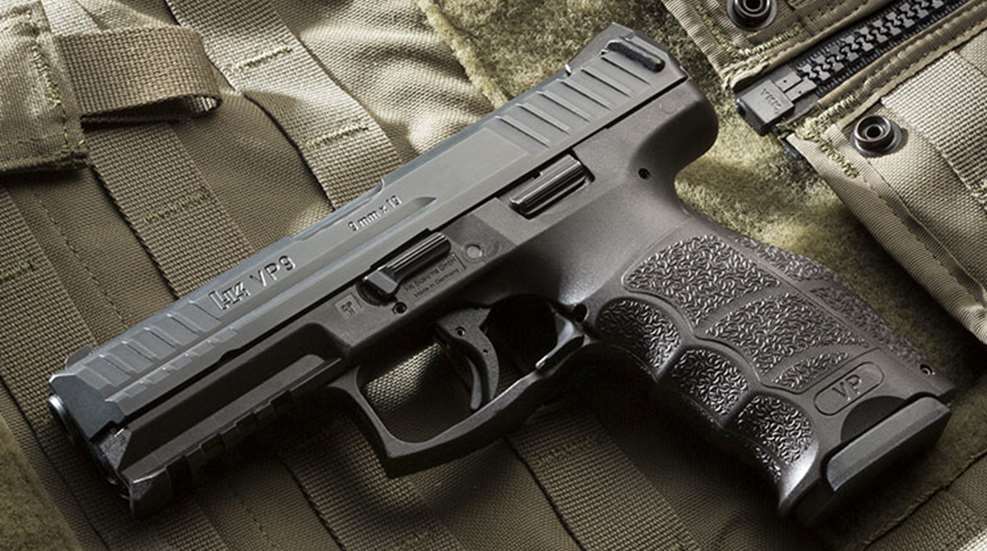 "If it ain't broke, don't fix it." That little bromide has kept more than one self-proclaimed engineer from screwing up a satisfactory product. On the other hand, it may be what put the American auto industry in such excellent shape during the 1980s.
The polymer-frame, striker-fired, semi-automatic pistol that came to the fore in that same decade has, for 30 years, typified a product that "ain't broke." It ain't broke, hasn't been broke and is damn-near impossible to break. Such is the beauty of this type of pistol. Yet, declaring it perfect leaves no room for improvement, no place for innovation.
Well, Heckler & Koch, those vaunted masters of German firearm design, have been at it again, improving what supposedly could not be improved. It may seem H&K is late to the party but, in fact, the company set up the chairs.
Trailblazing, Then Falling Back
It was H&K that pioneered polymer-frame handguns with the VP70, and striker-fired pistols with the VP70 and squeeze-cocking P7. However, when polymer-frame, striker-fired pistols really impacted the marketplace, it was Glock leading the charge, changing both the civilian and law-enforcement markets, compelling established gun companies to offer similar designs. Oh, Heckler & Koch seemed to do some half-stepping, introducing gunswith optional mechanisms with striker-firing "advantages" (consistent trigger pulls), but with double-action and DAO hammers. Such variety was rather confusing. The pistols were well made and had some interesting features. Yet, they often seemed neither fish nor fowl and didn't otherwise distinguish themselves except by their high price.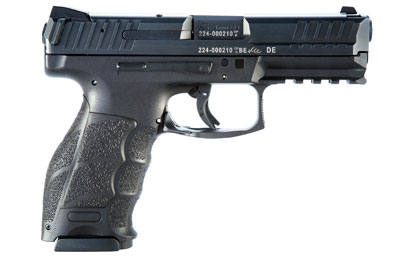 And that brought us to the hypothetical problem a new H&K, striker-fired pistol would face in this particular market. The question would be: Why opt for a "spendy" H&K pistol if you didn't have to? It'd be like purchasing a high-end German sports car for making your daily commute when a solid, no-frills sedan would get the job done. That analogy is especially apropos given the reliable, predictable utility of the guns in the striker-fired, polymer-frame market. They're all lightweight, low-maintenance, simple to operate and go bang when you pull the trigger. Why pay a steep premium for a luxury marque?
Eventually, a trend emerged for virtually every other company approaching that market. Each would introduce a gun with one or two features not commonly available from other companies, and it would trumpet these features as "essential," and "ground-breaking." Some were nice, others dubious, and none were really crucial.
So, is the basic polymer-frame,  striker-fired, DAO pistol really beyond significant improvement?
While everyone else has been struggling to answer that question, the folks at H&K have finally responded with a loud and authoritative "Nein!"
Playing Possum
Built in the company's factory in Oberndorf, Germany, the new VP9 is a comprehensive reimagining of what this type of pistol can be. During its four years of development, virtually every aspect of the striker-fired, semi-automatic handgun was examined, critiqued and subsequently altered for the better. To be sure, some of the improvements are merely incorporations of features or design elements introduced by competitors struggling to catch the market leader these past several years, but many of them are H&K generated tweaks that help move the VP9 to the front of the pack.
Itemized Improvements
Niceties are evident from the muzzle to the backstrap. The slide and dustcover at the front are swept back from the muzzle to allow easy reholstering. Such may seem like a little thing on paper, but when gearing up, either on the firing line or on the street, it makes a considerable and welcome difference.
On the underside of the dustcover is a mil-spec 1913 rail with multiple attachment points. It can accommodate a variety of lights and lasers weighing up to 5.6 ounces, positioned as the user prefers.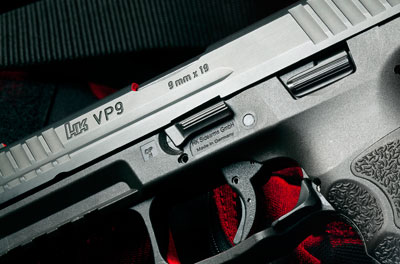 The take-down lever makes disassembly very simple. Unload the pistol, retract the slide and then pull the lever down and push the slide forward and off the frame.
The slide-release lever on the pistol's left side is long and recessed, making it easy to activate, but difficult to snag. Another lever is on the right side. It's not in a recess, but is low-profile and snag-resistant, too. It and the dual magazine-release levers mean the VP9 is totally ambidextrous. The magazine-release levers are similar to those on Walther pistols. Instead of pushing in with your thumb, you apply downward pressure—a much more natural movement for the thumb when you have a firing grip on the handgun. The magazine releases blend with the sides of the big, roomy trigger guard, the front of which is textured for the support hand index finger, for those who prefer such a hold.
Near the rear of the slide is one of the simpler, yet more revelatory enhancements. The VP9 has subtle but distinct ears that allow you to quickly and easily manipulate the slide. H&K terms them charging supports. You probably won't notice them with a cursory visual examination of the pistol. However, the moment you grasp the slide, there they are, combining with the cocking serrations to offer perfect purchase and excellent leverage for working the slide and locking it to the rear.
At the very back of the slide is a cocking indicator. It consists of a cutout through which a red pin is visible only when the pistol is cocked. I've seen cocking indicators on other DAO pistols and still question their utility. Fortunately, the VP9 also has a loaded-chamber indicator as part of the extractor, which is something that could be quite useful.
Instead of offering a mere textured integral surface, the grip frame on the VP9 has interchangeable plastic inserts of varying thickness. These slide into place on the side panels and backstrap to contour the semi-auto to the purchaser's hand. The pistol comes with six side-panel inserts (three left and three right) in small, medium and large, as well as three backstrap inserts, also in small, medium and large.
The star of the show, though, is the trigger. Simply put, it doesn't feel like a DAO trigger. To most shooters, that's a good thing. What it feels like is a two-stage trigger with a moderate take-up. That take-up is a smooth, easy arc, and it is followed by abrupt resistance that gives way to a sudden, crisp and distinct break. It is a break as clean as—dare I say it—a service-grade, single-action pistol. It isn't just better than the usual DAO trigger pull; it's an order of magnitude better.
How It Shoots
Handling the VP9 on the firing line is a rather pleasant experience. Once the optimal combination of inserts is achieved, the pistol feels terrific in the hand. The controls are easy to reach and activate, and the trigger is a welcome departure from what we've come to expect in a DAO unit.
Accuracy is solid, but unremarkable. This is a duty gun and performs like it, with the emphasis on reliability rather than tack-driving capability.
Oh, there are some less-than-ideal aspects to the pistol once the "gee-whiz" wears off. The VP9 has a high bore axis. The consequent result is muzzle flip, which is merely noticeable with conventional ammo, but can be pronounced with +P fodder. Also, on our sample, the slide had a marked tendency to close on its own when a fresh magazine was smartly seated.
Tough To Beat
Never really one to subscribe to the idea of perfection in a pistol, I have been carrying a heavily customized polymer-frame, striker-fired handgun for about 15 years. However, the stock VP9 seems as good or better. The controls are larger and easier to operate, and function more positively. Also, H&K's new handgun is ambidextrous, while my pistol is not. My semi-auto, an older model, has a rail with a single attachment point, unlike the multiple points on the H&K's 1913-style rail. The VP9's trigger, though technically of a heavier pull weight than my pistol's aftermarket, 4-pound unit, actually seems lighter. Moreover, it doesn't feel mushy and is far more predictable than that of my own handgun.
The real eye-opener is the grip frame. The grip on my carry pistol was custom recontoured to an impression of my hand. Nonetheless, by the time I settled on a combination of grip inserts for the H&K, the VP9 fit my hand at least as well (and maybe a bit better) than my customized piece.
The Real Breakthrough
Returning to our earlier automobile analogy, what if the luxury sports car were priced just slightly more than the ubiquitous sedan?
Well, the VP9's most notable feature may be one made out of paper—its $719 price tag.
Does that change things? It certainly changes the question. It's gone from "Why buy it?" to "Why not buy it?" If you can have a pistol that's as feature-packed as any on the market, that offers typical striker-fired, DAO reliability and all the virtues of polymer, and you can have the prestige and pride of ownership that comes with the luxury brand, shouldn't you?
Specifications
Manufacturer: Heckler & Koch; (706) 568-1906
Action Type: Recoil-operated, semi-automatic
Caliber: 9 mm
Capacity: 15 rounds
Frame Material: Polymer
Slide Length: 7.19 inches
Grips: Black polymer
Barrel Length: 4.09 inches
Rifling: 6 grooves; 1:9.8-inch RH twist
Sights: Three-dot, luminous, non-tritium
Trigger Pull Weight: 5 pounds, 7 ounces
Length: 7.34 inches
Width: 1.32 inchesHeight: 5.41 inches
Weight: 25.56 ounces
Accessories: Two 15-round magazines, backstrap and grip panel inserts, hard case
MSRP: $719
Shooting Results
| | | | | |
| --- | --- | --- | --- | --- |
| Load | Velocity |   | Group Size |   |
|   |   | Smallest | Largest | Average |
| Aguila 124-grain FMJ | 1039 | 2.31 | 4.31 | 3.13 |
| Hornady Critical Duty 135-grain JHP | 1024 | 2.04 | 3.36 | 2.82 |
| Winchester PDX1 Defender 147-grain JHP | 967 | 2.03 | 3.14 | 2.77 |

Velocity measured in fps at the muzzle for 10 consecutive shots with a Shooting Chrony chronograph. Temperature: 72 degrees Fahrenheit. Accuracy measured in inches for five consecutive, five-shot groups fired with support at 25 yards.