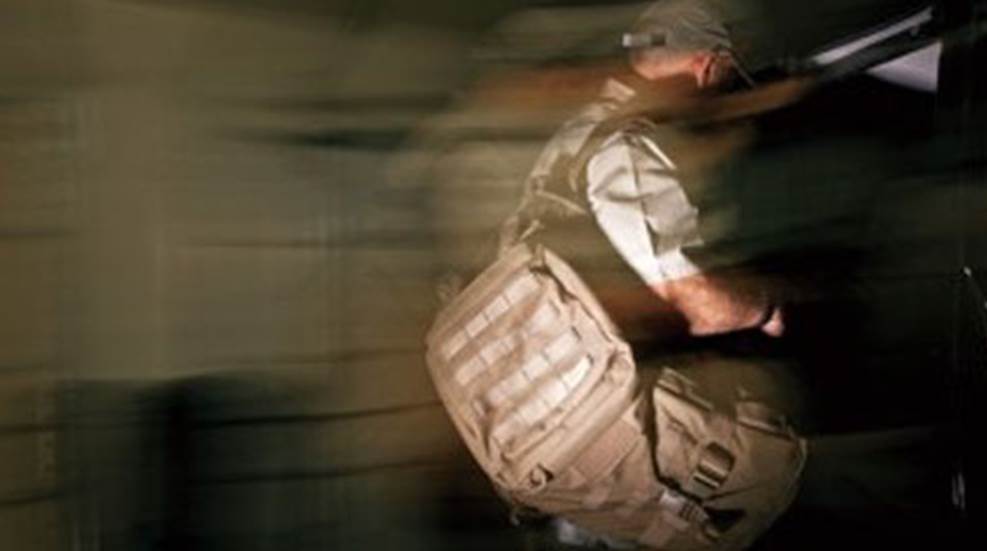 For a 90-second bug-out I think you should have three tiers of gear ready and you should keep them all close to your exit door. The problem is you never know what you are dealing with. It could be an emergency lasting a few days, a few weeks or the rest of your life. The first tier is only one bag, but it's the most important. It's for when things are happening too fast and/or you are alone. It's something you can hook with your arm and grab on the way out the door without wasting a second and carry on your back if you can't use a vehicle. This bag is primarily designed for a short-term stay, to get you through the next couple of days.
The second tier is for when you have a couple of extra seconds and maybe another set of hands. It has more of what tier one contains. Think of it as an addition to the first bag—not instead of it. This gear will help make an extended stay away from home safer.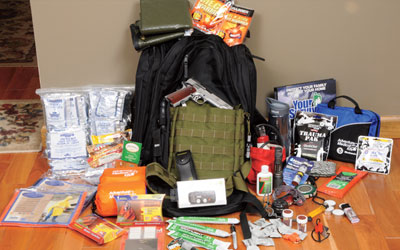 The bag(s) in the third tier are going to be big and heavy. They are for when there is enough help and perhaps an extra 30 seconds to load up. It has gear that helps provide comfort as well as survival.
Some of this is gear you use for other things, so it's best to get in the habit of using your bug-out bags as a storage area after a camping, hunting or shooting trip. Everything needs to be in the bag so you can grab and go. There is not enough time to search for things or load a lot of smaller bags and boxes. Also, make sure your gear is kept in good working order and that the consumable products, like fuel and food, are replenished.
My gotta-go-now bag is a backpack. You cannot add anything you need once you bug out, so it's stuffed full and heavy because I plan to use a vehicle. But, if I have to hump it on my back, I can always remove things and leave them behind.
The biggest, toughest backpack I could find turned out to be the Blackhawk S.O.F. Ruck Pack Kit. This pack has 6,000 cubic inches of capacity and 10 pockets. Best of all, it is almost indestructible. With the frame and straps included, it's comfortable to carry with a heavy load. What I put in the pack started as a commercial survival kit to which I added items and modified. The rugged, multi-pocket backpack has 36 Mainstay 4-ounce foil bags of drinking water with a 5-year shelf life. They add a lot of the weight and if I am on foot, I would jettison them and depend on my water filter. I will note that water is common where I live. If you are in a place where it is not, adjust the strategy. There are two 3,600-calorie blocks of Mainstay 5-year shelf life, Emergency Food Rations. In addition, I added a headlamp with extra batteries, a crank-powered emergency AM/FM/NOAA radio, a Bushnell BackTrack GPS and a Leatherman tool. Also included are an AMK Weekender first-aid kit; a one-liter water bottle; two AMK emergency blankets; two Thermo-Lite bivvy sacks; two vinyl ponchos and four light sticks. There are also waterproof matches and fire starters.
I added some antibiotics, pain killers and a few other medical supplies recommended by a pharmacist and prescribed by my doctor. A couple of packages of QuikClot will deal with any major bleeding injuries.
In one side pocket, I put a water filter and some water-purification tablets. I added a small roll of parachute cord and a SureFire flashlight with extra batteries. There's also insect repellent, because without it, on some nights death would be welcome. I added a few Grabber-brand body warmer heat packs and some backpacker's candles for light and to help start a fire. Fire is important, so I included a magnesium fire starter and a couple of disposable lighters.
Several protein and granola bars are there, too. I use these bars on big-game hunts and they can keep you going when food is hard to find. Rotate them every few months to keep them fresh. I also have a folding stove with heat tablets to help heat water. One tablet can heat a cup of water in about 5 minutes. You can make a pan out of a soda can. Remember, your mental state is very important to survival, too. A few foil packets of coffee or tea can help boost morale. There is a travel pack of baby wipes and a small backpacker's bottle of liquid soap for personal hygiene.
I also added a full-size Space Blanket. This handy product has made my life more comfortable on a lot of wilderness trips and perhaps even saved it once. It's a very good idea to have some money in there, too. If you need to leave in a hurry, you may not have your wallet or purse, and chances are you will need some cash. In the open, center-pocket section of the backpack, where I can access it quickly, I have another small bag.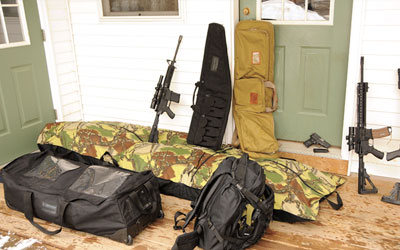 It contains a Smith & Wesson 1911 .45 ACP pistol, four magazines and 100 rounds of ammo. I also have a holster and a couple of mag holders so I can transfer the pistol to my belt. There is a SOG Seal Pup fixed-blade knife attached to the bag, which can also transfer to my belt, because a knife is the best survival tool you can have.The S.O.F. Ruck weighs 60 pounds with all this gear, but I can still easily hook an arm through one of its straps on my way out the door.
I keep a soft case with an AR-15 rifle and four loaded, 30-round magazines beside this bag. If possible, I will grab it as well, because a long gun increases your odds in any survival situation. Just be aware a long gun is much more visible and can bring unwanted attention.
The second tier of bug-out gear uses a bigger bag, one that has more gear, but will require a vehicle for transport. It contains an Adventure Medical Kits Expedition first-aid
kit. Designed for large parties on extended backcountry wilderness trips, this kit has advanced first-aid gear. Some of the gear should only be used by people with EMT training. It's a good idea to have advanced first-aid training anyway, but even if you don't, having this kit gives you a better chance of surviving. The only thing I would add is a suture kit. Bad cuts need attention, and if you're lucky someone in your party will know the proper procedure. If possible, I would grab this kit in conjunction with my first-tier bug-out bag as my next choice after the rifle.
This bag also contains some MREs, and some freeze-dried backpacker meals like those from Hi Mountain. There are also more protein bars and other survival food like ramen noodles, freeze-dried soup and other add-hot-water foods. I also have some tuna in lightweight foil packs and some bags of trail mix. These store well, weigh little and will keep you going a long time. I rotate the food every six months and use them for lunch. I also included a backpacker's mess kit and Primus OmniFuel stove that can burn most any fuel from butane to jet fuel, including kerosene, gasoline or diesel fuel. The bag also contains a collapsible 5-gallon water jug. Don't neglect little necessities like instant coffee, toilet paper, soap, several extra toothbrushes, tooth paste and baby wipes. My bag includes more full-size Space Blankets, too.
The bag has three extra SureFire flashlights with batteries and a couple of small, battery-powered lanterns. You should also have a small gun-cleaning kit and a toolkit to perform simple repairs on the guns and gear. A binocular is a good idea as well. It's always best to spot trouble before it spots you. There is also room for another long gun—an AR-15 or tactical shotgun—along with some ammo and another handgun with ammo.
This all fits in a Blackhawk A.L.E.R.T. 5 bag, which has wheels and a pull handle. One person can load it in a vehicle and it will fit in the trunk of most cars. Another good bag for this purpose would be an Uncle Mike's Trunk Organizer. It does not have wheels and is harder for a single person to transport and load, but is much less expensive. If you feel safer keeping the guns under lock and key, consider a gunsafe near the door.
Each adult in your group should have a handgun. I also think every adult should have access to a long gun, rifle or shotgun, too. It's easiest if all the guns are the same so ammunition and magazines are interchangeable. Brownells' Three-Gun Competition Case is perfect for storing them, even inside the safe. This soft bag has compartments capable of holding two long guns, a pistol, spare magazines and some ammo. It has handles as well as backpack straps, so you can open the safe, grab it and go. I don't believe you can have too much ammo, particularly if you are in a vehicle where weight is not an issue. Pack a minimum of 200 rounds for each gun, but more is better, because if this problem goes on longer than expected, ammunition will be very good currency—you could trade it at a premium for food or medical supplies.
Any shotguns should be 12 gauge, because it will be much easier to find ammo if the crisis drags on for longer than expected. Similarly, the rifles should be a NATO chambering. Civilians are not restrained on bullet selection like the military, so with good bullets the .223 Rem. will serve well for most of your survival needs. If things go bad enough that you must forage for food, the .223 Rem. will work, even on big game with proper bullet placement. So it makes sense to pack a few boxes of ammo with solid bullets like Barnes' TSX.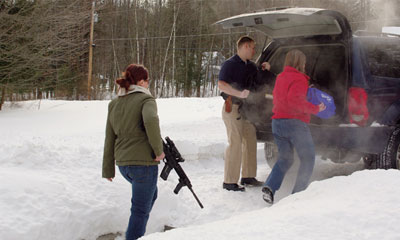 Every adult member of the group should carry a handgun at all times. The best advice is to use your carry gun, since that's what you know best. I suspect most of us don't carry our handguns while at home, so you need to store them someplace. Why not get in the habit of storing your carry gun with your bug-out gear? It's right by the door anyway, so it makes sense. Just have extra ammo and some spare magazines in the bag. Again, more common cartridges make more sense—it's going to be easier to find 9 mm or .45 ACP ammo than .38 Super.
The short-term goal is to survive the day—perhaps the next few days. The second objective is, after the immediate crisis has been weathered, to survive until you can go home. That might be a few hours, a few days or even a few months. (You should also have a long-term plan just in case things are permanently FUBAR, but that's another article.)
The third tier of gear is for a longer stay. It has camping gear, including sleeping bags and mats for each family member. Other good items to include are a small tent, a couple of Coleman lanterns and some fuel, along with pots and pans for cooking, plates, cups and silverware. I even have a Coleman portable water heater.
Any camping-supply store will have what you need and will help you with ideas. Most of this gear (except the water heater) will fit into a Buck Bag, which was developed for hunters to transport deer. But, this big, long bag is perfect for stuffing sleeping bags, sleep pads, tents and other bulky gear. It is 8.5 feet long and can be pulled for short distances or carried like a stretcher by two people. It consolidates a lot of gear in one place. The downside of a giant bag is you will need a truck or SUV to transport it.
The key is planning. The more gear you bring, the more comfortable you will be and perhaps the better your chances of survival. But you need to be able to load it and bug out in 90 seconds. So, plan ahead, drill a few times and take a few practice camping trips to find any problems you didn't foresee. Then pray you never need to use any of it.