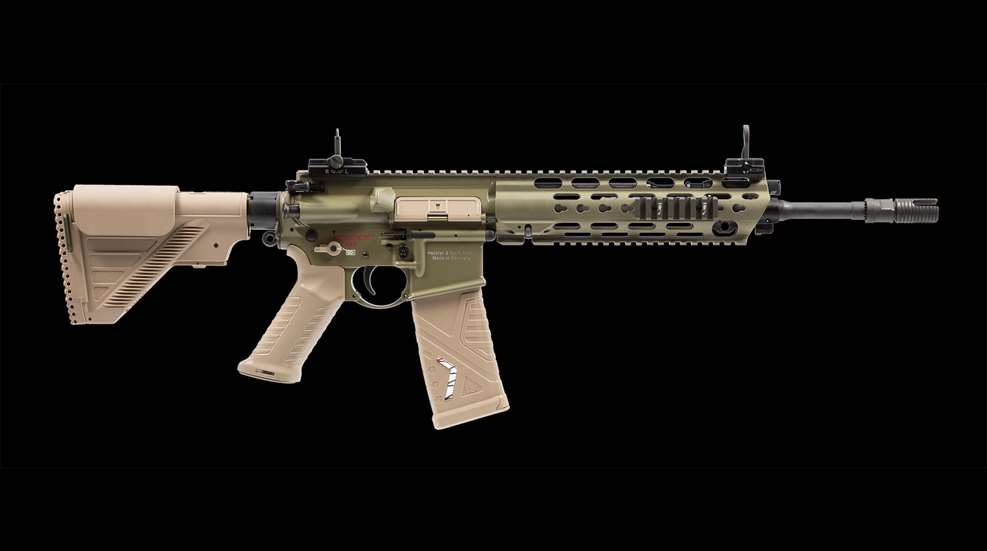 Bundeswehr, the Federal Republic of Germany's armed forces, will begin receiving shipments of two variants of the Heckler & Koch HK416A8 rifle sometime in 2024. The nation's military has officially designated the models G95A1 and G95KA1, which will wear 16.5- and 14-inch barrels, respectively. The country's special forces already field a 14.5-inch barreled version.
The decision to make the gun standard issue was originally made in spring of 2021, although an official request for a review filed by a company competing for the contract resulted in the delay. On Dec. 14 a press release noted the Budget Committee of the German Bundestag released funds for the purchase, one of several upgrades the nation is making to its military hardware. "The 'Bundeswehr Assault Rifle System'—a new assault rifle based on the HK416 A8 manufactured by Heckler and Koch—is intended to replace the G36 as the standard rifle of the Bundeswehr," it explains. "The Bundeswehr can now procure 118,718 new assault rifles for around 209 million euros."
Controversy swirled over fielding a standard issue rifle since 2020, when C.G. Haenel was awarded a contract to supply the nation's military with MK556s. Heckler & Koch, at that time, filed a protest claiming some parts of that design infringed on its patents.
The HK416 is chambered in 5.56 NATO and employs the same proprietary short-stroke, gas piston system of operation employed by the G36. The carbine was first introduced in 2004 with a fit and function virtually identical to that of the M4, it didn't take long for the U.S. military to take note of its performance. It was issued to U.S. Delta Forces in 2004.
The German military version will vary slightly from standard models, with a height adjustable cheekpiece on the stock and different pistol grip profile. A slightly enlarged trigger guard will also minimize problems when wearing the gloves and outwear dictate by Europe's often brutal winters.