The AR aftermarket offers of a mind-boggling array of component options. Many of these add-ons do a great job of helping us transform the basic black rifle into an ergonomic, accurate and practical firearm. Unfortunately, more than a few shoddy components likewise proliferate the parts world, complicating the lives of shooters and gunsmiths alike. Freefloat tubes are a prime example, and a number of cheap and expensive models have caused me enough trouble that I routinely avoid them at all costs. The good news is the freefloat tube market recently got another addition in the "good kit" category by way of the hard-working folks at Geissele Automatics. The company's Super Modular Rail (SMR) models offer us free-floaters supreme comfort and performance through good ergonomics and rock-solid manufacturing. Make no mistake here; these are high-end freefloat tubes that deliver even higher-end performance.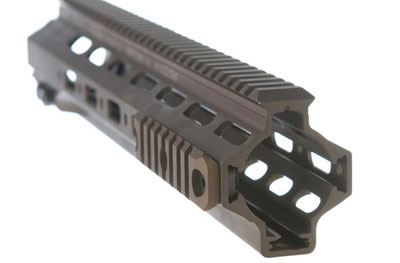 All freefloat tubes in the SMR family are smooth on the sides and bottom, having continuous top rails that correctly continue the slot spacing of flat top upper receivers (not the case with all freefloat tube designs). Add-on rail kits allow the user to attach short- and medium-length rail sections wherever desired for ancillary equipment like lights, lasers, bipods and grips. Sans rails, the SMRs feel very good in hand, and thanks to their smooth, quadrant-shaped cross sections, they provide contours enabling excellent gripping with the support hand. The MKI rail (MSRP $345 to $400) uses threaded steel inserts for rail section attachment. This is by far the easiest form of rail modularity, and unlike freefloat tubes with threads tapped directly into their extruded aluminum bodies, the MKI's inserts will not strip out. The MKI's side and bottom quadrants are rounded, which is both comfortable in hand and conducive to solid rail interface. The latter is enhanced by the undersides of the add-on rails, which are machined to match those rounded quadrants.
The MKII family (MSRP $270 to $295) uses threaded slide nuts to anchor the flat-bottomed add-on rail sections through pre-drilled holes in the freefloat tubes' sides. Geissele eliminated the familiar problem of having to fish screws and loose backer nuts into position by machining channels into the MKIIs that accept the slide nuts. The result is a captive track that the makes positioning of the nuts fast and easy.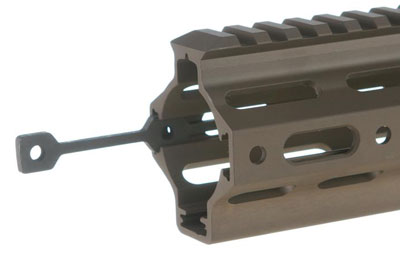 The MKI and MKII are currently available in 13- and 15-inch lengths, though shorter models may be available in the future. The HK416/MR556 models (MSRP $350 to $400) are available in 10.5- and 14.5-inch variants.
Geissele's SMR family uses a low-profile barrel nut design that does not require timing around the AR's gas tube or operating rod. Instead, you simply torque the nut properly and move on. The top/rear of each SMR features anti-rotation tabs that slip snugly around a forged upper receiver's flat top surface. The main attachment to the barrel nut comes via two through-bolts that lock the tube into position using the barrel nut's corresponding grooves. Bolts on the MK1 can be tightened with a 12-point socket driver, but the internal cross slots also allow a bolt's locking lug to be used in a pinch. The bolt carrier, acting as a handle, will provide adequate leverage to get these small bolts tight. Though my MK1's bolts have never come loose, this is a great way to take care of them in the field. The MK2's bolts have standard socket-head, cap screws that are tightened with the included hex driver.
Speaking of installation, Geissele Automatics includes a very smartly engineered barrel nut wrench with each tube. Not only does it help solidly install their nut, it also has a separate toothed section to remove stock and many other common barrel-nut designs. The tool mounts to a 3/8-inch drive torque wrench, and it will not destroy the barrel nut as do so many cheap ones models.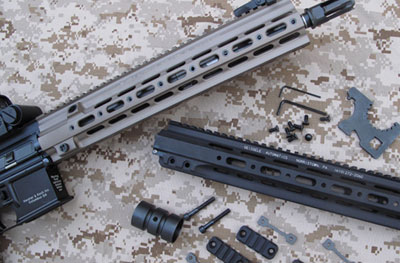 A key feature of the SMR family is they are easy to remove, unlike so many other available models. I cringe when I contemplate having to remove some of the tubes I have used in the past because of the copious amounts of thread-locking compound used to keep them tight and/or their complex mounting hardware, which required much trial and error to install correctly. Geissele's SMRs can be installed and removed quickly and repeatedly without wearing out or being damaged in the process. Oh, how I long for the day when all aftermarket components are this easy to work with…
I am admittedly very picky about freefloat tubes. I have a hard time spending a large chunk of money on something that once installed, becomes more of a comfort and convenience feature than anything else—on the surface anyway. But, I have to admit Geissele Automatics has hit a home run with its Super Modular Rail family. The engineering genius owner Bill Geissele put into these tubes is superseded only by their quality. These freefloat tubes are made to outlast the user by a long shot, and I have no doubt that many years after I am gone, whoever has inherited my ARs will be enjoying their SMRs' solid performance.