by
Evan Brune, Associate Editor, Shooting Illustrated
posted on June 7, 2017
Support NRA Shooting Illustrated
DONATE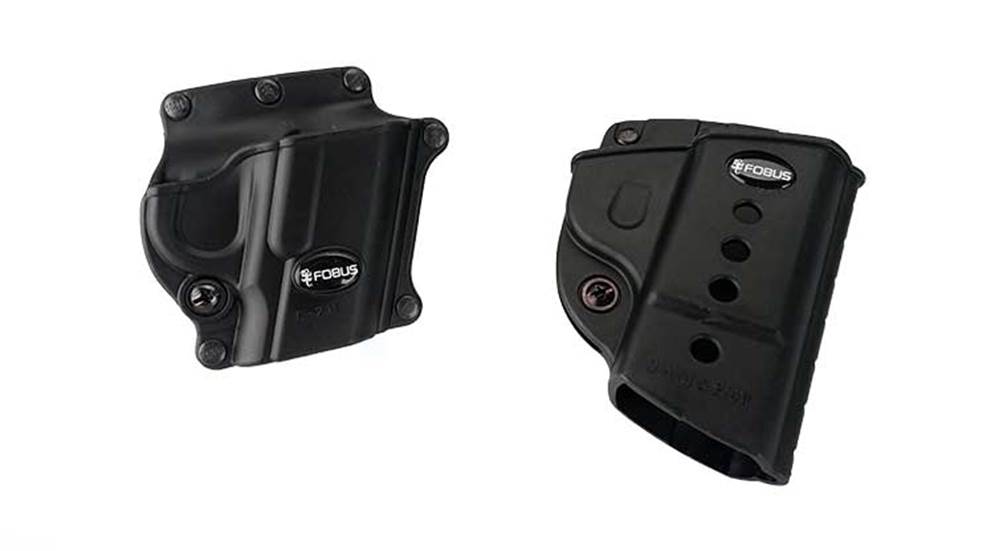 Fobus
led the way in the design and manufacturing of injection-molded polymer holsters, having launched in 1978 and produced holsters for the famed Israeli military and the company's other security forces. The company offers a number of inexpensive outside-the-waistband holster options, including its roto-belt and belt models shown here.
The company's holster is constructed using high-density polymer and features the same injection-molded construction that the company made its name on. The holster itself features specially designed contours that cannot be found in leather and other materials, allowing for secure passive retention and an added level of durability.
The holsters themselves weigh in at only two ounces, making them one of the lightest options on the market. Despite the OWB configuration, the holsters themselves can be worn tight to the belt and feature a low profile that can still be concealed with ease. The holster feature extra reinforcement through the use of rivets to ensure durability. A rubberized paddle is also available to give users an added level of stability.
Fobus offers a number of passive-retention holster options. The company's standard holster features injection-molded construction that incorporates a slight swell around the trigger guard, which secures a holstered pistol in place, ready for use. To draw the pistol, users simply have to pull deliberately to break the retention. In the standard series, this retention feature is non-adjustable, so for improved draw, owners may have to use silicone spray inside the trigger-guard area of the holster to adjust retention.
For those looking for a more customizable option, Fobus offers its Evolution Series of holsters. These feature an adjustable retention screw that allows end users to choose the level of retention that fits their personal preferences. Simply adjust the tension screw to the desired setting.
The company also includes a number of innovative features in its OWB holster lineup. One option is the use of the company's Roto-Belt holster, which enables users to mount the holster at any angle on the belt, featuring a full 360-degree rotation. To set the draw angle, simply loosen the mounting screw on the belt loop and twist the unit to the desired draw angle.
The Fobus Standard Holster fits a wide range of pistol options, with several holsters featuring the ability to fit multiple different guns. The suggested retail price on the Standard Holster is $32.99. The Evolution Series holster, with its adjustable retention, retails at a suggested price of $38.99.