Thermal imaging has myriad uses. Walk around the outside of your home on a brisk fall day and view your windows and door frames to see where valuable heat is escaping. Pinpoint that scratch scratch sound in the wall to isolate a wayward rodent. Scan your sink's feed pipes to see if there are any slow leaks that haven't burst through seams yet. But can it be used for defense? Well, if you couple the FLIR One Personal Thermal Imager with the newest Inteliscope rifle mount, it can be used to identify an intruder's presence in complete darkness without taking your eyes off your defensive firearm.
We talk about the importance of flashlights and debate whether one's position might be given away by the use of a weapon-mounted or hand-held flashlight. We strive to strike a balance between identifying our target and maintaining operational security, while leveraging our superior knowledge of our home to our advantage. The FLIR One thermal imager allows us to view potential intruders without a light source.
With the FLIR One, it is possible to observe an intruder in complete darkness, based solely on heat differentials. The unit is capable of distinguishing gradients as small as .18 degrees Fahrenheit, meaning the slightest touch on a doorknob by an intruder will immediately be apparent. With the thermal image, it is possible to observe movement at across-the-house distances with zero ambient light, and you can even trace footprints.
Sounds like something out of science fiction, doesn't it? Thermal energy has a longer wavelength than the human eye can process, and FLIR's thermal camera captures this energy to produce an image visible to the eye. Dual cameras are used to catch the thermal gradient and overlay it with a traditional iPhone picture for a complete image that is identifiable to the human brain.
Inteliscope's new mount attaches to a standard Picatinny rail and cradles the FLIR One unit. The FLIR unit is not intended to be used as a riflescope, so it should be mounted at the three- or nine-o'clock position to be used as an accessory to optics or iron sights. The Inteliscope mount is sold separately (inteliscopes.com) with an MSRP of $129.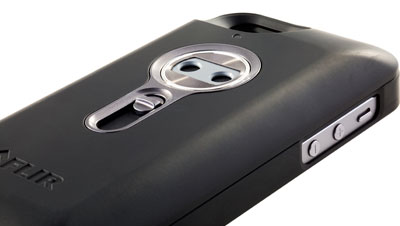 We tested the FLIR One in an informal session. The FLIR unit was able to clearly distinguish a human silhouette at ranges up to 25 yards, identifying the person posing as a threat and whether there was something in his hands. It was simple to attach to the Inteliscope and operate, and it held up to approximately 100 rounds of .223 Rem. fired through an AR-15-platform rifle without loosening the mount or impeding the operation of the FLIR One.
Specifications
Manufacturer: FLIR Systems; (877) 773-3547
Scene Range temperature: 32 degrees to 212 degrees Fahrenheit
Operating temperature: 32 degrees to 95 degrees Fahrenheit
Weight: 3.9 ounces
Length: 5.5 inches
Width: 2.4 inches
Height: .85 inches
Battery Life: Approximately four hours continuous use (Thermal Imager).
Sensitivity: Detects temperature differences as small as .18 degrees Fahrenheit
iPhone compatibility: iPhone 5, iPhone 5S running iOS 7 or above; iPhone 6-compatible version not available
App: Available for free download from the Apple App Store.
Accessories: USB charging cable, iPhone case, and jack audio adapter.
MSRP: $349