Support NRA Shooting Illustrated
DONATE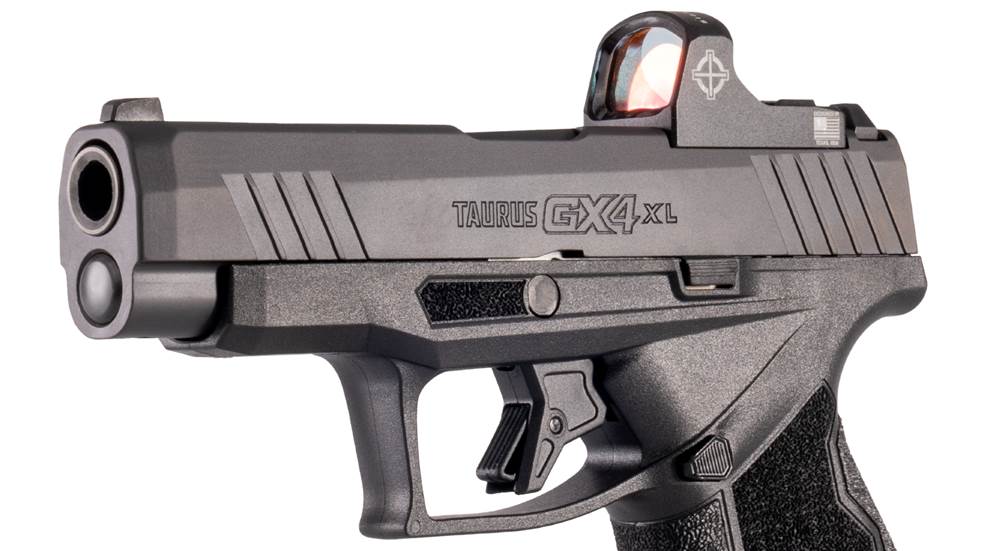 Taurus announced the release of the second model iteration in the company's popular GX4 series of micro-9 mm double-stack pistols. The new Taurus GX4XL combines the performance features of the original GX4 micro-compact 9mm with a new slide and barrel configuration for enhanced accuracy and terminal performance.
The Taurus GX4XL is built on the same polymer receiver as the GX4, with a hybrid stainless steel and polymer receiver. This includes a modular grip with standard or high-swell backstrap options to fit the GX4XL to the shooter's hand. Other standout features include grip texturing for optimal firearm control, an ergonomic and reversible magazine release and a flat-face, target trigger with an enlarged trigger guard to accommodate all hand sizes.
What separates the Taurus GX4XL from the GX4 is its extended barrel and slide assembly. The GX4XL barrel is .64 inch longer, which translates to increased muzzle velocity and improved performance from defensive ammunition. With this increased barrel length comes a longer slide profile and extended sight radius.
The carbon steel slide found on the Taurus GX4XL is treated with a gas nitride finish to enhance surface hardness and reduce wear—an important consideration for an EDC pistol. Also protected from wear and corrosion is the DLC-coated stainless steel barrel, which employs Diamond-Like Coating to improve surface durability and reduce friction for smooth, reliable operation in a wide range of environmental conditions.
As with the GX4, the Taurus GX4XL comes with a serrated blackout steel drift-adjustable rear sight and a fixed white dot front sight. The rear sight dovetail cut and front sight mounting hole are compatible with that of common aftermarket sight systems, making tritium night sights an upgrade option.
For those who favor a micro red dot for their EDC handgun, the GX4XL is also available with the T.O.R.O. (Taurus Optic Ready Option) slide. This optional slide features a direct-thread (no plate) mounting system that accommodates the most common micro red dots on the market today:
Shield RMSc
Holosun HS507K X2
Sightmark Mini Shot A-Spec M3
Trijicon RMRcc (with adapter plate, sold separately)
The GX4XL comes with two magazines—one 11-round and one extended 13-round magazine in both standard and T.O.R.O. slide configurations, and two 10-round magazines in standard and T.O.R.O. configurations for capacity-restricted states. All feature magazine and grip cuts to aid in magazine stripping, if necessary.
In keeping with the Taurus G-series handguns' industry-best performance-to-price ratio, the new GX4XL pistols are priced at a consumer-friendly $429 MSRP for standard slide models and $459 for the T.O.R.O. slide option.
For more information about this new pistol or to see other firearms in the Taurus product line, visit TaurusUSA.com.
Specifications
Caliber: 9 mm
Capacity: 10/11/13 rounds
Magazines: One 11-round and one 13-round
Striker Fired
Front Sight: fixed
Rear Sight: serrated drift-adjustable
Safety: striker block, trigger safety
Frame: stainless steel frame insert and polymer grip
Slide Material: carbon steel
Slide Finish: gas nitride coating
Barrel Finish: black DLC coating
Barrel Length: 3.7 inches
Overall Length: 6.43 inches
Overall Width: 1.08 inch
Overall Height: 4.40 inches
Weight: 20 ounces