Support NRA Shooting Illustrated
DONATE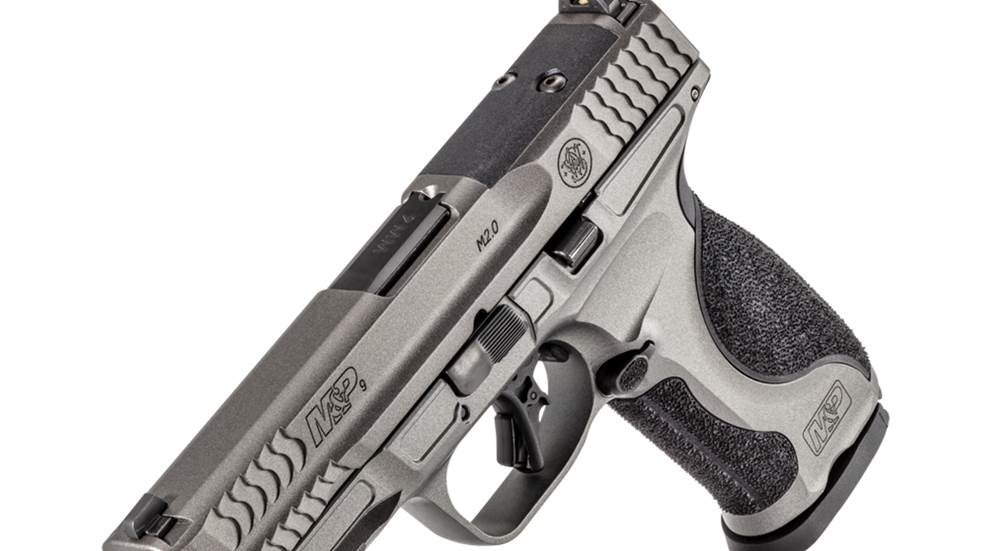 Smith & Wesson announced its first full-size M&P pistol to be available in an all-metal configuration, the new M&P9 M2.0 Metal. This new metal M&P joins Smith & Wesson's 1911 line as well as the new CSX released earlier this year.
Built with a T6-aluminum frame, this new M&P9 M2.0 Metal includes a 4.25-inch barrel, M2.0 flat face trigger, two 17-round magazines and comes with a slide cut for mounting micro-red-dot optics. Wearing a new Tungsten-Gray Cerakote finish, this M&P maintains a different look from the extant M&P models in addition to the frame composition.
For the purposes of carrying this new M&P9, Smith & Wesson claims the new M&P9 M2.0 Metal will fit all existing M&P9-compatible holsters as well as working with current M2.0, 17-round, 9 mm magazines.
"Combining the proven performance of the M&P pistol series with the 170-year history of reliable Smith & Wesson metal handguns, the M&P9 M2.0 METAL forges the quality of our past with enhanced modern-day features in an offering that will give an edge to both new and experienced firearms enthusiasts," said Andrew Gore, Handgun Product Manager.
MSRP for the M&P9 M2.0 Metal pistol is $899. Visit smith-wesson.com for more information and to see other handguns in Smith & Wesson's M&P line.
Features
• Tungsten Gray Cerakote finish
• Slide cut for optics.
• Four interchangeable palmswell grip inserts for optimal hand fit and trigger reach: S, M, ML, L
• Textured polymer front strap.
• Wide slide stop
• Reversible magazine release.
• M2.0 flat-face trigger for consistent finger placement that allows for more accurate and repeatable shooting.
• Includes forward slide serrations and accessory rail.
• Low barrel bore axis makes the M&P pistol comfortable to shoot, reducing muzzle rise and allowing for faster aim recovery.
• Enhanced sear for lighter, crisper trigger let-off.
• Accurate 1:10-inch twist barrel.
• Comes with two 17-round magazines.
• Accepts any 17-round 9mm M2.0 magazine.
• Fits standard M&P9-compatible holsters
• MSRP: $899