by
Shooting Illustrated Staff
posted on September 21, 2017
Support NRA Shooting Illustrated
DONATE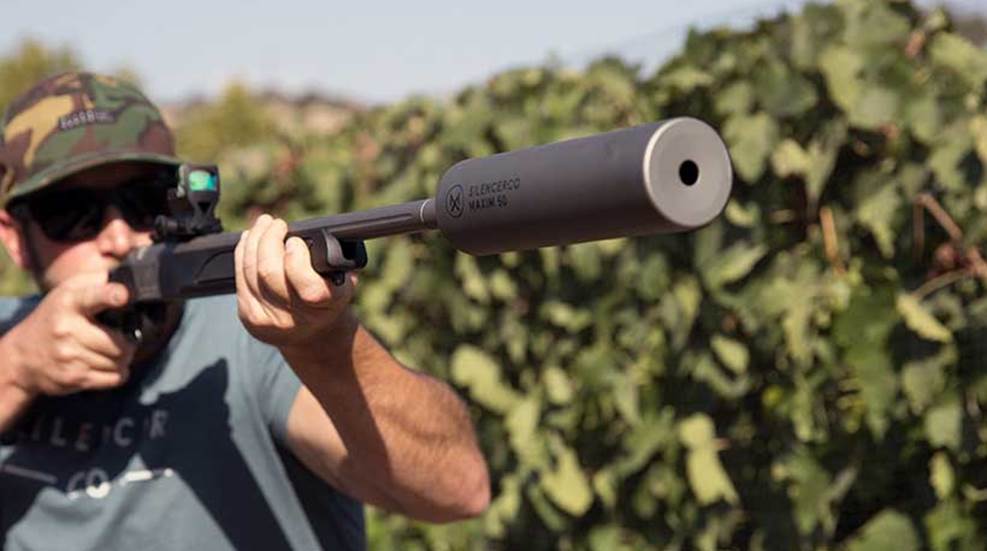 SilencerCo
announced the launch of its new Maxim 50, a .50-caliber muzzleloader that incorporates an integral noise-suppression device located at the muzzle end.
"It took a lot of creativity to arrive at this solution," said Josh Waldron, SilencerCo CEO and co-founder. "We have been working on this product for three years, with most of that time spent waiting on a determination from the Technology Branch of the BATFE as to how this product would be classified."
The Silencerco Maxim 50 is constructed using a
Traditions
Vortek Strikerfire muzzleloader. SilencerCo adds its specially designed sound-moderation device to the end of the barrel, which provides a number of benefits to shooters and hunters who use muzzleloading firearms. Of course, the device suppresses the noise of the shot, helping to protect the hearing of the user while ensuring that the use of the device doesn't create as much ambient noise pollution as similar products that do not feature an integral noise-suppression device.
Another benefit offered by the design of the SilencerCo Maxim 50 is its ability to reduce the amount of smoke produced through the burning of black powder and black powder substitutes. The reduced smoke output allows shooters to confirm a well-placed shot faster than other muzzleloaders on the market. SilencerCo claims that its design reduces black-powder smoke by more than 67 percent, allowing users to check their shot and track game immediately.
The SilencerCo Maxim 50 is an inline-muzzleloader design that measures 45 inches in overall length. The barrel measures 20 inches, and the integral sound moderator measures 9 inches. The barrel features features a 1:28-inch twist rate and includes a
Cerakote
finish that provides resistance against corrosion. The Maxim 50 is also equipped with a Tac2 two-stage competition trigger that comes factory-set at 2 pounds.
SilencerCo recommends the use of
Federal Premium
B.O.R. Lock Z or
Hornady
FPB .50-caliber projectiles, loaded with 100 grains of
Blackhorn 209
powder. The company also recommends
Winchester
209 primers for use with the antique firearm.
A number of accessories are included with the SilencerCo Maxim 50, providing owners with all of the tools needed to load and fire a muzzleloader. The product is not equipped with any iron sights, so users must purchase a Picatinny-rail segment in order to mount an optic. The suggested retail price on the SilencerCo Maxim 50 is $999.