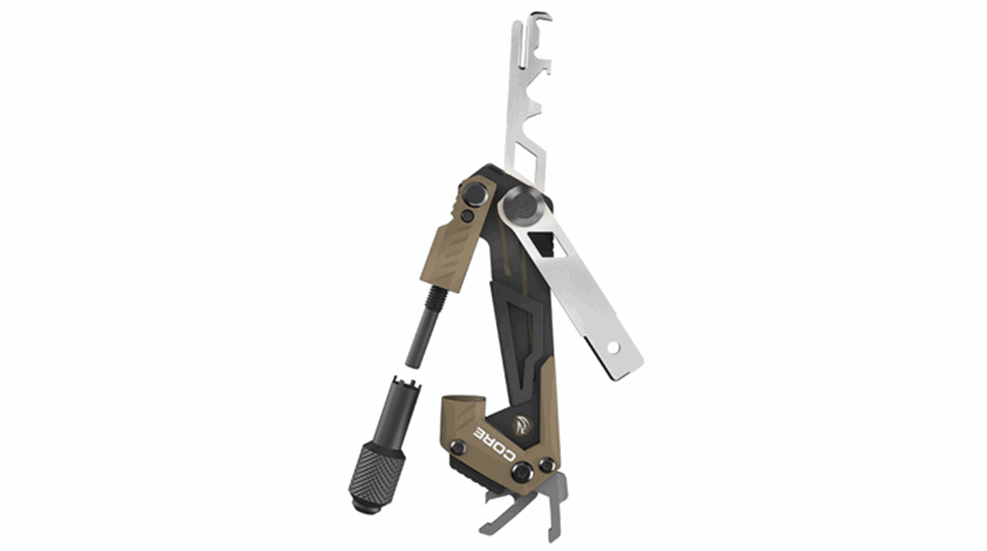 Real Avid has introduced the new Gun Tool CORE – AR-15, one of the newest additions to the company's growing line of Gun Multi-tools. The CORE – AR-15 is a streamlined, but efficient problem-solving tool for AR-15 owners, that packs six different tools into a folding metal frame, all designed around one purpose: "Keep It Ready."
Dave Steiner, Real Avid president commented, "While Gun Tool CORE – AR-15 is compact, make no mistake it is highly capable. With it, a user can quickly remove carbon from every surface of a sticky bolt and bolt carrier, clear "brass over bolt" jams, punch out stubborn takedown pins or make on-the-fly optics and front-sight adjustments. We designed it to be streamlined, but big on solving the most commonly encountered problems. It's whole mission is to 'Keep It Ready.'"
As the name implies, Gun Tool CORE – AR-15 is all about core AR-15 functionality. This new multi-tool equips the owner to handle a wide array of possible tasks, without having to carry around a collection of bulky tools. The Gun Tool CORE – AR-15 has a unique but practical design. The rugged cast and machined metal tool frame is engineered to provide exceptional strength, but still fit easily into the palm of your hand. All six tools tuck into the frame and when folded out, lock in place. The front sight adjuster and takedown pin punch are designed as a folding assembly, and the takedown punch is the anchor for the folding and locking assembly. The front sight tool fits over the takedown punch and attaches to the threaded base of the punch. The entire assembly seamlessly folds into the tool frame and provides a carabiner-like function allowing you to easily hang the tool from a belt loop or MOLLE strap.
Built into the Gun Tool CORE are two different carbon scrapers that effectively remove burnt carbon from 12 different bolt carrier group surfaces. Each scraper precisely fits every mil-spec dimension of the bolt carrier group surfaces including firing pin, bolt face, bolt waist, bolt lugs, boat tail and inside the bolt carrier itself.
Gun Tool CORE - AR-15 Features:
Heavy-duty liner-locks keep tools secure in use

Bolt scraper scrapes carbon from 12 bolt carrier group surfaces

Carrier and firing-pin scrapers

Cord cutter and bottle opener

Bolt override and scope turret adjuster

Takedown punch and A2 front-sight adjuster

Carabiner-like function secures to MOLLE straps
Gun Tool CORE - AR-15 Functionality:
Remove carbon from all surfaces of bolt carrier group

Clear jams

Punch takedown pins

Make sight adjustments
MSRP for the Real Avid CORE - AR-15 multitool is $39.99, and more information is available at realavid.com.