by
Shooting Illustrated Staff
posted on August 20, 2021
Support NRA Shooting Illustrated
DONATE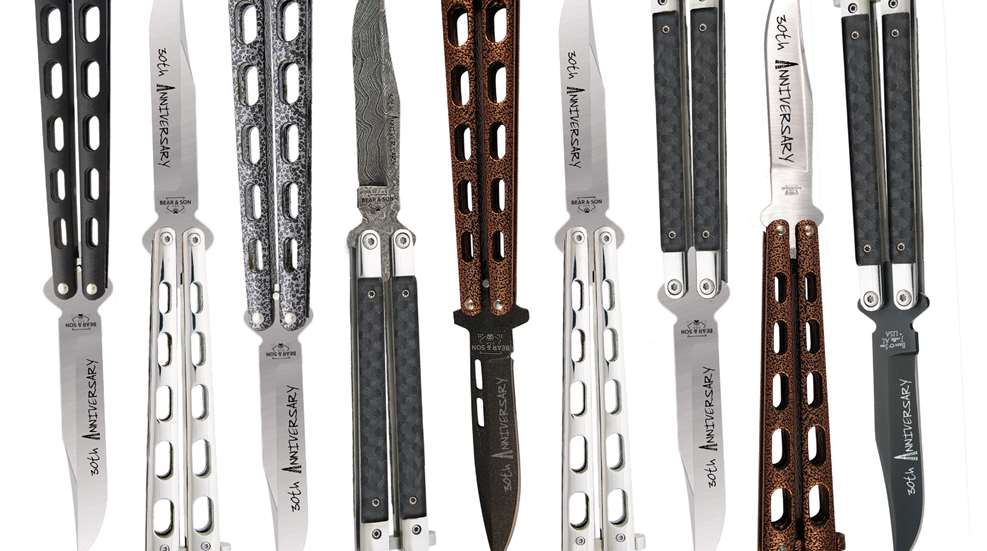 Bear & Son Cutlery is celebrating thirty years of butterfly knife manufacturing with the release of several new limited edition balisong knives. Each knife features a laser engraved 30th anniversary logo on the blade and are produced in small quantities in the Alabama factory. These balisongs are built with the careful attention to detail, quality materials, and include several features that are typically found on more expensive pocketknives.
The ANN114 Butterfly features a tough, 3 5/8-inch carbon steel blade with an exquisite satin finish and a laser-engraved 30th anniversary logo. The ANN114 handles are made of zinc with a silver vein finish, while the ANN114B has black finish handles and the ANN114CV features copper vein handles. The premium tang pin construction on these butterfly knives ensures smooth, "no-slop" deployment and a matching T-latch keeps the handles secure while closed.
The model ANN115CV is another beautiful 5-inch butterfly with a 1095 carbon steel blade and a black epoxy coating highlights the 30th anniversary logo. The 3 3/8-inch blade flips open smoothly and includes a premium tang pin construction. This limited-edition knife is available with copper vein handles that are made from zinc, adding a unique look to this color combination.
The reserved batches of Bear & Son Cutlery limited-edition butterflies such as ANNCF17, ANNCF17-S35, and ANNCF17D models all feature carbon fiber handles with 440 stainless steel, S35VN, and Damascus blades. These knives have polished nickel silver bolsters, 3 1/2-inch blades, and an engraved 30th anniversary logo.
In addition to these small batch of anniversary knives, Bear & Son Cutlery will also manufacture a total of three hundred ANNSS14-D2 and three hundred ANNSS14-S35 butterfly knives. The polished stainless steel 5-inch models are available with a 3 ½-inch D2 steel blade or a S35 steel blade. Both of these models will have the engraved 30th anniversary logo and polished stainless-steel handles.
For pricing information and to learn more about Bear & Son Cutlery's 2021 pocketknives, please visit bearandsoncutlery.com