by
Shooting Illustrated Staff
posted on July 19, 2021
Support NRA Shooting Illustrated
DONATE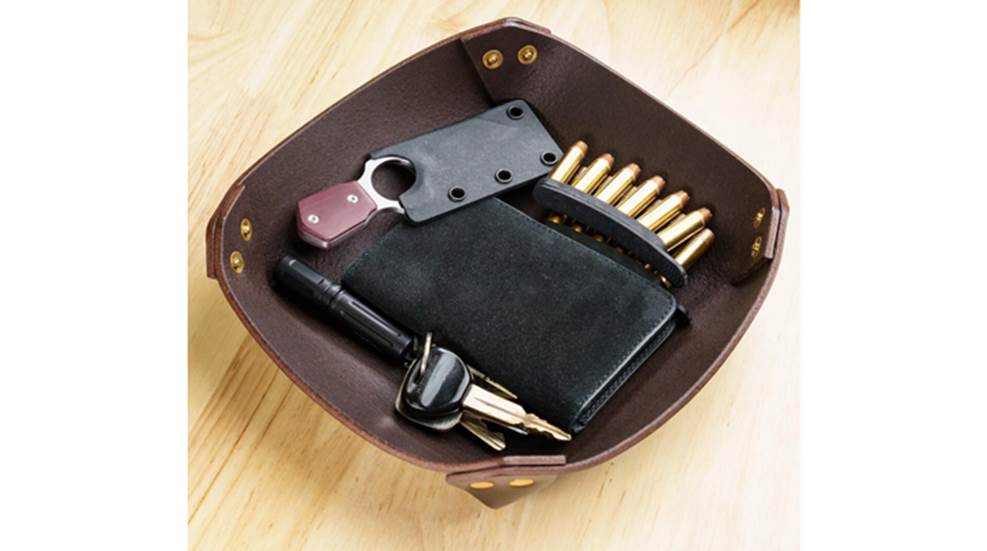 We've all been there. It's the end of a long day, and now it's time to reset everything for the next day. Your wallet, keys are an essential part of your life, and precious minutes are wasted in the morning if you set them down somewhere at night and can' find them the next day.
The need to have all your stuff together in a small neat pile is especially important to the armed citizen. Your daily carry items such as a flashlight, spare ammo and a pepper spray can get scattered all over the place when they're not in use, leading to even more wasted minutes as you prepare for the new day. Having a spot near your bed dedicated to storing these items solves this problem, which is why Galco is releasing its new EDC Valet tray.
The EDC Valet Tray keeps the daily contents of you pockets together and secure, whether on a night table, dresser, or anywhere else you might go. The tray is made from premium Latigo dark havana leather and features sturdy brass-riveted construction. Measuring 2 inches high and 9¾ inches on the diagonal, it has plenty of space for EDC essentials. Even if you don't participate in the concealed carry lifestyle, the EDC Valet tray helps keep all the little things you need to live your life from wandering off.  
EDC Valet Tray Features
Premium Latigo leather construction

Dark havana finish

Brass rivets

2 inches deep x 9¾ inches diagonal
The EDC Valet Tray is the great solution to the nightly "pocket dump," letting you keep all your daily carry gear in one spot, ready for the day ahead. MSRP for the EDC Valet Tray is $60, and more information on this item as well as other gear from Galco is available at galcousa.com.