by
Shooting Illustrated Staff
posted on January 15, 2023
Support NRA Shooting Illustrated
DONATE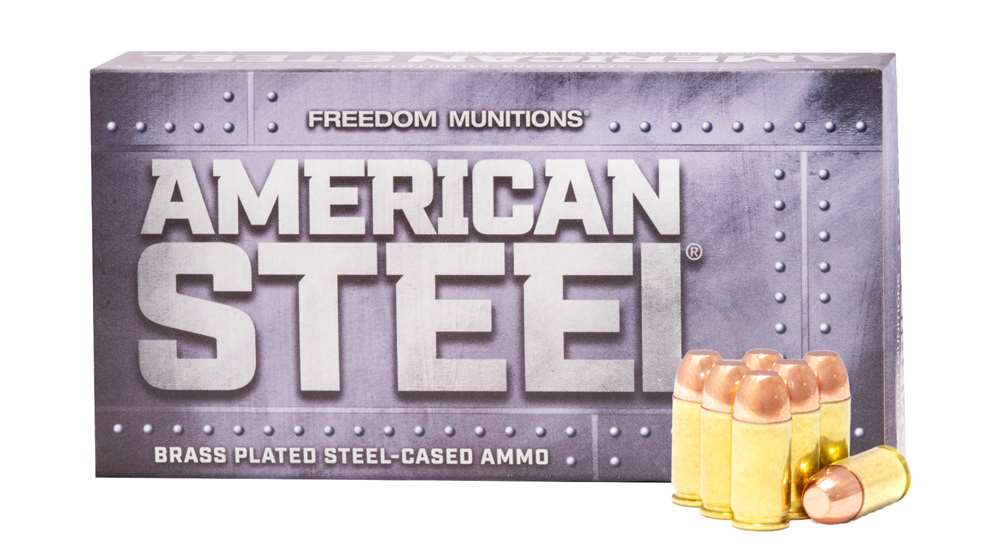 Lewiston, ID, based Freedom Munitions is a popular ammunition retailer, and is now re-introducing their American Steel ammunition line. American Steel cartridges are manufactured with brass plated steel casings which are less expensive than traditional full brass cartridge cases, creating cost savings for people who shoot on a regular basis. The entire American Steel product line is also loaded with X-Treme bullets, known for their quality and accuracy.
"Steel cased ammunition is a more cost-effective way to purchase ammo, without giving up the quality one would expect from typical brass cases. Our American Steel products are manufactured with new, premium components while providing a price point comparable to that of remanufactured ammo," said Toby Thill, President of Freedom Munitions.
Previously, American Steel casings were plated with copper instead of brass. The switch to brass comes with enhanced feeding and loading reality in mind, and Freedom Munitions is kicking off their comeback by offering a new .380 ACP pistol cartridge with a muzzle velocity of 960 fps. This .380 ACP load is topped with an X-Treme plated RNFP (round nose flat point) 100 grain bullet. The .380 ACP cartridge dates back to 1908 and was introduced with Colt's Model 1908 Pocket Hammerless semi automatic pistol designed by John Moses Browning. For more than a century, this has been an extremely popular caliber for defensive carry firearms and is still very popular in sub compact semi automatic pistols.
Freedom Munition's American Steel line also covers all of the staple semi-automatic handgun cartridges in use today, including 9mm, .40 S&W, and .45 ACP. American Steel ammunition is sold per box of 50 cartridges, and pricing depends on the specific caliber and desired bullet weight chosen. At the time of this writing, pricing for these are roughly $8 to $10 less than their retail priced full brass counterparts (not including taxes and shipping fees).
For more information, please visit freedomunitions.com.