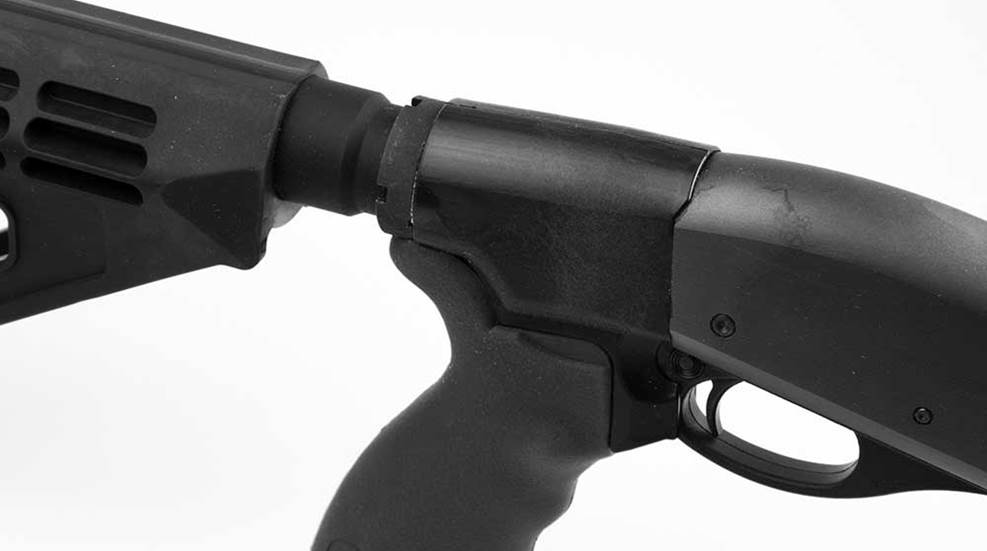 One of the huge draws for the AR-15 and similar-style rifles on the market today is the incredible range of aftermarket accessories available for the platform, certainly more than what's available for most other firearm platforms on the market.
Ergo
added an all-new adapter for owners of
Remington
Model 870 20-gauge shotguns to take advantage of this aftermarket accessibility, enabling owners to attach stocks and pistol grips designed for ARs onto their go-to home-defense shotgun.
While the Remington Model 870 shotgun platform is supported by a stable of aftermarket add-ons, the AR accessory market provides more breadth, particularly for those owners who are fans of the AR platform and feel more familiar and comfortable with AR-style stocks on their firearms. The Ergo Remington 20-gauge shotgun stock adapter is constructed from fiber-reinforced polymer, the only offering with such construction available today. This enhanced-strength offering ensures that the adapter can perform admirably as the core component that brings together a fight-ready shotgun with the ergonomic and adjustability benefits of AR-style stocks. Additionally, the fiber-reinforced design makes the adapter resistant to impact shocks and protects against the ill effects of extreme temperature and exposure to chemicals.
After installing the Ergo shotgun stock adapter to any standard 20-gauge Remington shotgun, consumers can then add the AR-style grip of their choice, thanks to an angled piece of polymer that replicates the pistol-grip attachment point found on standard AR-15 lower receivers. All grips will thread into the adapter using the standard 1/4-20 grip screw included with the grip. At the butt-end of the adapter is a threaded insert that will accept both mil-spec and commercial AR buffer tubes, enabling the attachment of any standard AR-style adjustable buttstock.
To accommodate Remington's
TAC-14 lineup of firearms
, the adapter is also compatible with any standard pistol-stabilizing brace, such as the options available from
SB Tactical
. Other options are also available in the Ergo shotgun stock adapter lineup, including models for 12-gauge Remington Model 870 shotguns, as well as 12-gauge and 20-gauge models of the
Mossberg
500/590.