Support NRA Shooting Illustrated
DONATE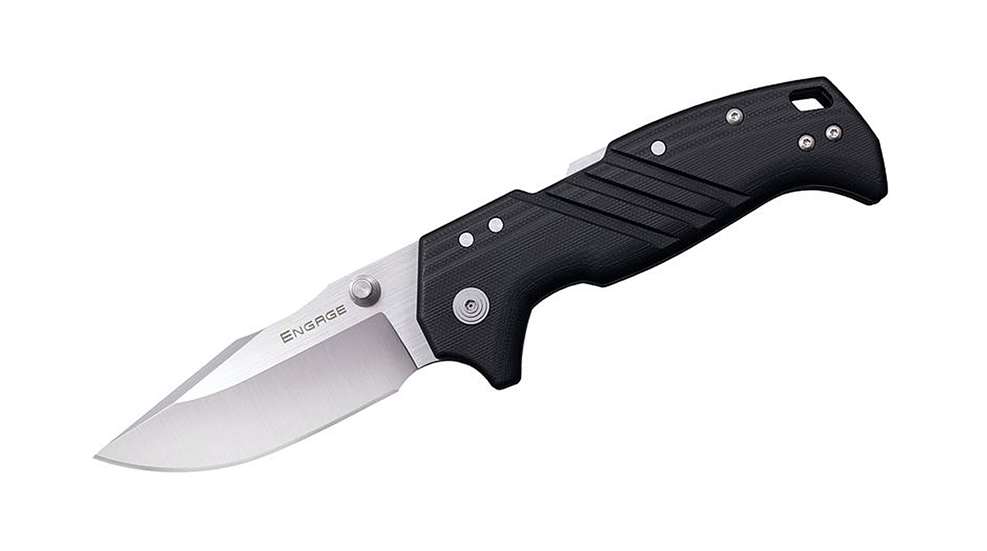 Cold Steel is releasing their Engage series of EDC (Everyday Carry) folding knives which feature its patent-pending slide-action Atlas locks. Currently, Cold Steel offers nine different knife options to the Engage EDC line.
The Atlas slide lock appears much like a traditional lockback mechanism at first glance. However, instead of simply pushing in that metal piece to close, on a knife with an Atlas lock you slide a metal piece back, allowing the blade to close. Actuating the mechanism on an Atlas lock looks like a similar motion to thumb cocking the hammer on a handgun except the hammer does not arc back, it slides straight back, and when you're finished a spring pushes it forward to its original position again.
With multiple blade steel choices, blade lengths, and blade point styles to choose from, there is an Engage knife to suit your need for a solid EDC knife at both an affordable or premium price point. Cold Steel Engage EDC knives vary in retail price depending on the specific model, blade material, and style. Retail prices begin at $69.99 and range through $249.99. The more affordable offerings typically come with GFN (glass-filled nylon) grips, while the more premium options feature G10 grips, while some models also come with the option to choose either handle material. Engage EDC blade lengths range from 2.5 inches to 3.5 inches, but the 3-inch blade length is the most popular in the Engage EDC family. Engage EDC blades are made from either  stonewashed or PVD finished 4116 stainless steel, black finished PVD AUS10A steel or polished satin finished S35VN steel. For blade points, Cold Steel gives you the choice between a traditional drop point blade tip or an Americanized Tanto blade tip. Pocket clips are reversible on all Cold Steel Engage EDC models to optimize for either left or right-handed pocket carry.
For more information about the complete line of Cold Steel Engage EDC Knives and other cutlery and items sold by Cold Steel, please visit their website at coldsteel.com.