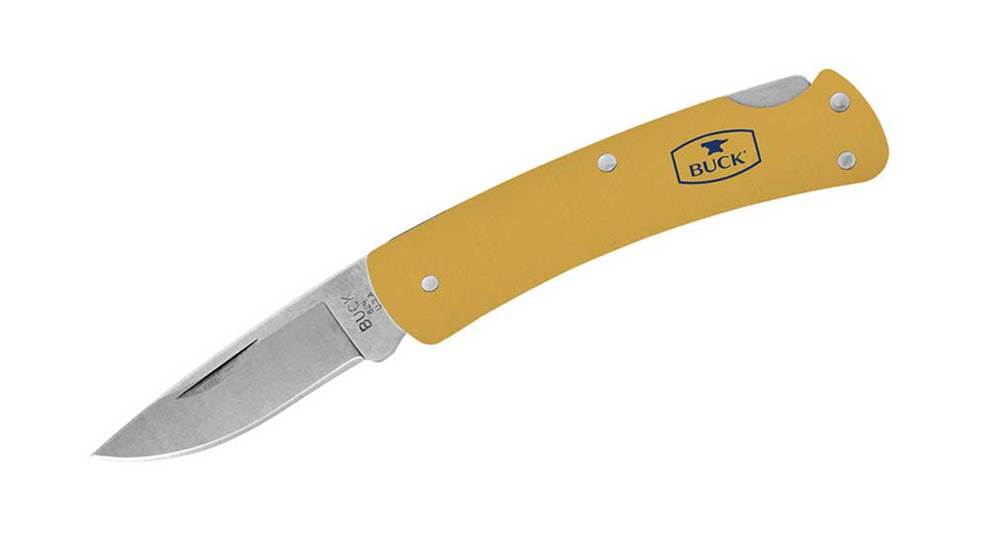 With a rich history in making knives for hunting and outdoor use,
Buck Knives
enter the everyday-carry market with a number of new carry knives in 2018. One of the company's latest folding knives is its 524 Alumni knife, designed to be easily carried and even customized according to the user.
Designed with compact, discreet carry in mind, the Alumni knife features a blade length of 1.875 inches long, making it legal to carry in many jurisdictions. The blade is machined from the company's 420HC steel, which is used on all of the company's standard offerings. The blade steel is specially formulated to replicate the wear resistance of high-carbon alloys and the corrosion resistance of stainless steel, producing a design that is built to handle the rigors of everyday use.
Each Buck Knives 524 Alumni knife blade is hardened to a Rockwell hardness of Rc 58, enabling it to simultaneously hold an edge for extended use in the field while still being easily resharpened. Additionally, the blade features a drop-point profile that includes a thick point that enables it to tackle daily tasks as a general-use work knife. Each knife is sharpened with Buck Knives' unique Edge2x blade technology, which means that it arrives with a razor-sharp edge that's ready to use straight from the box.
The folding blade is contained inside of an anodized-aluminum handle with a scalloped cut-out at the back end that features a pressure-activated release for the lock-back mechanism securing the knife in its deployed state. Four different anodized finishes are available for consumers to choose from: black, blue, gold and gray.
One of the unique aspects of the Buck Knives 524 Alumni knife is the availability of personalization options. For an additional charge of $7, the company allows consumers to add up to two lines of unique text engraving on the blade or handle of the knife. The engraving can be had in either block or script text. Text measuring 5-10 characters will be engraved on the blade. Text containing more than 10 characters or having two separate lines of text will be engraved on the anodized-aluminum handle.
Each Buck Knives 524 Alumni knife is made in the USA. The suggested retail price on this daily carry tool starts at $30.