by
Shooting Illustrated Staff
posted on April 19, 2023
Support NRA Shooting Illustrated
DONATE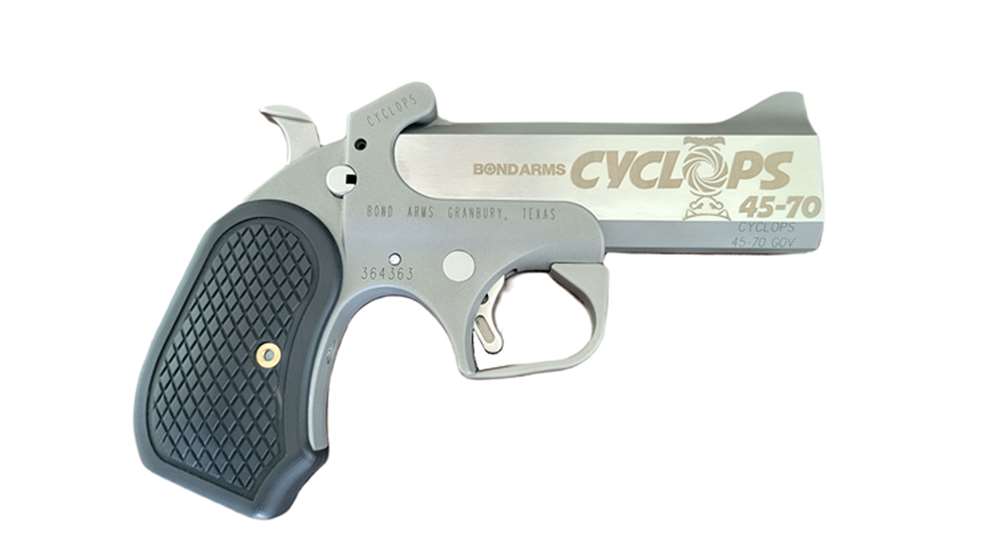 Bond Arms Inc. is known for building firearms that are a modern take on the classic 19th ultra-compact carry pistols, making models in a wide selection of calibers and configurations. Now they are unveiling the new Cyclops single barreled, single shot pistol chambered in the powerful .45-70 Gov't cartridge of old Western fame.
The Cyclops is named after the ancient Greek mythological creature known for having only one eye, and this new pistol is the first release of a big bore product line that will also include straight-walled, heavy-hitting cartridges such as the .50 AE, .454 Casull and .44 Mag. While most Bond Arms pistols are found with double barrels, the Bond Arms design team opted to craft the firearm with one single barrel and leave extra material around it for added weight and support. This added mass also helps with recoil mitigation when used with one of the hard hitting large bore calibers planned for future use with this line of pistols.
The . 45-70 Gov't cartridge dates back to the mid to late 19th century, and was a favorite cartridge for both long distance shooters and big game hunters. Its name is a reference to its caliber (.45 caliber) and the fact that it was once loaded with a staggering (at the time) 70 grains of black powder. Though this round has been around for a long time, many hunters and shooters still use it today, loaded with modern smokeless powders.
Bond Arms Cyclops .45-70 Features and Specifications:
Caliber: .45-70 Gov't.
Barrel Length: 4.25 inches
Length: 6.75 inches
Weight: 28 ounces
Trigger Pull Weight: 7 pounds
Grip Material: B6 resin
Grip Size: Extended
Sights: Fixed
Ammunition Capacity: 1 round
Action: Single action
MSRP: $699
Please visit bondarms.com for more information on this pistol or other products from Bond Arms.