by
Shooting Illustrated Staff
posted on May 6, 2023
Support NRA Shooting Illustrated
DONATE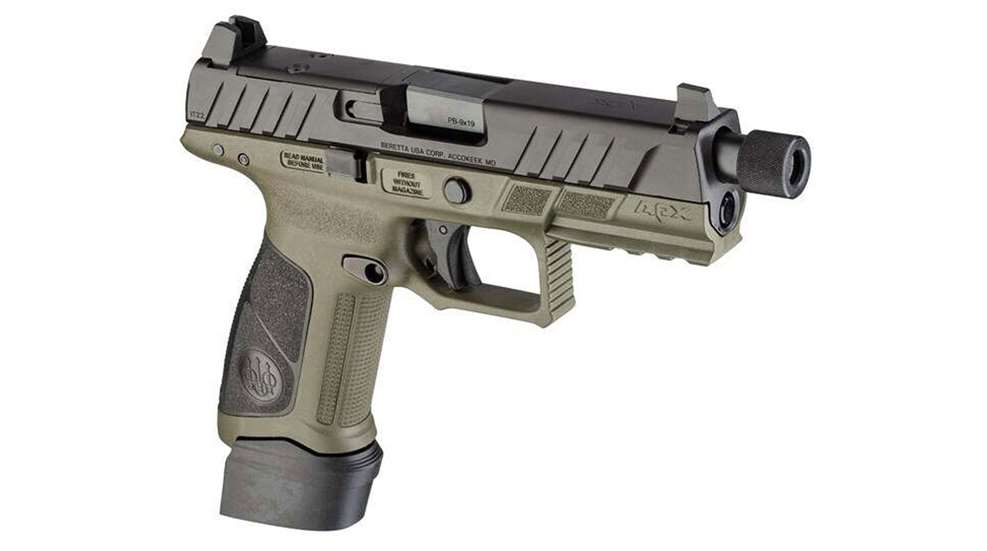 Beretta USA recently launched a new version of their full-size 9mm striker-fired, polymer-frame pistol, the new full size APX A1 Tactical. This latest edition made its first public appearance at Berettas booth at the recently held 2023 NRA Annual Meetings and Events exhibition in Indianapolis, IN. 
The Beretta APX A1 Tactical offers some extra features not found on the original Beretta APX A1, the gun which succeeded the original APX in Beretta's duty-size, polymer- framed dynasty. The APX A1 Tactical was designed in collaboration and input from an Italian Special Forces unit. Distinctive features found on the latest version include suppressor height sights incorporated to an optics-ready slide. Unlike the standard Beretta APX magazine, which is designed to hold 17 rounds, the APX A1 Tactical ships with three 21-round extended capacity magazines. Its frame is OD green colored and has a muzzle that is threaded for a suppressor or other muzzle device.
"At the 2023 NRA Show, Beretta is introducing the APX A1 Tactical, featuring the ½ x 28 tpi threaded barrel, black fully serrated suppressor height sights, three 21-round magazines and an olive drab green frame with a black backstrap. This gun was developed for an Italian Special Forces unit and it represents the Beretta APX family as the flagship," said Nicola Lorenzi, Pistol Product Manager for Beretta. 
Beretta APX A1 Tactical Specifications:
Caliber: 9mm
Action: Striker-fired, semi-automatic
Magazine Capacity: 21 rounds (includes 3 magazines)
Barrel Length: 4.8 inches
Overall Length: 8.2 inches
Height: 5.8 inches
Width: 1.3 inches
Weight: 29.6 ounces unloaded
Frame: OD Green with black backstrap inserts
Sights: Suppressor height tactical sights
Optics-Ready: Yes 
The Beretta APX A1 Tactical has a retail price of $549, and for more information on this new pistol, original APX A1 or other handguns and shotguns offered by Beretta, please visit their website at beretta.com.