by
Shooting Illustrated Staff
posted on October 31, 2018
Support NRA Shooting Illustrated
DONATE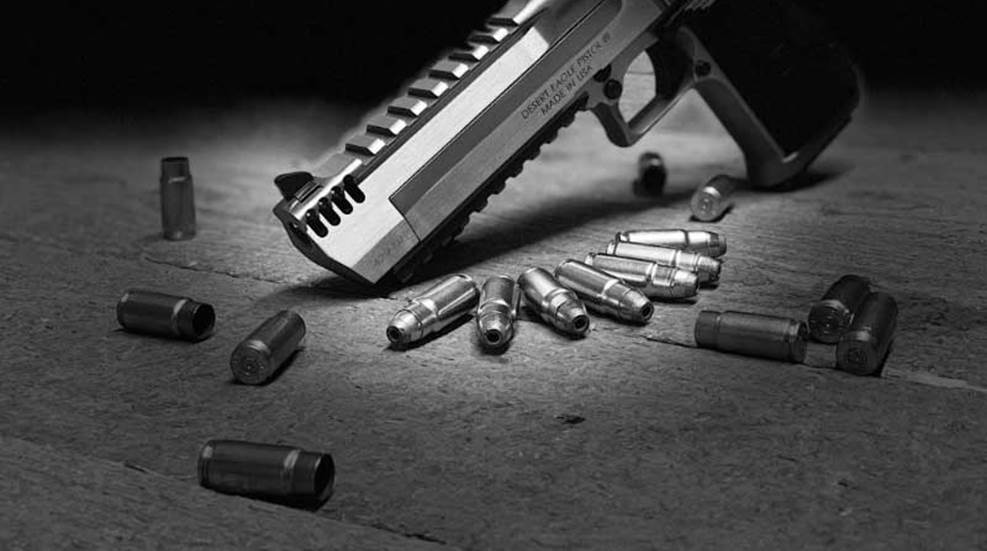 Of course, most firearm fans are familiar with the world-famous Desert Eagle, chambered in the equally famous 50 AE cartridge. However, what's less-known is that
Magnum Research
, the Minnesota-based manufacturer of these big-bore handguns, offers Desert Eagle models in other calibers, notably .357 Mag. and .44 Mag. Now, a new caliber has been added to the lineup, and it's one designed by engineers at the company itself: the 429 DE.
"This new cartridge was engineered and designed specifically for the Desert Eagle Pistol, keeping in mind that the DEP is known world wide for its awesome firepower and performance," said Jim Tertin, Magnum Research design and R&D lead. "The 429 DE propels that history into the future."
Based on the popular 50 AE cartridge case, the 429 DE recesses the straight-walled case design, necking it down to accept a .44-caliber, 240-grain bullet. The cases, which are factory-produced by
Starline Brass
, feature a 30-degree shoulder and includes an elongated neck that provides enough space for a solid bullet crimp, preventing projectiles from jumping the crimp while in the magazine. The rounds themselves are loaded by
HSM
, using Sierra bullets.
Providing enhanced power and capabilities for the Desert Eagle platform was a priority for the team behind the development of the 429 DE. To this end, the new cartridge propels a 240-grain, .44-caliber projectile at a muzzle velocity of 1,600 fps. With a 210-grain bullet, that velocity increases to 1,750 fps. Both loads were measured from 6-inch barrels. This provides a 25 percent increase in velocity compared to a similarly loaded .44 Mag. cartridge. The muzzle energy of these rounds is measured at 45 percent more than comparable .44 Mag. loads.
In many ways, this new design provides similar capabilities to the 440 Cor-Bon cartridge, but consumers will see differences between the two, such as the sharp, 30-degree case shoulder on the 429 DE, which provides consistent headspacing and more-reliable function. For owners of 50 AE Desert Eagle pistols, adapting to the new cartridge is simple. Magnum Research is launching 6-inch 429 DE barrels, which can drop into any Israeli- or US-made MK19 Desert Eagle. The barrel uses the same bolt and magazine as the 50 AE.
Twenty-round boxes of 429 DE ammunition will be sold through Magnum Research. Consumers can choose between a 240-grain soft-point load or a 210-grain hollow-point load. Suggested retail pricing on each box of 20 is $42.