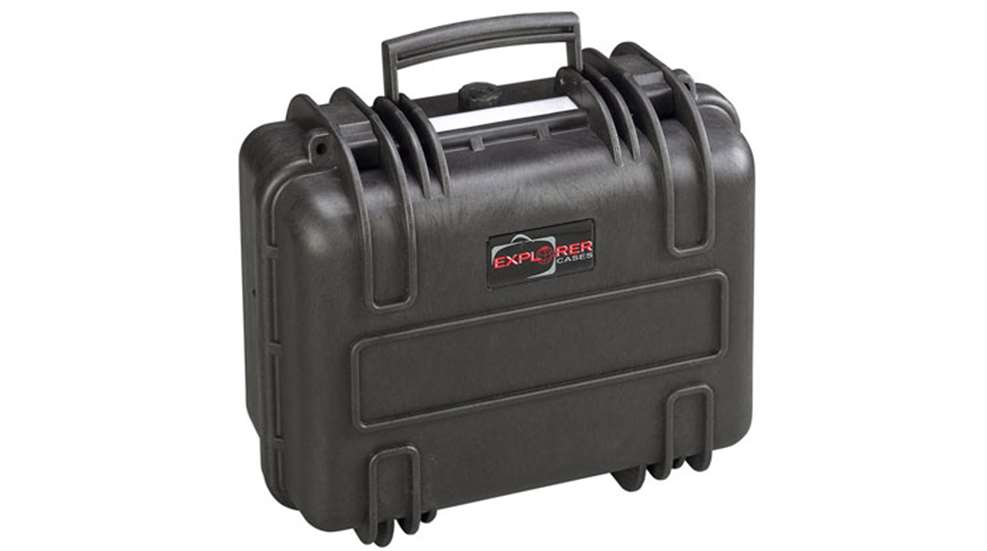 When transporting a handgun, we often face simultaneous problems. First, there's the physical aspect—your handgun represents anywhere from $300 to $3,000 (or more!) of your hard-earned money, and you want a case that's going to keep it secure and free from damage. Second, you want a case that will hold everything you put in it securely, otherwise you might as well just put your things in a sack. Finally, the case must provide protection from the elements to keep rust and pitting at bay.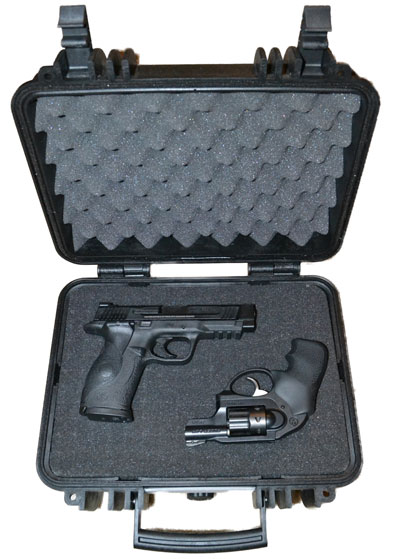 The Explorer line of cases is shock-, water- and dustproof. They have a wide variety of standard features and accessories designed to keep your gear safe, secure and intact. Explorer cases also come in several different colors and are available with or without pluckable foam inserts. These cases are infinitely customizable to whatever item(s) you would like to store inside.
The case I received for testing was model 3317B. The "B" is the designation for black polymer; both green and orange are also available. This model came with foam inserts and measures 14 3/16 X 11 15/16 X 7 5/8 inches, tipping the scales (with foam) at 5.53 pounds. Eggshell foam lines the top of the case, while a thin (.5-inch) pad rests on the bottom, and two removable and pluckable 1.5-inch foam pads are sandwiched between the top and bottom.
The case is sufficiently capable of carrying four medium-sized handguns, two large handguns, or up to six small handguns without issue. During the course of testing, I managed to shoehorn a 8 3/8-inch-barreled Smith & Wesson K-frame revolver into one level inside the case (which was really the upper limit of size), and fit two nested 1911s into the same space. That same single level was able to accommodate three J-frame Smith & Wesson snubnose revolvers, pushing the limit of the case's capacity. Overall, two pairs of medium-framed firearms fit inside the case without issue.
Where the case shines, of course, is durability. Reinforced polymer guards line all six sides of the case, with the perimeter housing a waterproof gasket. Two sturdy holes are molded into the top of the case for locks, securing the Explorer for airline travel (always check local, state and federal laws, along with airline policies). An unofficial "drop" test saw no movement when dropped from desk-height (approximately 3 feet), although there was some repositioning of a single handgun when dropped from shoulder height (5.5 feet). In neither test did the single handgun move more than an inch or so from the center of the case.
The true test of a case, though, is how it handles the day-to-day, hum-drum routine. We might drop a case once or twice, but it will get thrown into a trunk or banged off a door frame countless times. This case has been in and out of the back of a pickup truck, carried back and forth to the range, brought handguns to and from gun shows and otherwise used as intended for several months now. The case still looks new (which means we didn't test it hard enough), and—more importantly—the clasps, hinges and seal are still as crisp as day one.
Finding a sturdy case that will hold more than a single handgun securely at a price that won't break the bank has never been simpler. The Explorer line of cases are sturdy, weather-resistant and will protect your investment while not breaking the bank.
MSRP: $93.50
(800) 999-1984, explorercases.com;