by
Evan Brune, Associate Editor, Shooting Illustrated
posted on October 3, 2017
Support NRA Shooting Illustrated
DONATE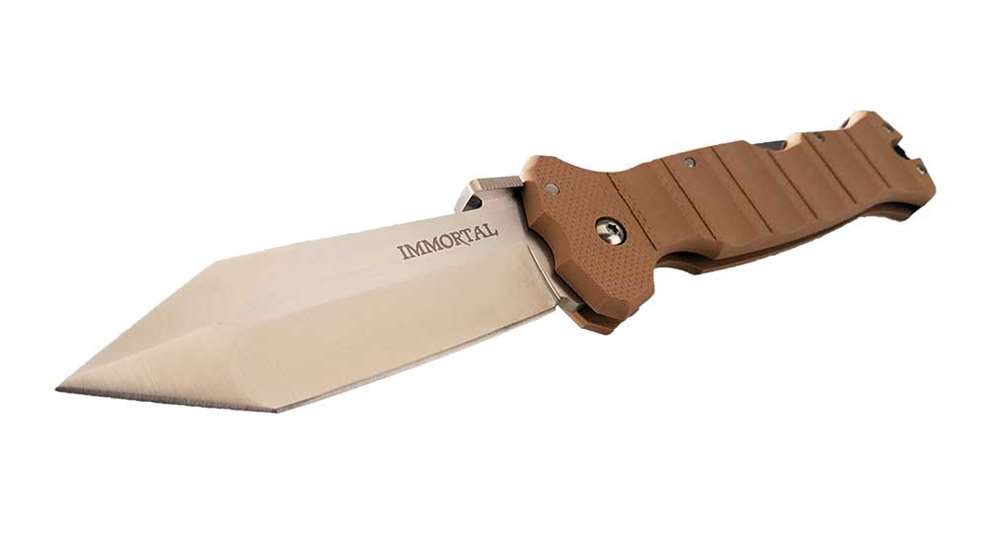 Folding knives aren't generally considered to be more of a general-utility tool rather than a dedicated personal-defense implement, but the
Cold Steel
Immortal is certainly working to change that perception. This massive blade is an ideal addition to any prepared individual's toolbox, and it's built right for durability and effectiveness.
The Cold Steel Immortal is an original Mike Wallace design, and it's inspired by the famous Gladius short swords used by the Roman army at the height of Rome's power and influence. The legionaries that dominated the Mediterranean depended on a short fighting blade, and the Immortal takes the lines of this iconic fighting tool and brings it into the 21st century, providing users with a purpose-built battle blade.
Those who equip themselves with the Immortal will notice a few stand-out features. The blade, which measures 4 inches in overall length, is forged from Carpenter CTS XHP alloy steel and features a wide Tanto-style pointed blade, along with an angled false edge that gives it its Gladius-style look. The blade is equipped with a patented Thumb Plate designed by Andrew Demko, which allows for easy one-handed opening.
Inside the knife's scales, users will see the company's incredibly strong Tri-Ad lock, which secures the blade in its deployed state. The weak link for any folding blade is always in its locking mechanism, and the Tri-Ad lock is the next step in the evolution of the folding fighting knife, providing a secure locking point that's nearly impossible to break.
The knife is also constructed with a built-in pommel that features a textured spacer made from 6061 aluminum. This spacer protrudes from the back of the knife, offering users a hardened, aggressive surface that can be used for less-than-lethal personal defense without having to deploy the blade.
The scales on the blade are constructed from coyote-tan G-10 fiberglass laminate, an incredibly durable, weatherproof material that is machined with textured ridges in order to provide a secure grip in a user's hand. The handles also incorporate a milled-out relief cut that fits a user's thumb, ensuring that they have an ergonomic grip that allows them to take advantage of the capabilities of this fighting knife.
The handle measures 5 inches long, and the overall length of the knife, when deployed, is 9 inches long. The blade itself measures 3.5 millimeters thick, and the total weight of the Cold Steel Immortal is 5.9 ounces. The other features of the Immortal include a pocket clip that provides for tip-up carry for both left- and right-handed users. A lanyard loop is also included on the pommel. The suggested retail price on the Cold Steel Immortal is $199.99.