Much has been broadcast, written and said about the shortage of skilled tradesmen and women in the U.S. While the national unemployment rate remains stubbornly high, some companies still have difficulty filling positions for machinists, welders and other vocational jobs because of the lack of qualified applicants. As you might imagine, firearm manufacturers have a pressing need for skilled laborers. To ensure they have a pool of qualified workers, some gunmakers are taking proactive steps to help train the next generation of American tradesmen.
Smith & Wesson donates used CNC machines to vocational colleges near the company's Springfield, MA, factory. "We are constantly upgrading to the latest machinery, and as we do, some of our older CNC machines become surplus," said Director of Marketing Communications Paul Pluff. "We give these machines, which are still completely functional, to local technical schools so their students can have hands-on learning experience with equipment they will need to know how to use in their careers. CNC machines are often quite expensive, so we are sometimes the only way these schools can obtain them."
Beyond material donations, Smith & Wesson also recognizes graduates from the Massachusetts Manufacturing Extension Partnership (MassMEP) made available through the state's Department of Veterans Services. Offering military veterans employment opportunities, the program provides training and certification for veterans in the workforce via an intensive training curriculum that prepares students for production jobs in less time than traditional vocational learning. Smith & Wesson has hired numerous alumni of the MassMEP program, as well as students who benefitted from its donations.
SIG Sauer is also helping people train for manufacturing jobs within and outside the firearm industry. "We actively work with many engineering colleges and sponsor both co-ops and internships," said Vice President of Human Resources Jeff Chartier. "We have a long-standing program that has many students returning year after year, and SIG Sauer does hire graduating students who have gone through these programs."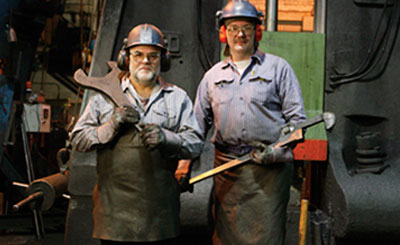 Beyond the obvious benefits to students, these programs also benefit SIG Sauer. "Our engineers really enjoy mentoring the students in leading-edge technology, and it is a way for them to 'give back' based on their years of experience. Also, if we hire the students, it is an advantage to us as well since they will have become familiar with our products, design and development processes. They know our culture and already have well established relationships with their co-workers. It is these same students who end up becoming some of our best recruiters as alumni of their schools."
Gun manufacturers aren't the only industry companies with a need for skilled tradesmen and women. Accessory makers like Brownells are also looking for ways to grow the pool of qualified workers. "We help gunsmithing students with scholarships at the major, in-residence schools," said Brownells' Public Relations Manager Larry Weeks. "We also have our annual career fair to help them find jobs. It is free for them to attend, and we have a scholarship program for that event to help many of them with their travel expenses. Many attendees have found jobs at or as a result of the career fair."
Like Smith & Wesson, Brownells has also assisted gunsmithing schools with CNC machines to help their students learn on the latest equipment. The company has hired graduates of those programs, as well.
Manufacturing is not dead in America, and the firearm industry is helping the nation keep its skilled-trade know-how. It is also providing hundreds of new jobs around the country for those workers with the proper knowledge and aptitude. Ultimately, a trained workforce is good for the country, whether the laborers are building guns or any other manufactured item in the U.S.