by
posted on August 22, 2016
Support NRA Shooting Illustrated
DONATE
New for 2016, Daniel Defense—a company long famous for its MSR rifles, parts and accessories—has entered into ammunition production. The company's First Choice ammunition line currently offers subsonic .300 BLK ammunition, centered around the Lapua Scenar-L OTM 220-grain hollowpoint boattail bullet. Designed to maintain subsonic velocities even out of a 16-inch barrel, the Daniel Defense ammunition is excellent stuff, giving consistent velocities and great accuracy from our test rifle. The .300 BLK, more accurately called 7.62x35 mm, is a .30-caliber cartridge, based on a shortened .223 Rem. case. It is designed to maintain the same Cartridge Overall Length (C.O.L.) as the .223 Rem., so the same magazine can be used should you decide to change your upper or purchase a new firearm chambered to the Blackout.
I work with a lot of ammunition as a handloader and can easily spot sub-par construction, but there was none of that here. The Daniel Defense ammunition goes through a rigorous inspection process before it is allowed to leave the factory, and I can report that all the ammunition we tested fed and ejected without any issues whatsoever. This ammunition burned clean, and was more than accurate. The Lapua Scenar-L OTM is a very serious bullet, being a match-grade projectile with the tightest tolerances of any Lapua bullet. Overall bullet weight, dimensions and jacket concentricity are closely monitored for a uniform, consistent bullet that is capable of the finest accuracy available. Primers were all seated to a uniform depth, ever so slightly recessed, as I like to see them in any MSR to minimize the possibility of a slam-fire. The cases seemed to be of excellent quality, being annealed from below the shoulder right up to the case mouth; these are definitely worth picking up and saving for reloading.
The .300 BLK was designed for short-range work, especially with the heavy-for caliber 220-grain bullets, so the subsonic loading makes all sorts of sense. My Oehler 35P chronograph showed an average muzzle velocity of 1,075 fps from a 16-inch barrel, staying just below the 1,100 fps mark when things get much louder. I can see where this loading would be perfect for a law-enforcement application, or for range practice when you want to keep noise to a minimum. A quick word of warning though: The .300 BLK can, in some instances, chamber in a .223 Rem./5.56 NATO rifle, and if it were to be fired, the results can be tragic, if not fatal. A friend had this happen at his range, and the shooter was lucky to have walked away needing a new rifle, not medical attention.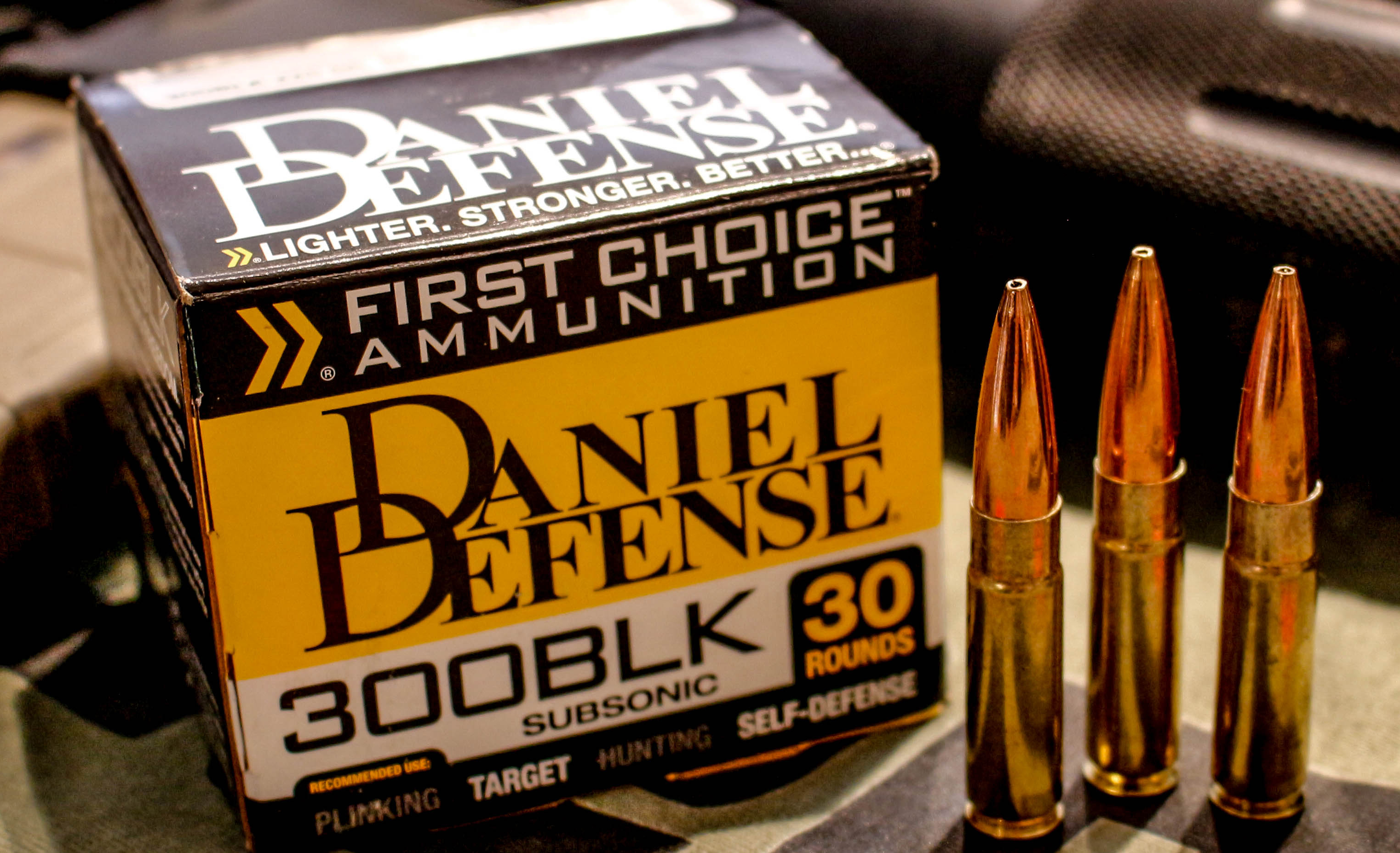 Our rifle liked the Daniel Defense ammo; our three-shot groups averaged just under one inch at the 100-yard mark, not too shabby at all. Recoil was pleasant, and the lack of loud report was a joy for my tired ears.
While the Lapua Scenar-L is traditionally thought of as a long-range target bullet—having a G1 Ballistic Coefficent of 0.647 which will maximize downrange energy and minimize wind drift—the design of the .300 BLK lends itself to pinpoint accuracy in a compact package, and the Scenar-L fits that bill perfectly. Using the heavy bullet is an easy way to get the velocities down to subsonic levels. However, that long bullet doesn't leave a whole lot of room in the case for the powder charge. Being a curious sort, I set up the bullet puller and pulled one apart to see what the Daniel Defense ammo was running on. My gut feeling was spot on: DD is using a ball powder, which takes up much less space than an extruded stick powder.
If you spend some time with the Daniel Defense .300 BLK ammo, it won't take long before you're smiling while checking the target. Though it is not as affordable as some other brands of Blackout ammo—Daniel Defense ammo costs $50/box of 30 rounds—the attention to detail, performance and premium components warrant the investment. Like other products with the Daniel Defense logo, this ammunition is well worth it.