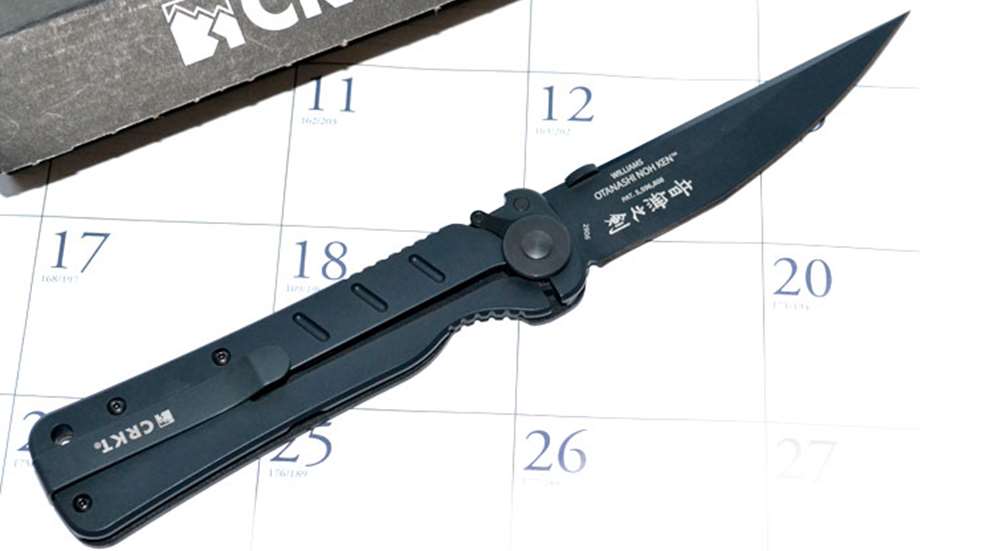 I met James Williams in 2004 when he was consulting for the SureFire Institute and LAPD's SWAT team, and I was just glad that I wasn't on the other side of the law. While tactical shooting experts are a dime a dozen these days, there aren't many who are masters of edged weapons. Mr. Williams, as I call him, is a former Army officer with more scars on his forearms than an alley cat. He's trained with Samurai and used knives in combat. That's why CRKT hired him to design fighting knives.
After he explained the ancient theory behind fighting blade design, he showed me in practice. His Hissatsu fixed-blade knife is basically a saber-sized Samurai sword. It's awesome, and if you have only one weapon and it must be a bladed one, this is the one you'd want. But operators need a knife that can be concealed, carried and counted on without burden—and so they demanded a folder. So Williams designed the Otanashi noh Ken that has the same deadly blade shape as the Hissatsu, only thinner for concealability. Its superb locking makes it fast and dependable.
A fighting knife must have a point wicked enough to penetrate armor and a blade conducive to slashing and long enough to reach vital organs. Its handle must be large enough to provide unfailing leverage, all while being robust enough to withstand the incredible forces of metal on bone when driven with adrenaline-fueled hands. Lastly, it must be light enough to remain handy.
Using 4.53 inches of AUS 8 steel modeled after the Osoraku-style blade, a design made famous by 16th century samurai Takeda Shingen, the Otanashi noh Ken is a knife fighter's knife. You won't find a sharper knife point anywhere. I used it to dig a splinter out of my hand, because it is sharper than a sewing needle. It's "sticky sharp," a term fisherman use to describe a hook that sticks on a fingernail when dragged across lightly.
The blade style is called a clip point by CRKT, but really it's a cross between a drop-point and a trailing-point.The upward curvature allows greater surface area for slashing—it keeps the blade in the cut longer for deeper cuts—while allowing an ultra-sharp point for stabbing. Its edge is hollow ground—the same as a straight razor—so while it's not going to hold an edge forever, it's as sharp as one. It's available in a half-serrated combo blade or the regular blade.
Its 5.5-inch handle is machined from solid steel on its right side to lend the locking unit strength; its left side features a G10 scale for gripping even when mired in sweat and blood. I know because I tested it on a wild hog. Make no mistake, the handle, with its flared ends like the grip of a baseball bat, is not for show—it's for gripping as if your life depended on it. Its neutral shape is designed for use in either hand, held point up or down. A finger groove recess guards against slippage and facilitates blade deployment via the thumbscrew.
The noh Ken's frame lock anchors and rotates the blade on a steel trunnion. It's robust due to its 1/8-inch thick steel flange that locks the blade into position. A thumb safety prevents it from closing inadvertently. A LAWKS-style clip suspends it deeply in a pocket, and I was surprised at how little this big pocketknife printed on my person. The only thing this baby lacks is a ninja suit, and, more seriously, spring assisted opening.
Certainly,the 6.4-ounce, 10-inch Otanashi noh Ken is not the knife of choice for a golfer during a day at the links. But it's the next best thing to Samurai sword if you find yourself in hand-to-hand combat without a handgun.
MSRP: $150