Despite being a common component to a concealed-carry permittee's gear, the knife is often misunderstood with regard to its supplementary role for self-defense.
With features such as dual thumb studs for ambidextrous use, combined with the company's patented OutBurst assisted opening mechanism, the Columbia River Knife and Tool (CRKT) Hissatsu Folder is one serious tactical-oriented knife, designed to be called to action when seconds count.
In Bryce M. Towsley's article "How to Survive a Terrorist Attack," the author describes SIG Sauer Academy's "Civilian Response to Terrorist Threats" course in detail. While SIG offers a variety of self-defense-related classes, one thing that caught my attention was part of the course was designed around the Beslan massacre. During the tragedy, Chechen jihadists searched each male captive for weapons, and executed those possessing them. While this may sound like common sense at first, it stresses the importance of close-quarters defensive shooting and the use of a knife as an effective weapon-retention tool.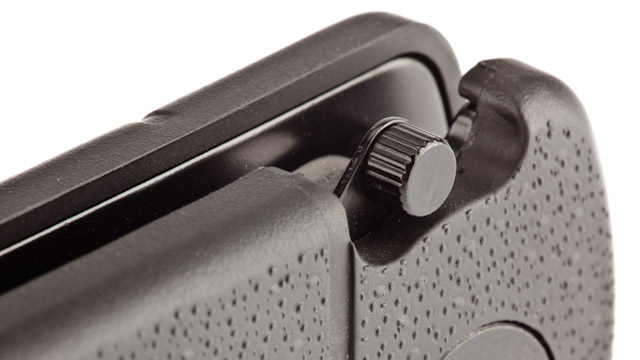 Designed by James Williams, a martial arts instructor with a history of training military special operations personnel, the Hissatsu Folder's blade is forged from AUS 8 stainless steel for added strength and ability to retain a sharp edge. It measures slightly less than 4 inches and coated in a non-reflective black Teflon, but the most impressive aspect of the blade pertains to its classical Samurai design. Not only does it retain a certain aesthetic appeal, its point imparts remarkable penetrating power—enough to punch through a sheet of 5/8-inch plywood down to the thumbscrew, while a graceful curve offers outstanding slashing performance, unlike conventional straight blades. The top-mounted thumbscrew provides dual studs for ambidextrous opening.
To enhance rapid blade deployment, the Hissatsu Folder boasts CRKT's OutBurst assisted-opening mechanism propels the blade into its fully extended position once it has been opened approximately 30 degrees. However, to comply with varying jurisdictional regulations the spring can easily be removed.
Once opened, the AutoLAWKS safety automatically engages, in essence converting the Hissatsu Folder into a fixed-blade knife. Designed as a means of preventing folders from closing during the stress of rapid deployment, the lever mechanism supplements the conventional liner lock found on most contemporary folders. The liner lock cannot be released until the user moves the AutoLAWKS lever rearward.
Flat-contour scales made of textured black Zytel aid users in attaining a correct cutting angle, while providing ample purchase when wielding the knife. The neutral handle shape also aids in quick transitions from an underhand or overhand grip, depending upon the situation. Each scale contains a dished-out recess, which serve as index points for your thumb and correspond with the thumb studs.
While I was immediately taken by the degree of authority with which the OutBurst mechanism snapped the blade into its open position, I found it difficult to work quickly. Initially, the blade seemed sluggish. Part of me wanted to attribute it to the scale recesses being too shallow for my thumbs—preventing me from nudging the thumbscrew upward—or perhaps the surface area of the thumb studs was too narrow. However, I consulted the OutBurst instructions and tips pamphlet shipped with the Hissatsu Folder and determined operator error was the likely culprit. Sure enough, a few hours of practice confirmed it.
If I had to choose a single aspect of the Hissatsu Folder to gripe about it would pertain to the knife's Teflon-coated stainless steel clip. No, I don't have anything against stainless steel, or the clip as a whole. In fact, the Hissatsu Folder's clip is the first knife clip I've encountered in several years that hasn't required extra tension to prevent it from being involuntarily dislodged from my pocket. The clip could even be reversed to accommodate my southpaw affliction. But, unlike other CRKT folders, the clip on this no-nonsense knife could only be configured for tip-down carry. I find this method perpetuates slower blade deployment than in tip-up fashion.
If you're looking for a serious tactical folder, built super-tough and capable of ultra-fast deployment, the Hissatsu Folder cuts more than just the mustard.