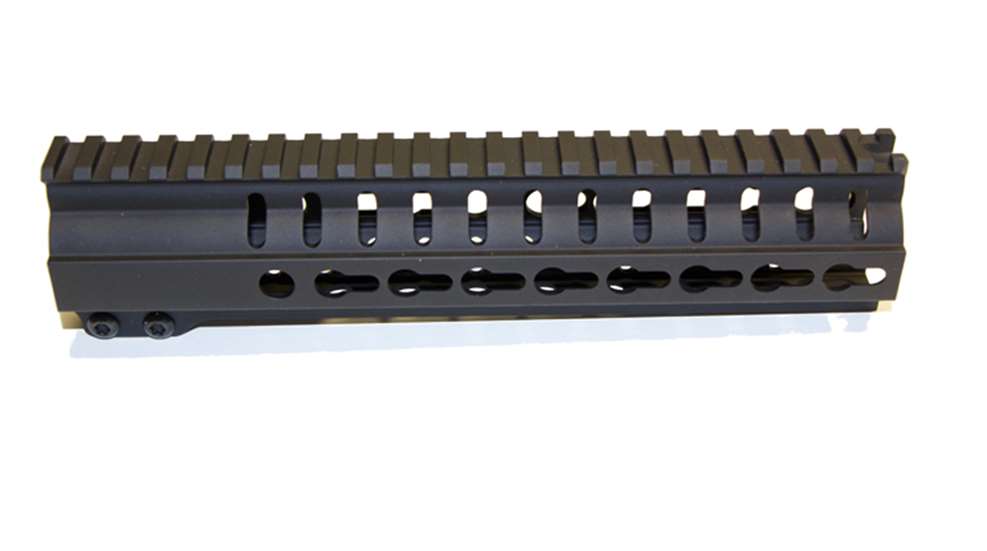 When it comes to handguards on AR-15-style rifles, there's two basic styles. The traditional Delta-ring, standard on the M4 issued to our Soldiers, allows myriad options from companies like Magpul and Mission First Tactical. Free-float handguards are typically more expensive, but do not impinge on the barrel and therefore foster greater accuracy.
CMMG offers numerous KeyMod-compatible, free-float handguards in its RKM line. Available in sizes from a 7-inch pistol variant through a 14-inch rifle offering, the 6061, T6 alumimum construction is Type III anonidized to MilSpec. The handguard itself weighs only 6.5 ounces and attaches using a standard, included barrel nut. There's even a cut-out at the distal end for A2-style front sights.
The KeyMod attachment system has emerged as one of the dominant methods of attaching accessories to an AR-15's handguard. More and more components like bipod mounts, foregrips and even lasers come with KeyMod attachment points to connect directly to the handguard. This eliminates a level of connection, making the overall system inherently more stable. Of course, Picatinny-style rail sections are also available for your existing accessories.
MSRP: $159.95 (9-inch handguard).