by
Shooting Illustrated Staff
posted on October 24, 2012
Support NRA Shooting Illustrated
DONATE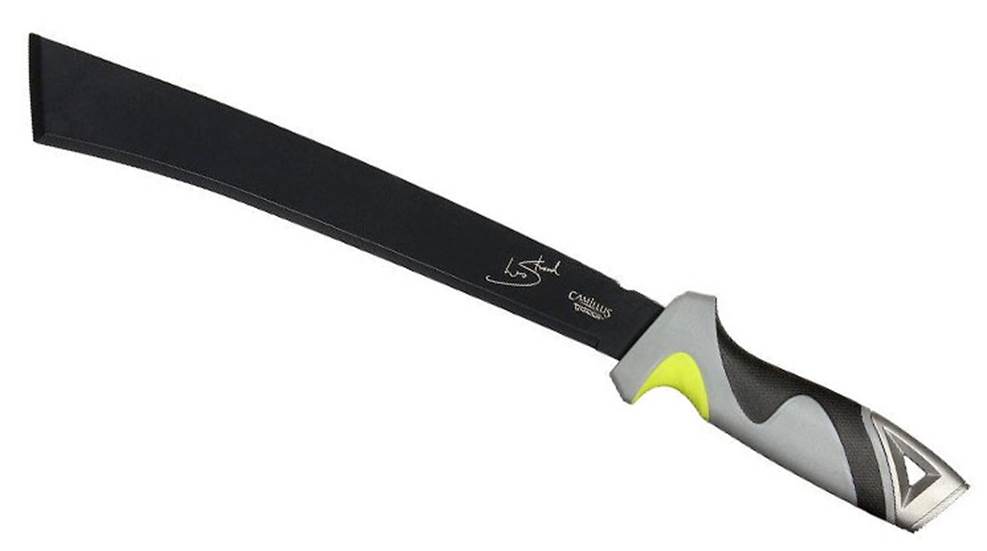 Camillus Cutlery's new SK Jungle Survival Machete gets the job done in tough situations.
Within reason, a large knife is better than smaller knives for survival--it's tough to cut down a four-inch pine tree with a 2-inch folder but you can still dress a squirrel with a large blade. However, conventional machetes can be too long for good general purpose use and their thin blades are designed for brush clearing or sugar cane harvesting and are not intended or very good for heavy duty-cutting , digging or prying that survival situations may require. Now comes the purpose-made Camillus SK survival machete with a 2/10 inch thick 11 3/4-inch blade with its 61/4-inch handle. This 18-inch cutting tool is perfect for almost any survival situation cutting task.
The Carbonitride Titanium treated heavy-duty 440-Stainless Steel blade (Please see editorial backgrounder at bottom) has a slight sweep inward so as to better capture whatever you may have to cut. The flat tip is also sharpened for use in digging or for smaller cutting chores. The seriously sharp and long edge has a more abrupt edge angle making it ideal for chopping and much safer and useable than a hatchet, the latter which can rotate and slip.
The tough ergonomically designed handle with lanyard hole features contemporary designed TPR rubber inserts for added grip traction even in cold weather thus making the machete more functional and safer. The pommel is checkered hard steel for non-slip hammering making it safer from slipping off a stuck object. A survival expert like Stroud will emphasize you don't run, jump, or do such silly things in any survival situation that can get you hurt and that also goes for any cutting or hammering you may have to do. The ballistic nylon sheath houses a handy fire starter and a nylon mesh pocket for various items like the Les Stroud survival tips packed with each SK Series knife.
For self-defense against deadly wildlife in the field, whittling a toothpick to cutting trees for a shelter, the robust Camillus SK Survival machete is a top pick for the serious outdoors-person whether belt carried, stowed in a backpack, snow machine or in your favorite off road vehicle.
Specifications:
Blade: 11 ¾ -inch; 2/10-inch thick (about 13/64 inch), Carbonitride Titanium bonded non-stick 440 C Stainless Steel.
Blade design: Inward swept with very-slight hollow-ground edge.
Hardness: 55 Rockwell C scale:
Handle: 5 ½ - inch polypropylene with high traction TRP rubber inserts
Weight: 18 ounces
Sheath: Ballistic Nylon with a nylon mesh accessory pocket and fire starter
Overall length: 18 inches
Machete Weight: 22 Ounces, sheath 10 ounces
MSRP: $77.99