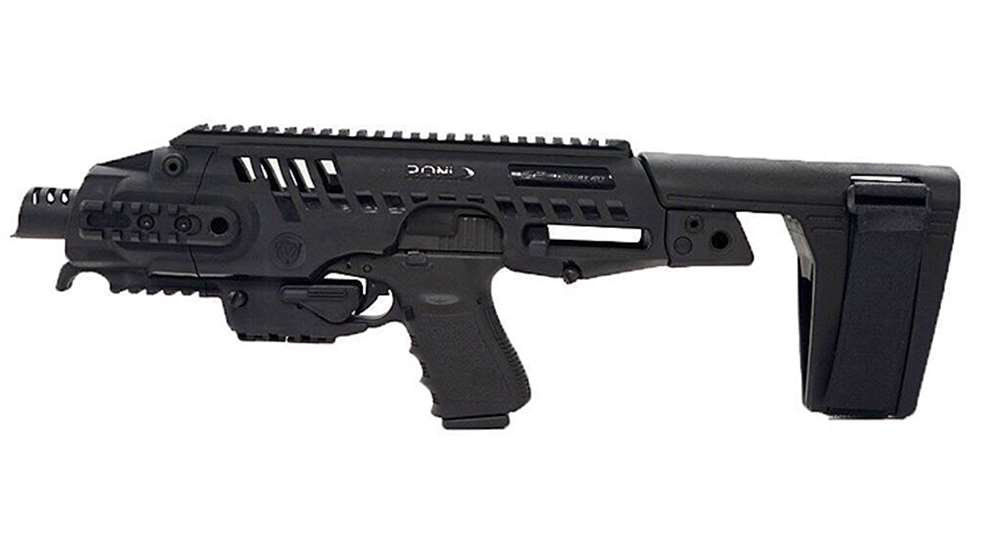 The pistol stabilizing brace was originally designed for wounded combat veterans and shooters with disabilities that inhibit their capacity to securely hold a firearm, but acceptance of the accessory has spread throughout the entire firearms community. The stabilizing brace has now become one of the most sought after pistol accessories, and CAA's RONI-STAB makes obtaining one less of an issue and without additional costs.
The RONI-STAB is the first Non-NFA RONI available. A Non-NFA firearm or firearm accessory means that is does not fall within the National Firearms Act of 1934 and therefore will not have an imposed statutory excise tax or require a mandated registration of the item. In other words, the non-NFA RONI-STAB saves you time, paperwork and money.
The RONI-STAB is an officially licensed SB Tactical Pistol Stabilizing Brace that attaches to the operator's forearm and secured by adjustable straps. The brace is constructed from high quality elasto-polymers, and has been designed to fit multiple handgun models. It requires no pistol disassembly at all; users simply insert the pistol into the kit which locks within seconds.
The RONI-STAB features an ambidextrous trigger-guard safety and charging handle, and Picatinny and side rails for sighting and other devices. Available in black or tan, the RONI-STAB is waiting at your local firearms dealer today.
Available models include Glock 17/19, Springfield Armory XD, Beretta, Heckler & Koch and Sig Sauer.