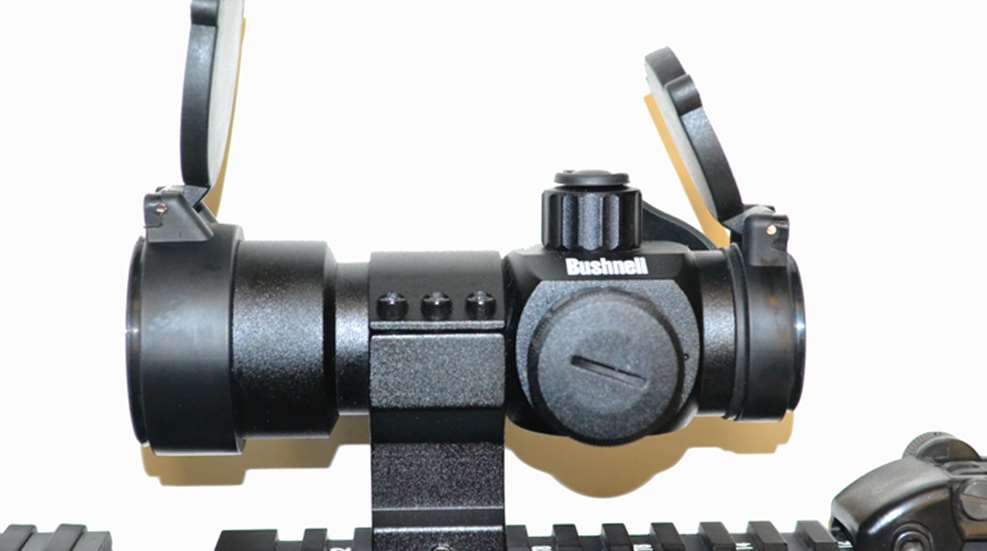 At a recent event hosted by Blackhawk, I had the opportunity to try out one of the TRS-32 red-dot scopes from Bushnell. This 5-MOA riflescope is designed with the AR-15 platform in mind, as it requires minimal real estate on the top rail of a flattop receiver and provides excellent instant target acquisition out to 100 yards (and quite possibly farther for those with better eyesight...)

This light (it weighs slightly more than half a pound) optic takes up a scant 5.25 inches on the rail (the mount requires only 1.25 inches of rail space), leaving room for back-up sights if needed/desired. It runs on a single CR2032 battery and has 11 brightness settings from which to choose.
The course of fire across which we were testing the TRS-32 (mounted to a Palmetto State Armory PA-15) presented 6 to 12-inch steel plates from 75 to 100 yards, along with several silhouette steel targets. Achieving rapid hits on even the smallest plates at 100 yards was a simple task with the TRS-32, and hits on the larger silhouette targets were almost easy, even at distance. It's a solid option for a re-dot sight that won't break the bank.
MSRP: $199.95.