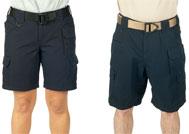 Designed specifically with the unique needs of hard-working law enforcement, military and security professionals in mind, the newly added summer line features short-sleeve shirts and shorts, for duty and concealment, in a number of different sizes, colors and styles for men and women.
"Our law enforcement, military, and security customers are incredibly important to us," said Pete Brownell, President/CEO of Brownells. "They're out there on the front lines every day. With the addition of summer clothes to our lineup, they'll be able to purchase lifetime-guaranteed products to keep them comfortable and cool."
To view the complete, new line of "cool" products, visit www.policestore.com and click on the "Duty Gear & Apparel" tab.
Brownells LE/Defense/Security Division is a full-line supplier of duty gear, apparel and tactical equipment. Plus, we carry a full line of firearms parts, accessories and ammunition. When you have questions about gear or guns, our Techs can help, free! Whether you're an individual officer or buying for a department, there's no minimum order size or small order fees - and a 100% satisfaction guarantee. To place an order, or for more information, call 800-741-0308 or find us online at www.policestore.com.