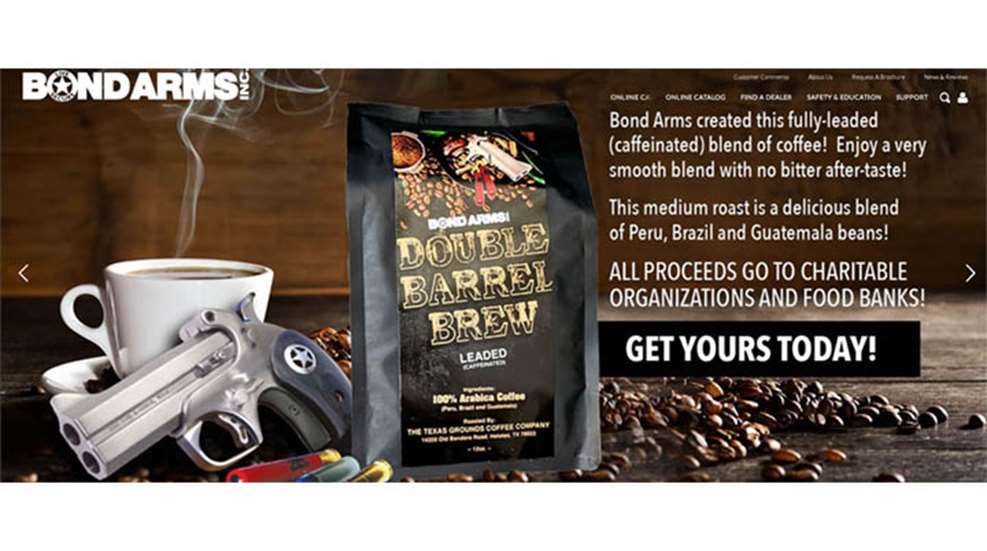 Bond Arms
announced the introduction of its Double Barrel Brew coffee this week, with the profits from its sale going to the local, state and national philanthropic groups dedicated to helping those in need. The list of recipients includes a variety of food banks, disaster relief groups and support ministries that help people pay rent and utilities.
The programs are particularly critical during the COVID-19 pandemic. In partnership with San Antonio's
Texas Grounds Coffee Company
, Bond Arms helped craft Double Barrel Brew, a medium-roast, for the effort. It's a blend of the finest beans from Peru, Brazil and Guatemala roasted to perfection and named after Bond Arms, the pioneer of the modern double-barrel handgun. Gordon Bond, president of Bond Arms, describes the result as "…one of the smoothest coffees I've ever enjoyed. No Bitterness. No aftertaste. Double Barrel Brew is just smooth, satisfying and fully leaded (caffeinated). You'll love it!"
Since the global onset of COVID-19, Bond Arms has heightened its support of organizations that come to the aid of those facing trying times. The company's history of helping whenever possible includes a variety of responses after ice storms, tornados and hurricanes have taken their toll. In keeping with that tradition, 100 percent of the profits from the new blend's sales go directly back to the community.
Double Barrel Brew is available as whole beans or ground and cost for either is only $16. It's an easy and enjoyable way to help. Order yours today by visiting its web page.
Bond Arms is based in Granbury, TX, and was formed in 1995. It is the nation's largest manufacturer of double-barreled handguns, offering 17 different models and 37 interchangeable barrels in its lineup. It also manufactures the semi-automatic Bond Arms Bullpup pistol chambered in 9 mm.