OK, if you're like me there's no way my Serpas find themselves stranded with the rest of the crew on "Gilligan's Island."
But last week, while I was attending Blackhawk's factory grand opening in Manhattan, MT, I used another level-2 retention holster that will soon be introduced by Blackhawk. I have to admit, it looks every bit as slick and regal as the Howells, yet during testing it was as effective as the original Serpa in preventing inadvertent loss of the handgun—whether to gravity or grabby Hollywood starlets like Ginger.
Unlike the Serpa, the second level of retention is not deactivated with the trigger finger. That trigger finger needs to remain parallel to the slide upon presentation, so I've never had a problem or a concern with the holster. Unfortunately, some people don't feel the same way—most of them pontificating professors who haven't built in the proper muscle memory, much less a working radio.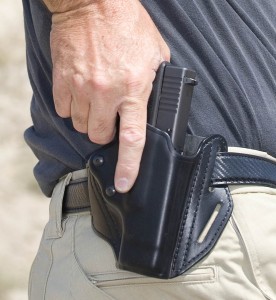 Blackhawk claims it is just expanding the line, not addressing criticism. Let's face facts, with the 4 millionth Serpa being shipped in the next 4 to 8 weeks, the holster could well be the most popular ever created.
Don't hold me to the name, because we were shooting prototypes that were collected, by serial number, after the event. GripBrake could just be a working title.
As you begin your draw, your thumb comes along your side to assume a master grip. A paddle (which on the production models is going to be bigger than the ones we used) rests close to your body, slightly above the spot your thumb needs to engage the grip. As you squeeze, the second level of retention is automatically disengaged, and pistol is free for presentation.
It may sound easy, but then again so does a 3-hour tour. I can tell there's been a whole lot of research involved, and during the factory tour we did get to meet the engineers who create the modern marvels.
As was to be expected, the slightly smaller paddle in our prototypes and an all-new system made me look like Gilligan (trying to hoist his pants up over his head) during my initial draws. But with a competent skipper running the range time (Todd Jarrett), it wasn't long until I had it figured out. Perhaps more importantly, the paddle didn't interfere during movement drills or bruise a finely toned belly crafted after years of 12-ounce curls. In short, it works and it works well.
As you can tell by the photos, belt slots allow adjustment of cant and ride height. Expect to see leather versions first, although with the internal polymer paddle and mechanism, it's really a hybrid (the protoype in the photo is leather). MSRP will be somewhere around $72. A nylon model will some in somewhere around $30 and a injection-molded variant will also be offered, in that order. Keep your fingers crossed and product should be on shelves sometime in January.
I know, I know, how could I forget Mary anne.
Blackhawk's onto something pretty innovative with this new retention system and holster. So stay tuned.