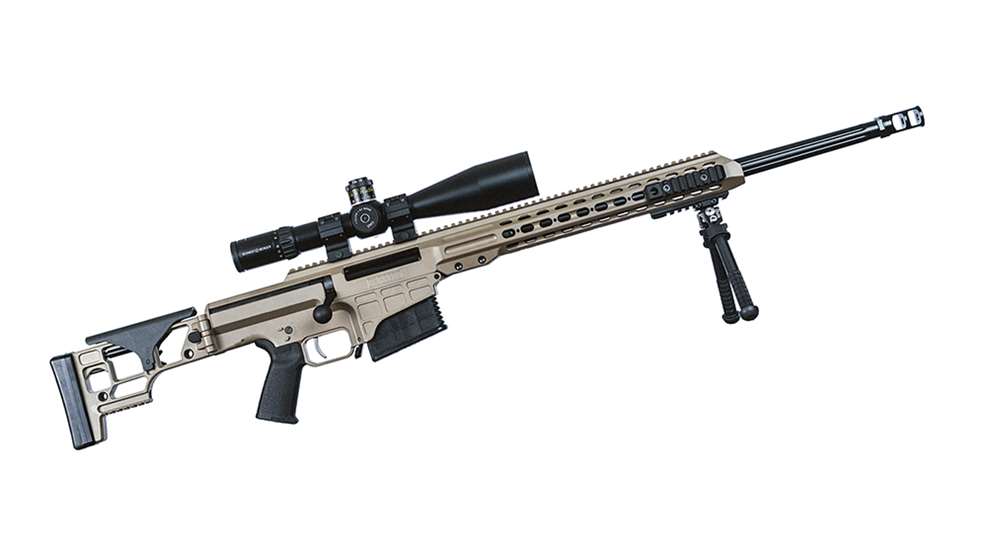 Barrett Firearms Manufacturing has been awarded three contracts from the U.S Department of Defense, including one to provide an undisclosed number of MRAD rifle systems chambered in .300 PRC, a cartridge introduced by Hornady only last year. The firearm's robust construction, user modularity and overall system accuracy provided an unbeatable combination for long-range effectiveness, according to the company press release.
The .300 PRC (Precision Rifle Cartridge) and its smaller sibling, the 6.5 PRC, were accepted by SAAMI just four months ago. Its Match version in .30-caliber is loaded with a Hornady 225-grain ELD Match bullet that provides a muzzle velocity of 2,810 fps from a 24-inch barrel.
The cartridges were introduced late last year, but loads selection now available has expanded to include a pair tailored for hunting. NRA's American Hunter Editor-in-Chief J. Scott Olmsted recently got a chance to test the match load and said, "Time will tell if the .300 PRC captures the hearts (and dollars) of long-distance match shooters and hunters. Here's betting it will."  
Barret has also won a $3.3 million maintenance contract for the United States Army-issued M107 Long Range Sniper Rifle system. The .50 BMG-chambered firearm has been fielded by U.S. Armed Forces for more than 15 years.
On Nov. 26, only a day before that announcement, the company was awarded an $8 million contract from the Department of Defense for the procurement of additional M107A1, M107 and M82A1M rifles. The .50-calibers will be delivered with scopes, suppressors and spare parts kits. Work is expected to be completed for the latter agreements by Nov. 26, 2023.
The M107A1 comes with a lightweight aluminum upper receiver with an integral 23-inch, 27 MOA M1913 optics rail. Barrel lengths are either 20- or 29-inches, with fully chrome-lined chamber and bore. Magazines have a 10-round capacity with cartridge-witness holes and an anti-corrosive coating.