Usually shrouded in secrecy and operating off the grid, the missions and accomplishments of the Navy Sea, Land and Air Teams—commonly known as SEALs—are the stuff of legends. And, for the past 28 years over Veteran's Day weekend, the National Navy UDT-SEAL Museum, located in Fort Pierce, FL, hosts its annual Muster event. The Muster is three days of dramatic, moving and fun activities for SEALs, their families and the general public.
The Muster offers the public an opportunity to experience an up-close view of the clandestine world of Naval Special Warfare and a front row seat for live capabilities demonstrations, plus a chance to view SEAL equipment, vehicles, and weaponry up close. Further, it's an opportunity for young people to meet and visit with active-duty SEALs and well as veterans going back to the founding of Naval Special Warfare. Most events are free and open to the public.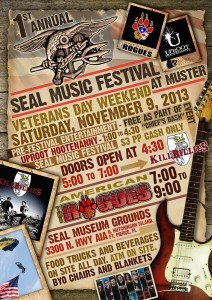 In 1981, the idea for the Navy SEAL Museum, dedicated to the men who trained on the nearby beaches of Fort Pierce, was born. Under the guidance of retired SEAL Capt. Norman Olson, the museum became a reality and opened to the public on Veterans Day, 1985. From its humble beginnings, the museum has experienced tremendous growth to become of facility with national recognition, attracting tens of thousands of visitors each year.
From its collection of artifacts acquired from SEALs, the museum displays vehicles, vessels, equipment and weaponry dating back to the earliest years of Naval Special Warfare, right up to today's multifaceted global operations and conflicts. In recent years, the museum has experienced accelerated growth and physical expansion, including the acquisition of dramatic new displays like the Mark V Special Operations Craft.
The museum receives no government funding and relies on the generosity of private individuals and companies to operate and expand.  This weekend's annual Muster is a great time to support this outstanding facility and to honor the spectacular legacy of Navy Special Warfare, past and present.