by
Philip Schreier, Director, NRA Museums
posted on September 11, 2021
Support NRA Shooting Illustrated
DONATE
Founded in 1852, Smith & Wesson has been making revolvers for almost as long as revolvers have been around. Best known for supplying Detective Inspector "Dirty" Harry Callahan with his iconic Model 29 .44 Mag., Smith & Wesson revolvers have been at the forefront of numerous firearms innovations, such as the bored-through cylinder for self-contained metallic cartridges, the top-break action with automatic case extractors and, well, you get the picture.
In 1990 Smith & Wesson began producing the Model 640, a light (22-ounce), short (2.25-inch barrel) stainless steel, five-shot revolver chambered in .357 Mag./.38 Spl. Complete with a shrouded hammer, this sleek little powerhouse was easily concealed and made for a perfect carry or off-duty piece.
Walter Edward Weaver of Centereach, NY, was just one of the thousands of police officers around the country who chose the Model 640 as a carry gun. He had joined the New York Police Department in 1992, Shield No. 2784, and was posted to the 47th Precinct in the Bronx. He was a favorite among his colleagues, who often went hunting and fishing with him on weekends. For a number of years, Weaver's dream had been to join with the elite NYPD Emergency Services Unit (ESU). His parents, William and Joan, were very supportive, as was his fiancée Shannon and his two brothers, Michael and Brian. It was a joyous household when he was accepted in 1998 for ESU Squad No. 3, also in the Bronx.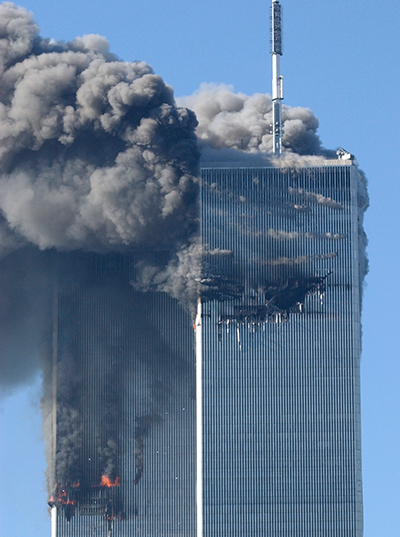 Weaver, by all accounts, relished his job as a member of the ESU. There is a saying amongst NYPD officers: "When the public needs help, they call the cops. When the cops need help, they call ESU." And when an ESU cop needed help, he called Weaver and asked him to substitute for him in lower Manhattan on that fateful morning of Sept. 11, 2001.
Weaver was to have been on a well-earned day off, having steadily worked the 4-to-12 shift for years. His ESU Truck No. 3 responded to the call coming from the North Tower of the World Trade Center, and Weaver rushed in immediately to render aid and assistance. He made two radio calls, the first from the 20th floor where he was helping evacuate and clear each floor, and then later on from the 6th floor where he was trying to help folks trapped in an elevator.
After that, he was never heard from again. His remains were never found.
Months later, at the debris-sorting field, a Smith & Wesson Model 640-2 was recovered. The cartridges had all cooked off and the grips were gone from the searing heat that turned the once-sleek revolver into a misshapen mass of stainless steel. The serial number was traced to Officer Weaver, and it remains the only physical tie his family has to what happened to him that morning at 10:28 am when he and 1,600 others perished when the North Tower collapsed.
Weaver was one of the 72 law-enforcement officers who gave their lives that awful day. He was only 30 years old. His brother Brian wrote that it was a number of days before his family understood that Weaver had been in the tower and had perished. A few years later, Weaver's father decided to walk the perimeter of the Ground Zero site. He made the walk a daily event for 8 years until his death in 2010.
His parents felt that the NRA's National Firearms Museum was a fitting location to place Weaver's Smith & Wesson revolver on display. By their accounts, as well of those of his hunting partners, Weaver was a very proud member of the NRA. So, today his revolver sits next to a Smith & Wesson Model 5906 that belonged to Weaver's friend and colleague, ESU Officer John D'Allara, who also perished in the North Tower.
The New York City Police Department Medal of Honor is the highest award to be bestowed upon a member of the NYPD. Officer Weaver was posthumously awarded his Medal of Honor on Dec. 4, 2001.
Officer Walter Edward Weaver, Shield No. 2784, End of Watch 10:28 am, 9/11/2001. On this, the 20th anniversary of the September 11th attacks and the 150th anniversary of the founding of the National Rifle Association, we pause to remember all of our members who, in public service, rush toward the sound of gunfire, the smell of smoke and the cries for help.