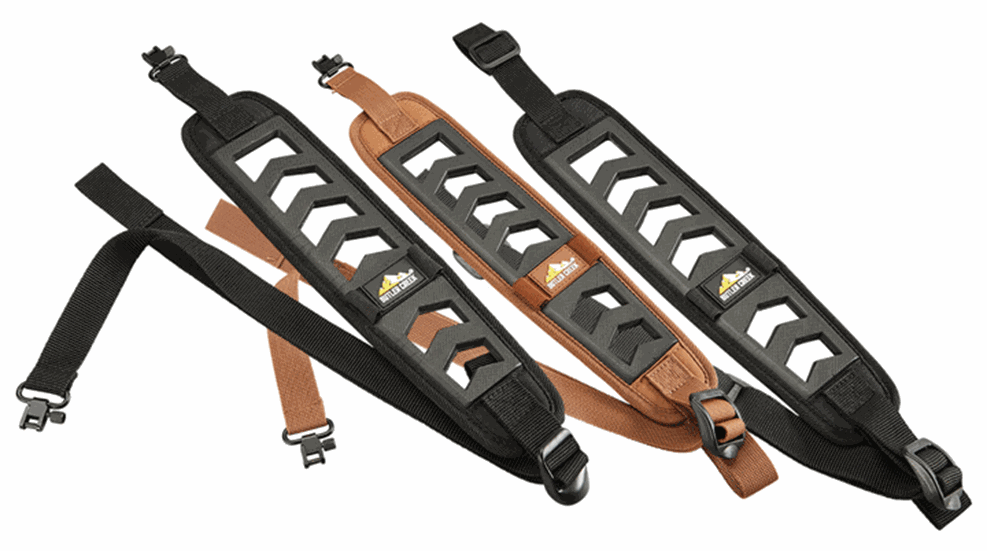 Butler Creek makes a variety of field-proven hunting and shooting accessories, and now they are rolling out a new Featherlight sling to American gun owners, available for sale in retail stores, online or on Butler Creek's website.
The new Featherlight sling features an industry first design that is made from closed-cell foam, making it 45 percent lighter than Butler Creek's other slings. This foam material helps to reduce weight yet still provides the durability you need in the field this hunting season.
The Featherlight is a true multi-purpose sling, suitable for use on a bolt-action rifle, shotgun or a modern sporting rifle. Available in either black or brown, it can also use two optional swivels or a conventional-style strap. This allows it to be easily added to any firearm, providing all-day comfort on even the most strenuous hunts.
Once in the field, hunters and shooters will appreciate the Featherlight's breathable construction. Made possible by cut-out slots that are evenly spaced across the closed-cell foam, the Featherlight sling reduces more trapped heat than other competitive models. The Featherlight's closed-cell foam also provides superior gripping ability, allowing it to easily adhere to slippery synthetic clothing.
For added security when navigating rough terrain, the Featherlight sling features a large thumb loop attached to the bottom of the sling. Additional features include two built-in cartridge holders for immediate access to extra ammunition. Adjustable from 22 to 36 inches, the Featherlight sling can be easily tailored to just about any gun owner.
Closed cell foam inner liner that is 45 percent lighter than other slings
Cut-out slots reduce trapped body heat and improve grip in the shoulder
Foam inner provides all day wear-ability
Large thumb loop secures sling on shoulder when navigating rough terrain
Quick access: Two built-in cartridge holders provide immediate access to ammo
Adjustable length, from 22 inches to over 36 inches
The new Featherlight slings have an MSRP of $34.95, and more information is available at butlercreek.com.