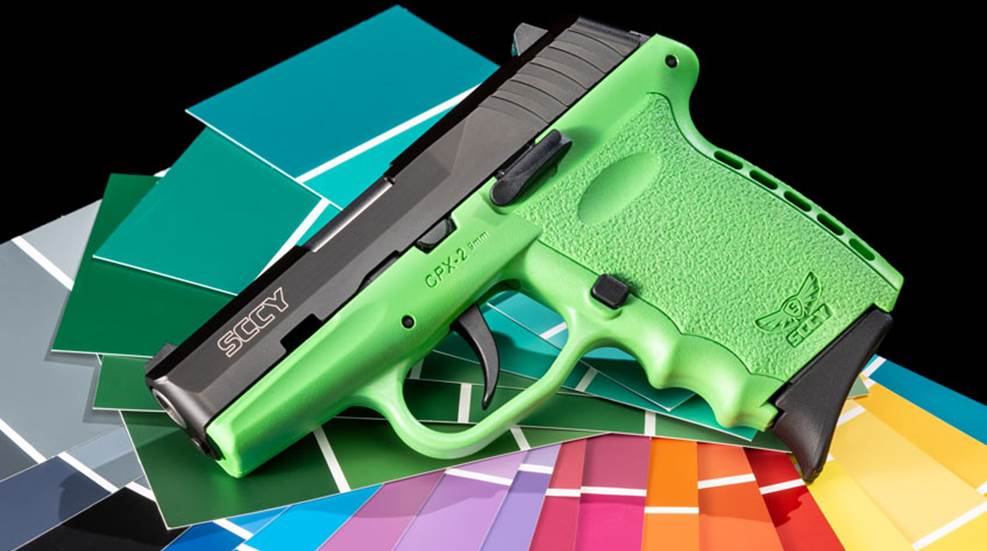 No longer are black and metallic colors the norm on pistols. Now, manufacturers offer every color imaginable, and that's not necessarily a bad thing.
When I first got into the gun business, I made a solemn vow to myself that I was going to avoid buying a pistol because I thought it was a pretty color. I wanted to be taken seriously and so guns were going to be super serious business, y'all. No pretty allowed.
I think that lasted until the first time I saw a Tanfoglio Witness done in an all-over case-colored finish.
For the longest time, though, handguns for the most part came in a few basic colors. While there are technical terms for the various metals and finishes—bluing, Parkerizing, nickel plating, bare stainless, etc.—the end result was you had black or metallic colors in either matte or shiny finishes.
More recently, however, the increased popularity of polymer frames, which can be injection molded in all the colors of the rainbow, as well as various high-tech, bake-on coatings means you can have your handgun in pretty much any color you want.
Probably the first fad of this nature consisted of pretty much every polymer duty pistol manufacturer releasing a version of their blaster in Flat Dark Earth—well, or something close to that, at least. See, Flat Dark Earth is a specific actual color, and these pistols tended to range in hues from peanut butter to a sort of baby-poop green. They sure sold, though.
An attacker is more likely to take their cues off the defender's attitude and determination, rather than the color of the firearm in their hand.
Now, what is the utility of a Tactical Dirt-Colored pistol versus a plain black one, especially if your job doesn't involve wearing a pistol in an open holster while trying to blend in while in the desert? Well, nothing, really. It's a change of pace, though, and some of them look pretty cool. I may rationalize my purchasing the Glock G19X with various technical reasons, but at the root of it all, I liked the color. It reminded me of the "Burnt Bronze" finish on my Wilson, to tell the truth.
I've softened my stance on the various "Look! A gun, but for girls!"-colored finishes over time, too. I used to think they were bordering on pandering, but hey, if someone gets attached to a gun because they like the color, aren't they more likely to take it to the range and practice with it, and more likely to carry it? So if a Tiffany Blue SIG P238 is what it takes to get someone enthused, then more power to them, I say.
Are there downsides to colorful guns? Well, there are some.
For starters, there are guns painted up in colors that mimic everything from power tools to Super Soakers to the old Nintendo Zapper. Due to size and shape differences, people are unlikely to actually confuse a Desert Eagle with a DeWalt or a SIG Sauer with a Super Soaker, but this is kind of a gray area. If a pistol is intended for range use only and is secured away safely when not in use, I'm pretty ambivalent about these paint jobs. While it's important that any firearm be secured away from young kids, one painted to look less "gun-like" makes that consideration doubly important.
I've seen this same argument extended to the small polymer-frame pistols molded in bright colors. The argument being that the bright colors make them look more like a toy, and the answer to that would seem to be in safe storage, as well.
I've seen the argument advanced that a criminal assailant won't take a brightly colored firearm seriously, but I'm not sure I buy that. An attacker is more likely to take their cues off the defender's attitude and determination, rather than the color of the firearm in their hand.
There are two colors, though, that I personally don't think belong on actual firearms, and those are solid bright red or blue, and there's a reason for that. Bright blue and red are the de facto industry-standard colors for non-lethal training arms, either inert dummy guns for use in retention or disarm training, or weapons that fire paint-bearing marking rounds for force-on-force scenario training. Painting an actual firearm in the colors used for non-lethal training dummies would be as irresponsible as painting a real firearm's muzzle orange like an airsoft pistol's.