Suppressors make shooting far more civilized. They don't make it silent, as you can tell from the video above, but they do reduce the sound signature to levels that are more polite than an unsuppressed gun.

The trouble has always been the process one needs to go through to own one. For starters, you must first live in one of the 42 states where owning a suppressor is legal. Next, find a suppressor you want to buy at a licensed dealer. Then, you must go through a process that involves passport-style photos, fingerprinting, paperwork and a special tax payment. Then comes the long wait for BATFE to approve the transfer of the suppressor to you, at which point you can go pick up your suppressor for the dealer.

What if there was a way to eliminate all of the hassle (apart from waiting for BATFE) while at the same time getting a versatile, modular suppressor to use with most any semi-automatic handgun?
Enter Silencer Central. The company has devised a proven system that allows you to let them do almost all of the work for you. You pick your can, enter your info, speak with them (they'll call you), send them a photo off of your phone of you on a white background and within a few days, a packet containing a filled out Form 4 for your signature, fingerprint cards and ink (along with instructions on how to fingerprint yourself) will arrive in your mailbox.

They'll even set up an NFA Trust for you to make ownership even more streamlined and protected. You just sign the forms, take your prints and send everything back to Silencer Central. They file the forms and your $200 tax payment (which is billed with the suppressor) and provide periodic updates as to the status of your approval. When approved, because the company has offices with the proper FFLs in all 42 suppressor-legal states, the can will show up at your door. What's more, you can split the payments into four smaller payments over time, so the $945 sticker (plus the $200 tax) becomes more manageable. The whole Silencer Central process is quite amazing and easy, and a great means of making shooting safer for everyone.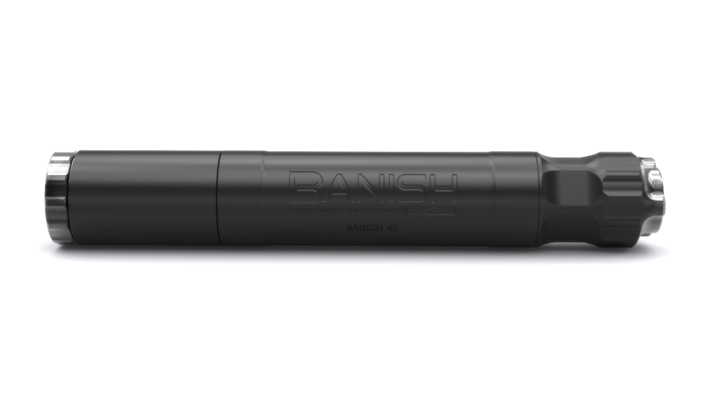 The Banish 45 shown in the video is a great handgun suppressor (the company also makes rifle and rimfire cans) in that it works with most semi-automatic handgun calibers from .22 LR to .45 ACP, and the company says it will even work with subsonic .300 BLK loads (but only subsonic). It threads directly to the barrel and includes a piston system to ensure proper cycling of the action after each shot.

Pistons are available for any standard thread pitch and are easily swapped without tools. Made from titanium and aluminum, it contains 12 baffles, but can be configured with eight baffles for a more compact version that still provides significant sound reduction. Disassembly, cleaning and reassembly are all simple processes, so maintenance is not a problem. The Banish 45 is also full-auto rated.
In the 12-baffle configuration, the Banish 45 is 8.6 inches long and weighs just 11 ounces. In the shorter, eight-baffle configuration, it's just 6.7 inches long and weighs a mere 9.6 ounces. Since it can be easily changed from one to the other by the user, that makes for an extremely versatile hearing-safety device—in the longer configuration, it cuts the report by 36dB (for a 9 mm).
Between the ease of purchase and the quality of the product, you can't go wrong. My experience with Silencer Central's customer service was also incredibly positive, so in the unlikely event of any hiccups with the process or the product, I have no doubt they will quickly and enthusiastically make things right. With the Banish 45 I tested, however, they won't have to do anything but pry it away from me.