Micro-red-dot-equipped pistols are making a lot of headway in the concealed-carry world. A red dot optic can provide quick target acquisition and allows for easy racking of the slide if needed. I decided I wanted to start getting into the pistol optic world but didn't want to cut into one of the slides on my carry guns.  I found a solution in the ready-to-go Kimber Aegis Elite Pro 1911.

Kimber already milled the slide and mounted a Vortex Venom Red Dot Optic on top of this already-beautiful firearm. The Aegis I received is chambered in 9 mm, however, you can also get it in .45 ACP, if you prefer. The Aegis Elite Pro has an elegantly beautiful look to it. In my experience, Kimber always pays attention to detail, and the company definitely makes its guns stand out in the market.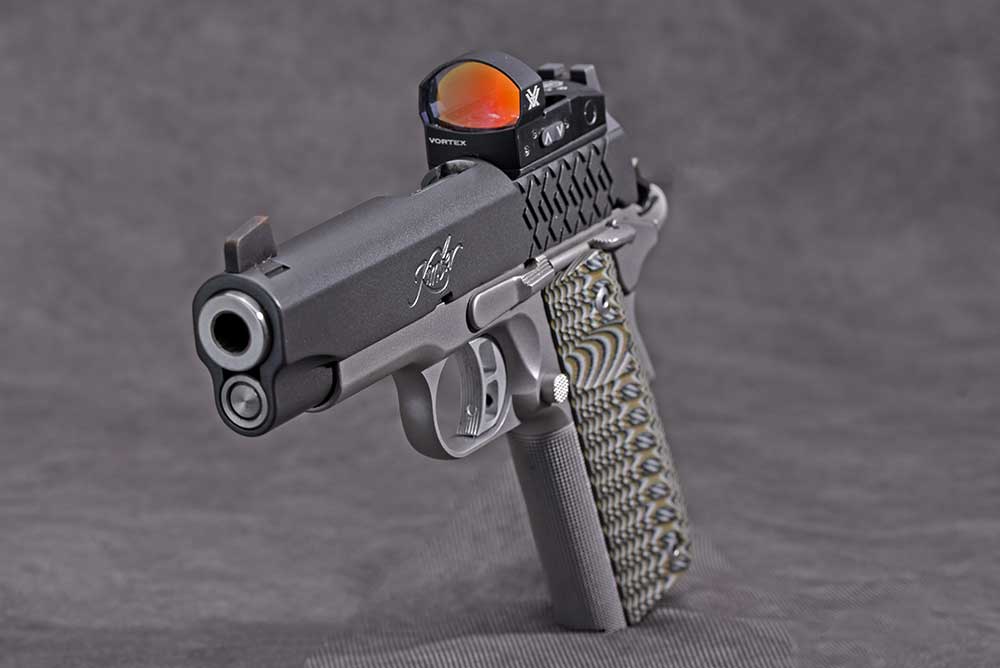 The satin-silver finish on the stainless-steel frame looks great in contrast to the slide. One of my favorite attributes is the matte-black slide that features Kimber's new AEX serrations. The Aegis Elite Pro Boasts some beautiful G10 grips in a gray, green and black color scheme. The rounded, satin-silver frame is a wonderful addition to the Aegis. while beautiful, it also gives you a very comfortable feel and will prevent any unnecessary snagging or printing from clothing during concealment. A comfortable grip along with the rounded heel and front stippling is a great combination that gives the user incredible control of the pistol in any shooting condition. The Aegis is undoubtedly a strong defensive handgun by itself and just gets that much better when you add the Vortex Venom on top of it.

The Venom uses a 6-MOA dot, which is on the larger side. This enables the shooter to acquire the sight very quickly. This was my first experience with a red dot on a handgun and I have to admit, it took me a little bit to get used to it. I was having a hell of a time sighting it in and figuring the thing out. I turned it off for a while and just shot with the excellent set of suppressor-height iron sights that come with the package. I absolutely loved them. I was able to acquire the iron sights very quickly. I then turned the Venom back on and started to understand how to use that red dot finally.

Out of the box, the iron sights co-witnessed perfectly with that red dot of the Vortex Venom. I had multiple people with different levels of experience shoot the Aegis Elite Pro. Everyone that shot it had no problem put rounds on target in center mass very naturally and with ease. The dot was small enough to allow precision 25-yard hits, and it was big enough to acquire it quickly, great for those not accustomed to shooting a red dot sight on a handgun.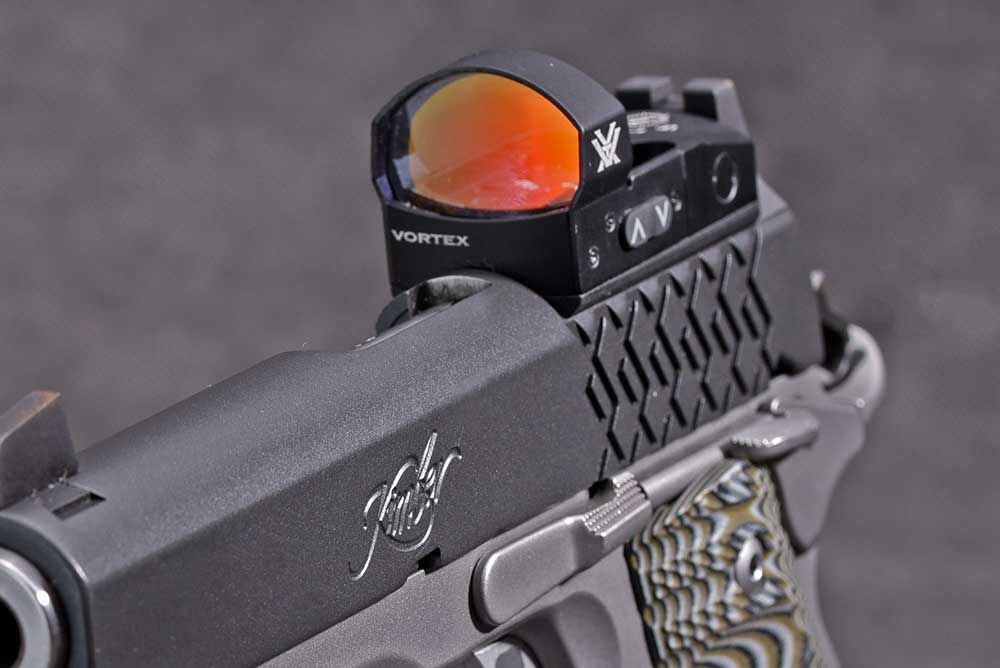 Like me, it did take people who had not shot with a red dot on a handgun a minute to figure it out (Note: taking a course with an expert like Scott Jedlinksi of Modern Samurai Project can help immensely). Once we all figured out how to acquire the target beyond that dot, every single shooter was able to drive nails at 15 yards. Even new shooters in one of my classes where able to destroy the center of the targets at 15 yards. I guess the red dot on a pistol really does seem to have a place. Any time behind the trigger of this gun is an absolute joy.

I fed pretty much every type of ammo you could think of through it, and the Aegis Elite Pro was able to function perfectly in every drill every single time I pulled the trigger. I did not experience any type of malfunction the entire time I shot it. The trigger breaks at right around 4.5 pounds, and the reset was short, like most 1911s. The trigger break was smooth and clean. All in all, a good trigger for a defensive 1911. The Aegis weighs in at 35 ounces empty. This gun was so darn fun to shoot. I and a number of others probably ran about 3,000 rounds through it over the course of several weeks. I tried to get the gun to malfunction, and it never did.

One thing that seems to have always held true with Kimber is that the company's guns are ready to go right out of the box. No need to replace sights, triggers or make any other modifications. From box to carry in seconds applies to the Aegis Elite Pro for sure. I ordered a few different BlackPoint Holsters right away and started carrying the Aegis. I quickly discovered that this gun, although a little heavier than I was used to, was great to carry. The Vortex Venom red-dot sight is the icing on the cake that really sets this firearm apart from the competition.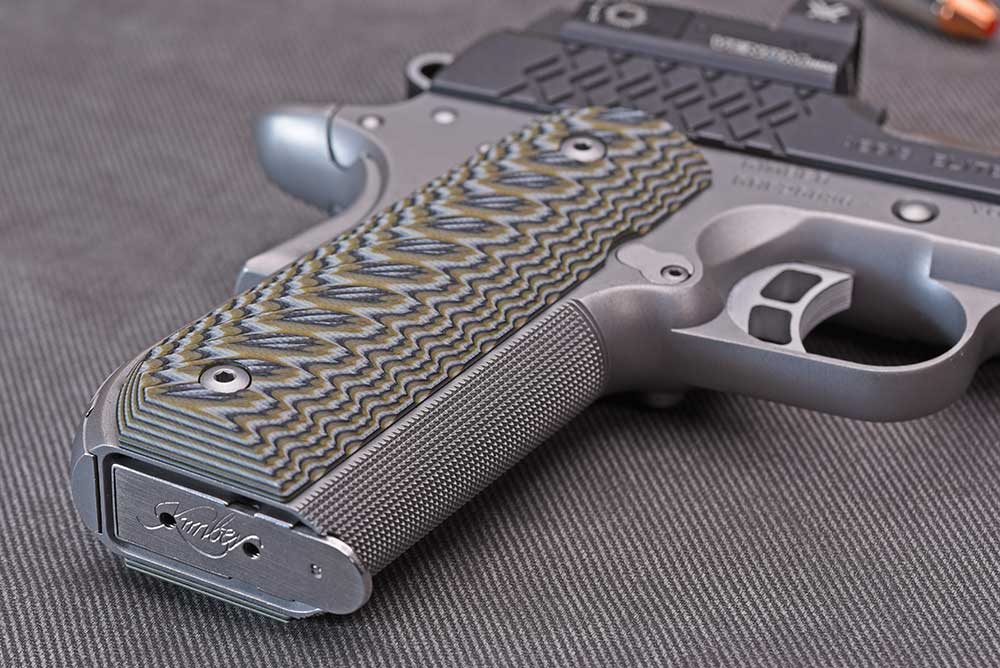 Carrying with an optic on a pistol does require a bit of adjustment for the veteran concealed carrier, I found out. The optic rises high off the slide, significantly increasing the height of this concealed-carry pistol. Carrying one of these on the hip, you're probably going to want a cover garment with a bit more drape than usual. The normal long T-shirt made it a bit more difficult for me to conceal on my hip OWB or IWB. As I carried it in the middle of a Michigan winter, the addition of a coat or sweatshirt did make it a bit easier. Carrying AIWB shifted toward the strong-hand side of center seems to make this pistol easier to conceal.

If you are someone who has always wanted to carry a handgun with a red dot optic but don't want to modify a current gun or, the Kimber Aegis Elite Pro is the perfect solution for you. With the Aegis Elite Pro, you can now own an incredible pistol that is extremely accurate that comes right from the factory with a red-dot optic mounted on the slide for an affordable price. With an MSRP of $1,415, it seems to be a great value for every shooter.