The Springfield Armory 911 pistol is advertised as the tool for when you "have to be your own first responder." It's a clever, if obvious, double meaning, because the name invokes not only the national emergency 9-1-1 phone number, but also Springfield's long history of making variations of the M1911 government model .45 ACP pistol. As names go, the 911 packs a lot of meaning into a short model number.
This new Springfield offering is an impressive self-defense pistol for deep concealment, and the company's first firearm chambered for the .380 ACP cartridge. Whether stuffed in a purse or pocket or strapped to an ankle, the micro-compact Springfield Armory 911 is a natural concealed-carry gun. While some may question the sufficiency of the .380 ACP chambering in a defensive pistol, this review isn't the place for such an analysis. Suffice to say that .380 ACP ammunition has made huge strides in ballistic performance, and only you can decide where to draw the line between carry-gun size and power. The market for pocket-size pistols remains hot—and Springfield has stepped up with an impressive handgun.
The 911's manual thumb safety is positioned in the traditional place, and operates as an M1911 shooter would expect.
The Springfield Armory 911 certainly evokes the style of John Browning's classic design, but it is not a miniaturized M1911 pistol. While the 911 is a single-action pistol with the same grip angle and similar controls as the M1911, the internal lockwork is much different. Perhaps most notably, the thumb safety operates unlike an M1911 because it does not lock the slide closed. You can actually cycle and load or unload the pistol with the lever engaged—which is an interesting safety feature. I can see some definite advantages to being able to manipulate the gun without ever disengaging the manual safety.

The micro-compact Springfield Armory 911 also lacks a functional grip safety, having a fixed beavertail instead. So, the resemblance to an M1911 is, in many ways, only skin deep. Materials used in the 911 are top notch, and are what you would expect in a high-end firearm. A black-nitride, stainless steel slide rides atop a lightweight, anodized-aluminum frame with Hogue G10 grip panels. Everything about the look and feel of this gun inspires a feeling of quality and attention to detail. All of the edges are rounded, smooth and snag-free for comfortable carrying and handling. The trigger guard is nicely undercut to allow for a higher grip. The frontstrap and mainspring housing have Springfield's "Octo-Grip" texture, paired with nicely grooved grip panels for secure purchase on this tiny pistol.
Other features you might desire, like an ambidextrous thumb safety and a loaded-chamber indicator, are found on the 911. It even comes standard with AmeriGlo Pro-Glo tritium night sights with an integrated ledge for one-handed slide manipulation. Springfield has included all the bells and whistles for a gun designed for deep concealment.
Undoubtedly, the Springfield Armory 911 is quite a small pistol. It is slightly larger than a Ruger LCP, and slightly smaller than a Glock G43. The miniaturized 1911-style platform is very svelte, measuring just larger than 1-inch wide at the grips. For most people, this size hits the sweet spot for deep concealed carry—large enough to shoot well, but small enough to conceal almost anywhere. Yet, the 911 handles and shoots like a much larger gun. The well-designed beavertail permits a high, comfortable grip. With the standard magazine, most shooters will curl the pinky of their shooting hand under the grip, but with the extended magazine, even shooters with larger-than-average hands should get nearly three full fingers on the grip. 


Unlike many ultra-compact .380s, the factory sights on the Springfield Armory 911 merit discussion. The standard night sights are of the three-dot variety. The front assembly consists of a green tritium lamp surrounded by a yellow luminescent ring. Two green tritium lamps surrounded by white luminescent rings comprise the rear. I have never seen this exact setup before, and I like the way the color difference highlights the front post. At combat distances, the front blade is the most-important thing to see, and I prefer designs that clearly distinguish it. I don't notice the difference as much in complete darkness, but it is definitely appreciable in daylight. These factory sights are highly visible and effective—a true rarity on micro-compact handguns.
It should be no surprise that the 911 has an excellent trigger. A hallmark of single-action, 1911-style pistols is a light, crisp trigger, and the 911 is similar to its larger cousin in this regard. Trigger travel is short, and the roughly 5 pounds of pull weight is perfect for a gun like this. After a short take-up, the trigger breaks cleanly. It is worth noting that the trigger is not a rearward sliding trigger like an M1911, but actually pivots. Of course, a single-action pistol like the 911 is designed to be carried "cocked and locked," with a round in the chamber, the hammer cocked and the safety on. If you are not comfortable with carrying a gun in this fashion, the 911 is not for you.


A manual safety is essential with a single-action firearm. The Springfield Armory 911's manual thumb safety is positioned in the traditional place, and operates as a M1911 shooter would expect. I found the safety to be easy enough to swipe off with the thumb, but slightly harder to activate. This may loosen up over time, but with a deep-concealment pistol, I would prefer a safety that is a bit stiff. There is really never a rush to activate a safety, but you want to be sure it does not deactivate without a conscious effort.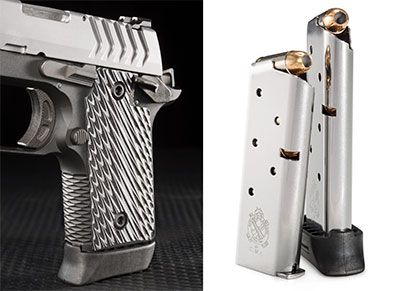 Although all the controls are in familiar places, even a shooter experienced with the M1911 platform will have to make some adjustments for this micro-compact pistol. I have large hands, and I found the gun reasonably easy to operate with a bit of practice. Speed reloads can be tricky, but that is always true for a gun with such a small grip size. You may have to open up your shooting-hand grip a bit to ensure you can insert a fresh magazine without interference from your pinky. I expect most people who carry a pocket pistol are not concerned about having the fastest reload times.
I did, however, have one significant problem with the 911's size. While the web of the shooting hand is protected from hammer bite by a generous beavertail grip, I can't say the same for slide bite. By the end of my first range session, I had a few superficial slices near the base of my thumb. Now, I am not a small guy. I'm more than 6 feet tall, and my doctor says I could lose a few pounds. That being said—if you have large hands, make sure this gun will fit you with adequate clearance for the slide. This is a problem I have with other micro-size M1911-pattern guns, too. If your hands are average size or smaller, I expect it will not be a problem. Other shooters who tried my Springfield Armory 911 did not report any issues.
One very interesting feature of this pistol is that the slide is very easy to operate. People with small hands or even a weak grip should have no problems loading or reloading this handgun.
One very interesting feature of this pistol is that the slide is very easy to operate. People with small hands or even a weak grip should have no problems loading or re-loading this handgun. The flat-wire recoil spring around the full-length guide rod makes this configuration work like a dream. Making the gun easy to rack was a design goal for the 911, and Springfield definitely hit the mark.
The Springfield Armory 911 performed exceptionally well at the range. The high-visibility sights combined with the crisp single-action trigger make it a pleasure to shoot. Even with a barrel shorter than 3 inches, accuracy was impressive. The 911 is more than "combat accurate," and should give any shooter confidence in its ability to deliver good hits on a target. My rapid-fire groups at 10 yards could fit within the size of my hand. Recoil is snappy, but certainly not painful or even uncomfortable.
Carrying the 911 is easy because of its small size and weight. This pistol is a natural for front-pocket carry, and even comes with a nylon pistol pouch that can be used as a rudimentary pocket holster. If you want to carry this way, however, there are better pocket-holster options on the market. The 911 would also be an easy carry in an ankle holster, or even on the belt, if you prefer. There are many ways to carry a pistol that is less than 6 inches long and weighs less than 1 pound fully loaded.
Disassembly of the Springfield Armory 911 is similar to a traditional M1911, but easier. There is no barrel bushing to be concerned with, and no tools required. After making doubly sure the gun is unloaded, you simply line up the half-moon disassembly notch over the slide-stop lever and push the slide-stop lever through the frame to free the slide for removal. Reassembly requires the ejector to be manually depressed for the slide to move into place—a fact covered in the owner's manual, which you should probably read before attempting to disassemble the gun for cleaning. Also, be careful when reinserting the slide-stop lever to avoid the dreaded "half-moon" scratch that M1911-style pistols can incur with careless reassembly.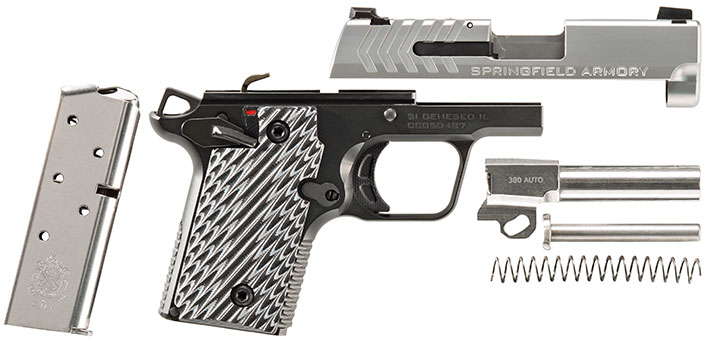 The Springfield Armory 911 comes with a flush-fit, six-round magazine and an extended seven-round magazine, a bore brush and a black nylon soft case with a basic nylon pocket holster. The obligatory cable lock is included as well. The only oversight seems to be the cardboard box, as opposed to the usual lockable hard-plastic box. Call me a snob, but I am not a fan of cardboard boxes for a gun of this quality.
Materials used in the 911 are top notch, and are what you would expect in a high-end firearm.
Suggested retail is on the higher side for a pocket .380 ACP pistol, coming in at $599. However, that price seems quite reasonable for a well-executed pistol with night sights and all the accessories. It might be nice if Springfield would offer a model without night sights for a bit less—perhaps in the future. The 911 can also be had with an integrated green Viridian grip laser for an additional $190. I did not have an opportunity to try the laser-equipped model, but lasers can be an effective sighting option on small defensive guns.
The Springfield Armory 911 lives up to its rather clever name—it is a competent "in case of emergency" pistol that pays tribute to the venerable M1911. This micro-compact features some of the best characteristics of John Browning's classic design, and is manufactured in the U.S. by a company with a long history of producing high-quality 1911-style pistols. When dialing 9-1-1 is not enough, the 911 is dialed in for self-defense.