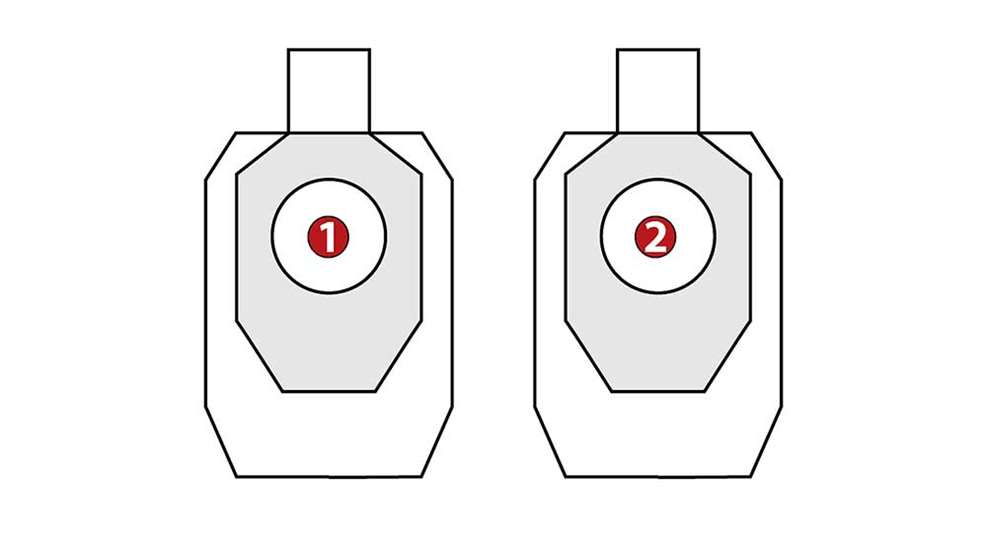 When practicing my defensive-shooting skills, I often include drills with two targets. After all, bad guys frequently have partners and working with two targets is a good way to develop speed and accuracy. You can run these drills either from the holster or using a depressed-muzzle, low-ready position with both paws on the gun. I like to start at 3 yards and work my way back to 7 or 10 yards, but the limiting factor is at what distance I can continue to make quick, accurate shots. Give this 25-shot drill a try using two silhouette-style targets.
When shooting defensively, we usually talk about shooting to the center of mass. More correctly, we should be referring to this as the center of the vital zone. As for the head shot, while running these drills I would like you to think of it as a precision shot, and, when combined with shots to the center, a gear shift—a change in speed. While the center shots might be delivered quickly, you will almost certainly need to slow down and take the time necessary to make the head shot. I find it helpful to talk myself into making good shots. With two shots my mantra is, "Front sight, press, front sight press, front sight." That's right, three sight pictures for two shot; the last sight picture is part of follow-through. That being the case, my mantra for a single, precision shot is, "Front sight, presssssss, front sight," which allows for a slower shot as well as proper follow-through after.
Running these drills helps me work on my marksmanship skills combined with practicing useful defensive-shooting skills. For even greater applicability to your defensive preparation, try this drill using your standard carry ammunition—it's not a lot of ammo, but you can wait until it's about time to rotate what's in your magazines.
Give these a try. Start slowly, work on increasing your speed and, as always, be safe and have a good time.