by
Shooting Illustrated Staff
posted on December 28, 2016
Support NRA Shooting Illustrated
DONATE
Shooting Illustrated announced the winners of seven Golden Bullseye Awards, along with the NRA Publications announcement of the Golden Bullseye Pioneer Award. The awards will be presented at an invitation-only breakfast on Friday, April 28, during the 2017 NRA Annual Meetings & Exhibits in Atlanta, GA.

"We are pleased to announce the winners of the 2017 Golden Bullseye Awards," said Doug Hamlin, executive director of NRA Publications. "This year's winners exemplify what NRA members want in their shooting and hunting equipment—outstanding performance, innovative design and value. We congratulate those who have created the industry's best new products and look forward to recognizing them in Atlanta."

Products considered for the Golden Bullseye Award must meet certain criteria. First, the product must have been recently introduced and available to consumers before the selection of the award. The product must have also been used or tested by a staff member or contributor of Shooting Illustrated.

During this use or evaluation, the product must have demonstrated reliability in the field and must have met or exceeded the expectations of the user. The product must be innovative in design and function, and it must provide value to the end user. Finally, the product must be styled in such a way that it benefits the shooting and hunting industry and its enthusiasts as a whole.

Shooting Illustrated's selections for the Golden Bullseye Awards for 2017 are:

Rifle of the Year: IWI US Tavor X95
Shotgun of the Year: Standard Manufacturing DP12
Handgun of the Year: Kimber Micro 9
Ammunition Product of the Year: Federal American Eagle Syntech
Optic of the Year: SIG Sauer ECHO1
Accessory of the Year: SOB Tactical Puncher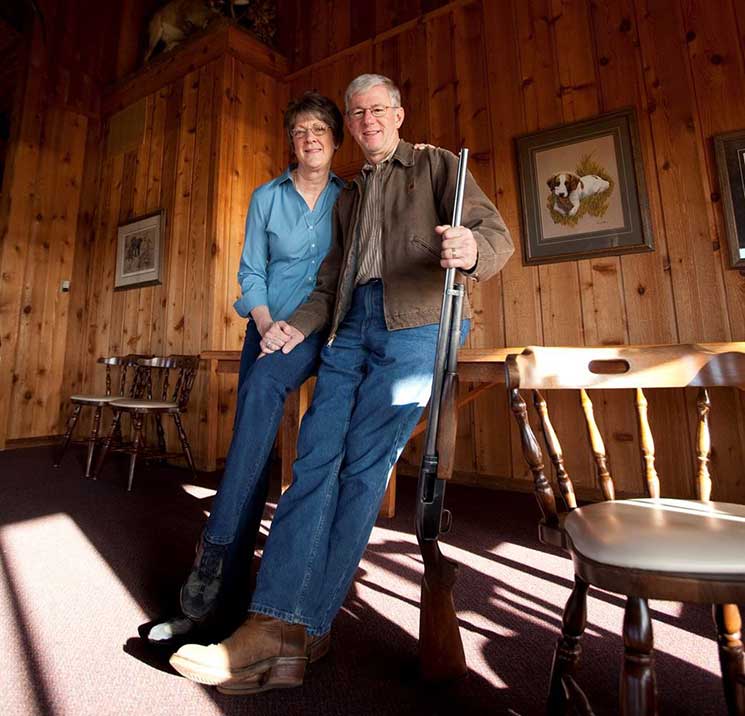 In addition, Shooting Illustrated and the rest of NRA Publications work together to select winners for the annual Golden Bullseye Pioneer Award. This year, the winners of the Pioneer Award are Larry and Brenda Potterfield.

As co-founders of MidwayUSA, the Columbia, MO-based shooting sports supply house, the Potterfields transformed a small brick-and-mortar shop into a retail giant of the firearm trade. Equally important to NRA members and to the cause of freedom, the husband-and-wife duo created new and inventive ways for firearm-industry businesses and private citizens to actively support NRA. Most prominent are two enduring and invaluable financial lifelines: 1) The NRA Round-Up Program, which provides shooting-equipment customers an opportunity to "round up" their purchases to the nearest dollar amount for donation to NRA-ILA. This began with a coin jar at the family's early retail gun shop, then was adapted to Midway mail-order transactions and eventually adopted by other companies. To date, Midway's Round-Up contributions come to about $13 million and total Round-Up contributions from all donors amount to just over $17 million, funds earmarked for the NRA-ILA National Endowment for the Protection of the Second Amendment and other urgent needs. 2) At Larry's urging, and with a helping hand from Midway, the very first Friends of NRA chapter was established in Columbia in 1992, and hosted the very first Friends auction event, thus setting the stage for a groundswell that has held more than 20,300 events nationwide, reached over 3.7 million attendees and raised more than $740 million for The NRA Foundation.
While the Potterfields have continuously innovated the pick-pack-and-ship dynamics of catalog retailing, the core principle of MidwayUSA's business model—one that comes from both sides of the transaction—is that customer satisfaction is paramount. In 2015, the company earned its second Malcolm Baldridge National Quality Award, a prestigious recognition from the National Institute of Standards and Technology and awarded by the President of the United States to firms rated outstanding in seven criteria for performance excellence. In 1992, the Potterfields founded Battenfeld Technologies, a shooting-accessory product development and manufacturing firm that spawned popular brands like Caldwell Shooting Supplies, Wheeler Engineering and Tipton Gun Cleaning Supplies, among others.
Larry and Brenda Potterfield identify themselves as "country kids from Missouri," and their marksmanship skills certainly bear that out. They are passionate, worldwide hunters and ardent conservationists, both at home in Missouri and on a global scale. Both Brenda and Larry have long been known for their love of fine firearms, and for many American hunters and shooters, Larry embodies what it means to be a gun enthusiast and tinkerer, thanks in part to MidwayUSA's long-running "thanks for your business" TV commercials. There is practically no cause for the betterment of shooting, hunting, wildlife management and firearm freedom that has not been generously supported by the Potterfield family, and in recent years they have been especially devoted to youth shooting.
Their service to NRA is unparalleled, including Brenda's lengthy stint on the board of The NRA Foundation. Steadfast defenders of our 2nd Amendment-protected freedoms, the Potterfields work tirelessly to encourage and counsel NRA efforts to elect gun-friendly office seekers. To that end, they are charter members of the NRA's Ring of Freedom and hold the distinction of being charter members of the Charlton Heston Society—the Ring's ultimate honor. They proudly wear their Golden Ring of Freedom jackets at NRA events in hopes of motivating others to follow their example.