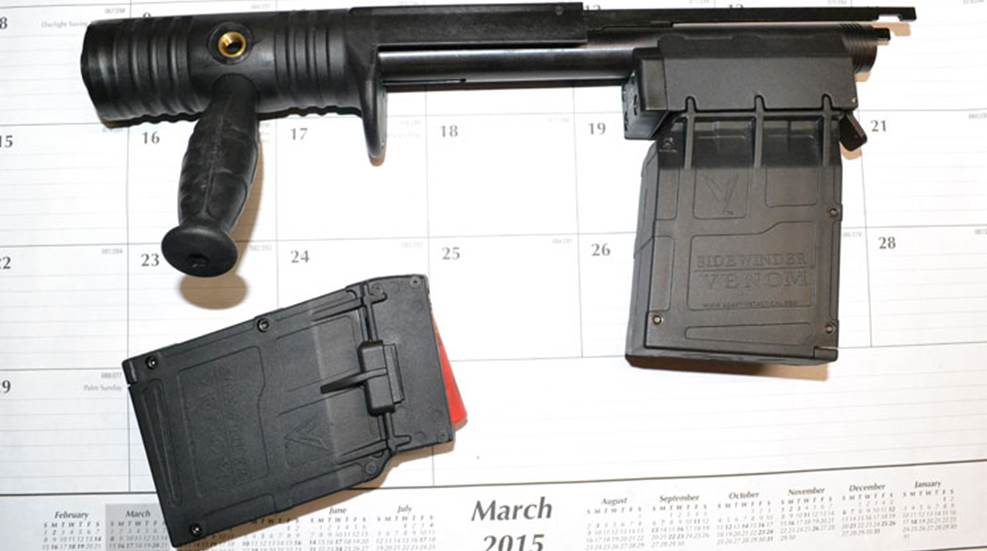 Shotguns offer a formidable amount of power in each round. Unfortunately, because of the size of the ammunition, scatterguns don't carry a large amount of ammunition. Most shotguns, particularly pump-action, have at best 7 round capacities, and those with shorter barrels typically top out at 5 rounds.
Adaptive Tactical's Sidewinder Venom conversion kit allows rapid reloads with five-and 10-round box magazines or 10-round drum magazines. The conversion kit replaces the tubular magazine and fore-end with the Venom kit, which contains a vertical fore-grip that can be positioned at a number of angles for best fit.
One of many advantages to removable box magazines in a shotgun is the ability to rapidly switch between types of shotgun ammunition. One of the pump-action shotgun's greatest strengths is the ability to function with a staggering array of ammunition, from slugs to birdshot to less-lethal ammo without having to change gas settings or worry about cycling. With different magazines, changing the type of munition being fed into the shotgun is as simple as choosing a different magazine.
MSRP: $199.99.