Many of the attributes that allow the pistol to perform so admirably in combat make it well suited for situations where the only enemy is the clock. Custom builders offer tricked-out 1911-style race guns optimized for competition, but to run one of these you either have to wear a brightly colored jersey emblazoned with a dozen sponsor logos or tell the kids there's not going to be a family vacation this year. For the rest of us, there are production guns. (For a complete gallery of the Range Officer, go here.)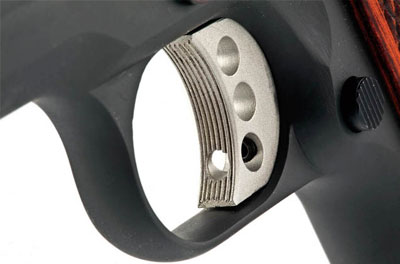 Springfield Armory's 1911s are no strangers to the competitive circuit. Pistols from the company's Custom Shop have helped Rob Leatham rack up an impressive list of championship titles nearly as long as his formidable right arm. But now Springfield has a lower-priced alternative for beginning and budget-minded shooters wanting an affordable, match-ready 1911. The new Range Officer may look spartan when compared to a race gun, but it has all the features you need to get into the game.
Competitive shooters on average tend to put more rounds through their pistols than any other handgunner, and Springfield built the Range Officer (RO) to last. Its full-sized frame and slide are hammer-forged 4140 steel with a cost-effective, but durable, Parkerized finish. Frame-to-slide fit is tight; sideways movement between the two parts is nearly imperceptible. Checkering covers the flat mainspring housing, but the frontstrap is smooth. The magazine well is slightly beveled to facilitate magazine changes.
The slide has a set of 18 narrow serrations at its rear. They may not be fancy, but the deeply cut serrations do their job perfectly by providing a generous gripping surface for manually racking the slide.
Good sights are a must on a pistol built for competition, and Springfield tops the RO's slide with a Bo-Mar-style setup. The wide rear blade is adjustable for windage and elevation, and horizontal serrations on its face help keep glare from the sun and overhead indoor lights at a minimum. The forward-angled front blade is basic black and also has horizontal serrations on its rear surface. Despite its lack of eye-catching adornments, the front sight is easy to pick up upon presentation and recovery from recoil, and its sharp outline appears crisp against targets in the adequate lighting conditions common to most matches.
The 5-inch, match-grade barrel and barrel bushing are stainless steel. To ensure reliable feeding, Springfield throats the RO's barrel. A narrow cut in the center of the barrel hood allows you to quickly check the status of the chamber.
The fire controls are straightforward, but have subtle enhancements intended to ease handling when you're under the stress of the clock. Serrations cover the slightly extended, frame-mounted safety, while the beavertail grip safety is Springfield's High Hand design with a speed bump. The RO does not have a firing-pin block. Other controls include a checkered slide-stop lever and a skeletonized hammer with serrations traversing its top.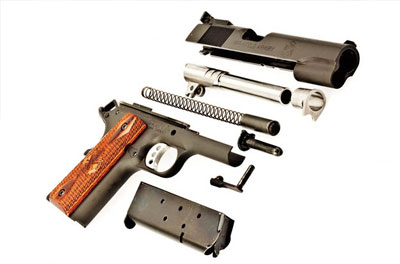 Springfield puts an aluminum, long-style trigger with three circular lightening holes in the RO. It is adjustable for overtravel via a screw accessible through a port in its serrated face. The trigger in the sample RO I tested had a bit of takeup before breaking at almost 6 pounds. Seeing how the RO is designed specifically for competition, I expected a lighter pull weight. The pistol would benefit if Springfield shaved a pound or so from the pull weight.
The glossy, cocobolo grip panels contrast starkly with the RO's matte-black finish and add a bit of flare to the workmanlike pistol. They are checkered in the classic double-diamond design and include the Springfield Armory logo.
In a smart move that makes the RO match-ready from the box, Springfield provides a polymer belt holster and a dual-magazine holder with the pistol. They are basic and completely serviceable. The tunnel-style holster held the RO securely during testing, and after some tinkering with the tension screw, the magazine holder kept the seven-round mags in place without making it overly difficult to withdraw them for reloads. I'd feel appropriately equipped with this setup in a match, but first I'd buy at least one more magazine. The RO ships with two, and with one in the gun, there's an empty hole in the magazine holder that might as well be put to good use.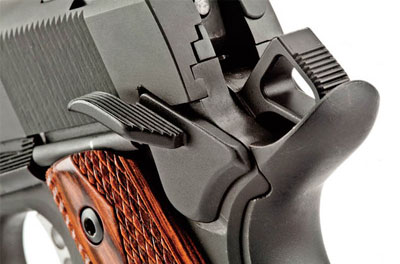 On the range, the RO proved it was ready for competition. A colleague and I put more than 600 rounds through the pistol with only one failure to feed during the early stages of testing. The RO digested eight loads with bullet weights ranging from 185 to 230 grains equally well. Fired from a bench at 25 yards, several five-shot groups of Black Hills 230-grain FMJ rounds measured less than 2 inches. I'm sure Leatham would get groups from the RO that would embarrass me, but I was happy with the performance.While I'd love to shoot a race gun in my next match, I'd have to sell my car and take a couple hundred bucks out of my savings to do it. For now, the Springfield Armory Range Officer, which shoots as well as my ability will allow and costs a fraction of a high-end pistol, will more than suffice.
Manufacturer: Springfield Armory; (800) 680-6866, www.springfield-armory.com
Action Type: Recoil-operated, semi-automatic
Caliber: .45 ACP
Capacity: 7+1
Slide: Hammer-forged 4140 steel with Parkerized finish
Frame: Hammer-forged 4140 steel with Parkerized finish
Barrel: Stainless steel; 5 inches
Rifling: 6 grooves; 1:16-inch LH twist
Sights: Dovetailed, fully adjustable,Bo-Mar-style post and notch
Trigger Pull Weight: 5 pounds, 12 ounces
Grips: Checkered cocobolo
Length: 8.5 inches
Width: 1.31 inches
Height: 5.5 inches
Weight: 40 ounces
Accessories: Extra magazine, polymer holster and dual-magazine holder, hard case, lock, owner's manual
MSRP: $939