That Leupold makes outstanding optics is perhaps one of the more "Duh," statements one can make. The company has been the gold-standard for riflescopes for more than a century, and that gold ring around its scopes' objective bell is one of the better-known symbols of quality in the shooting-sports industry. If there has been any drawback to Leupold products, it's that they are generally significantly more expensive than competing products.

There are good reasons for that price disparity, including the fact that pretty much every riflescope Leupold offers is made in the U.S. at the company's factory in Oregon, while very few other optics are manufactured in America. Now, there's an affordable Leupold red-dot sight that's U.S.-designed, manufactured and assembled, making the gold ring attainable for more shooters than ever before.
The new Leupold Freedom RDS is a solid optic, both in terms of its features and its durability. I use the word solid intentionally, because while the Freedom RDS is an excellent choice for any long gun with a Picatinny rail for mounting optics, it's not exactly the paragon of innovation. And that is totally fine. The fact is, most shooters are looking for a reliable, durable optic that won't break the bank.

They can wait for cutting-edge features—like thermal imaging, Bluetooth connectivity or ridiculously long battery life—to trickle down in price. Let's not forget that electronic reflex sights like the Freedom RDS were shockingly cutting-edge 25 years ago.
Today, however, dot sights are a dime a dozen, with some being not so far off that idiomatic price. Leupold's previous offerings in this market were dripping with quality, but only affordable for those dripping with cash. The Freedom RDS has an MSRP of $364.99, which puts it toward the lower-middle end of all dot sights, and the low end of red-dots that you can trust under virtually any circumstance.

It's built like a tank and includes a robust mount, making it ready to go out of the box. While the scope itself weighs 7.2 ounces, it comes already inside the mount, which adds a hair under 5.5 ounces to the total package.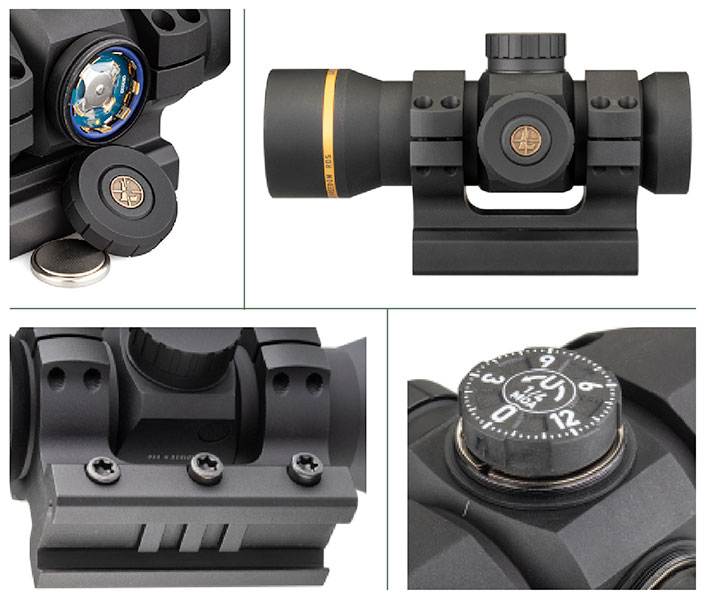 Illumination is controlled via a button on the battery cover on the left side of the scope. Pressing the button turns the dot on and pressing it again increases intensity. When the brightest setting is reached, the dot flashes five times, and subsequent presses will decrease illumination. Turning the dot off requires depressing the button for 3 seconds. This is an interesting approach that lacks some of the versatility of an illumination dial, but remains easy to use. It functioned flawlessly in testing.
The Freedom RDS includes Leupold's proprietary Motion Sensor Technology (MST), which preserves battery life by shutting the dot off if the sight remains motionless for 5 consecutive minutes. So, no worries if you leave the sight on when you put your gun back in the safe—just remember to hit that illumination button when you next grab the firearm.

Should you be in constant motion with your Freedom RDS, battery life is 1,000 hours at the middle setting (four out of eight), 300 hours on the high setting. The 1-MOA dot covers very little of the target at pretty much any range where one would use an unmagnified optic. I found it to exhibit significant blooming at the highest setting, however, making it appear to be almost double in size when at its brightest. Still, 2 MOA isn't exactly overly large, and is in fact the same size or smaller than many popular red-dot reticles. 
Adjustments are quarter-MOA per click, which is fairly standard for an 1X optic. They exhibited perfect repeatability in testing, and with a range of 80 MOA for both windage and elevation, the Freedom RDS has more adjustability than you are likely to ever need.
Given that this is a well-made optic from a manufacturer known for extreme reliability, discussing the warranty seems like a facile way to increase word count. That may be true, but there is actually something interesting here.

Many manufacturers offer 1-, 2- or even 5-year warranties for their electronic products, but very few offer a lifetime, transferable warranty on a gun-mounted optic that relies on sensitive circuits to function. Leupold does, and while you're unlikely to ever need to make use of the warranty, it's nice to know it's there. It's just one more Leupold feature that is now within the reach of more shooters than ever before with the Freedom RDS.