This review of the IWI Galil ACE, "Aces High" appeared originally as a feature in the May 2017 issue of Shooting Illustrated. To subscribe to the magazine, visit the NRA membership page here and select Shooting Illustrated as your member magazine.

As a young gun enthusiast, I did not pay much attention to the AK family of firearms. That wasn't due to any bad experiences with AKs, but rather because I had no experience with them whatsoever. You see, in those days, when the Vietnam War was still a fresh memory our parents' generation was trying to forget, AKs only came up in reference to the "commies" or "reds." Kalashnikovs were either disdained or ignored altogether by my shooting influences. However, certain variants, like the IWI Galil line, improved and updated the AK's basic design.
Valmet's M62 and RK62 variants were among early AK offshoots that flew onto my radar. These svelte, Finnish-made battle rifles provided such upgrades as adult-size buttstocks, synthetic furniture, good iron sights and a flash hider that was designed to help shoot through wire fencing. I read everything I could find on the M62, which was not saying much in those pre-internet days. But the search nonetheless led me to the Israeli-made Galil family of firearms. Here was a design that incorporated the best of the AK and Valmet families' features in one platform. Most commonly chambered in 5.56 NATO and carried in near-daily conflict by our one true ally in the Middle East, the Galil made frequent appearances in my adolescent daydreams—back when you could sketch out gun designs in the margins of your school papers without being arrested or committed.
Most mid-20th-century fighting-rifle designs that have endured into the new millennium have also been upgraded to meet evolving needs. The modern Galil is no exception. It comes to us now as the ACE platform, courtesy of Israel Weapon Industries (IWI). At the time of this writing, the IWI Galil ACE is advertised in two pistol and two rifle configurations. Both pistols are chambered in 7.62x39 mm and use 8.3-inch barrels. The only discernible difference between them is that one model has a stabilizing brace and the other does not. One rifle is likewise chambered for the Russian cartridge, while the other is designed around the longer 7.62 NATO. IWI US's product literature also shows new-for-2017 pistol models chambered in 7.62 NATO and a 20-inch 7.62x39 mm. Several 5.56 NATO models were also introduced at the SHOT Show in January. All Galil ACE models carry the same improvements over the old Galil models like a smaller (left-side) charging handle, reduced iron-sight profiles, magazine commonality with other popular platforms and integral Picatinny rail mounting surfaces.


It is important to note that all members of the Galil ACE rifle family are assembled in the U.S. from a combination of American-made and imported parts to stay in compliance with 18 USC§922(r). IWI's manuals remind the user that only U.S.-made magazines should be used in these rifles because the mag counts as three of the total number of U.S.-made parts required in order to stay on the right side of federal firearm regulations.
I recently tested two Galil ACE rifles, and in spite of their different chamberings and receiver sizes, these modern Galil incarnations share many common features. The ACE's reciprocating charging handle is manipulated through an easy-to-grab knob protruding through the receiver's left side. A spring-loaded cover plate positioned below the charging handle's slot moves down and out of the way as the handle moves rearward, then closes up to protect internal parts as the bolt moves back into battery. A polymer pistol grip—molded into a larger plastic section that is attached to the receiver—does not appear to be interchangeable with either AR or AK aftermarket parts.


Right-side-folding stocks have the added ability to extend or collapse to any of six positions. Each rifle includes a polymer cheek rest that snaps over the buttstock to provide a raised support when using high-mounted optics. The rest can be attached in one of two positions on the stock to better fit the shooter.
The Galil ACE's fore-end has a very stout, aluminum, assembly that provides rails at the three-, six- and nine-o'clock positions. Each section is protected by a textured, sliding cover. The six-o'clock cover has a slight bump at the front edge that should function as a sort of handstop for the pistol variants. Recesses are milled into the front of each aluminum rail section to allow pressure switches and cables to be inset into the fore-end. Covers can then be reattached while providing access to the accessory buttons beneath them. The outer diameter of the fore-end with rail covers attached is a tad wide for my liking at 2.3 inches from side to side. The bare-aluminum rails are pretty tough on skin, but a set of silicone, aftermarket covers would be a simple way to comfortably reduce the fore-end diameter.


Milled-steel receivers and stamped-steel gas cylinders are topped by linked sections of Picatinny rail. The gas cylinder's bottom surface slides into receiver slots, but it still has some play when fully seated. Thanks to a stout return spring, the receiver cover is held under enough tension to keep it (and the rail attached to it) very tight. A set of robust iron sights are protected by steel ears on each of the ACEs I tested. A massive front-sight post is easy to spot through either of the rear apertures, and the larger hole and front post come standard with tritium inserts. An included sight-adjustment tool moves the rear sight for windage and the front sight for elevation in the same manner as the AR family's sights are adjusted, though a bullet's tip or other pointed object will work, too. Front-sight housings are transverse pinned to dovetails in the barrel and double as gas blocks (M16-style). They are positioned at the front end of each rifle's handguard and provide seats for the gas cylinders to mate with.
Multiple sling-attachment loops are situated along the Galil ACE, including one on the left side of the folding stock's large hinge. The right-side folder covers the selector on that side when fully closed, which is right where it stays until needed. The stock quickly deploys into a rock-solid, extended position.


Internally, the Galil ACE rifles are very much AK-like in basic design. The long-stroke piston's chrome-plated operating rod is affixed to the bolt carrier and the bolt itself is assembled into the carrier just like the rest of the AK family. Likewise, the trigger and hammer assemblies appear to be quite Kalashnikov-esque in design. When I asked a representative from IWI US whether an aftermarket AK trigger could be installed, I was told the company has not tested any aftermarket triggers or other parts. The Galil ACEs I tested both had very long pulls that stacked up quickly to the 6-pound, 9-ounce average measured on both rifles, which showed in my shooting results.
A small selector lever is present on the receiver's right side in the familiar Galil location. This lever is positioned so that a right-handed shooter can actuate it with the right forefinger. We lefties are out of luck on that side, but the ACE's left-side selector was retained from the older model Galils. The positioning—just above the pistol grip—is best-situated for righties, but a left-handed shooter can either bring their firing thumb over to the left side or use the trigger finger to manipulate the selector. Neither technique is great, but I know from long years of carrying right-handed rifles in harm's way that you can become very proficient with these methods when needed. Still, a bit more ambidextrous design would be nice to see in this 21st-century upgrade. It's not just a lefty thing; sometimes tactics necessitate weak-hand shooting, particularly in urban environments.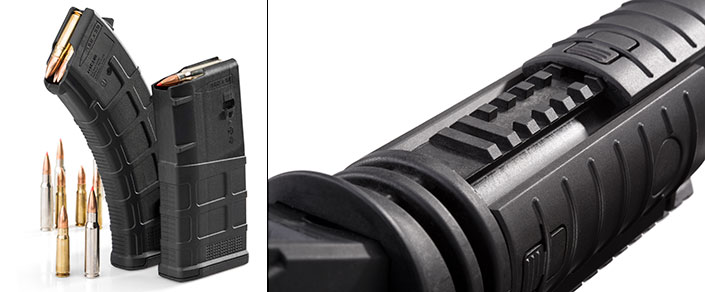 Both rifles fieldstrip just like any other member of the AK family. The main difference I found was that the return spring's guide-rod end protrudes through the rear of the receiver cover much farther than the small button on the back of a standard AK. This button locks very positively through the receiver cover and is a solid way to ensure the receiver cover stays in place. Traditional AK receiver covers are notorious for popping off when the rifle takes a hard hit or is in close proximity to a blast.
Because the rear of the Galil ACE's receiver and stock hinge are higher than the line of bore, inserting a cleaning rod from the breech will cause the rod to rub the top of the bore due to the angle of insertion, eventually wearing the barrel prematurely. I recommend instead cleaning these barrels from the muzzle rearward, taking care to avoid damaging their crowns when inserting the cleaning rod.
Fire-Proofing
These rifles are clearly intended for rough-and-tumble fighting roles, but I wanted to wring out their accuracy potential just the same. So, the first bit of shooting used a magnified riflescope and Shooting Illustrated's standard test protocol. The Galil ACE's fixed iron sights are sufficiently high that many one-piece scope mounts will not clear them. The rear sight is removable, but I wanted to leave it intact as designed, so I used an old backup scope mount that sits much higher than my normal rings. I also attached the snap-on cheekpiece to better align my shooting eye with the day scope. For close-in work, I brought a Meprolight Tru-Dot RDS Pro optic. As high as the fixed sights are, they do not co-witness with any of the red dot/reflex sights I have, so I planned to test the irons with no optics attached.
After cleaning and lubricating both rifles, I gathered three different ammo types per gun and headed out to see what they could do with me at the controls. Relatively lightweight bullets were chosen for testing the 7.62 NATO-chambered Galil ACE model, due to the odd choice of a 1:12-inch twist rate for that rifle's barrel.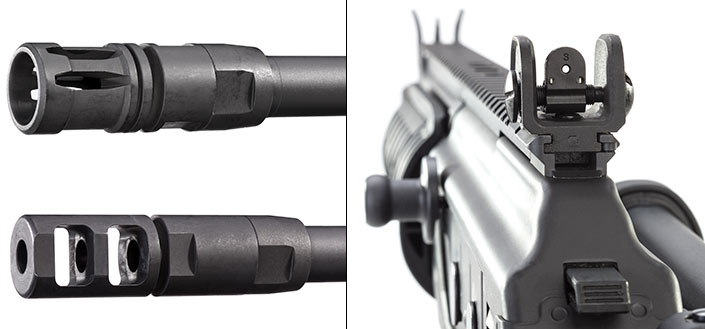 The 7.62x39 mm was first on the line and also presented me with my only functional problem. One of the loads I selected for this gun was Golden Tiger, steel-cased 123-grain FMJ-BT. This Russian-made ammo in this caliber is usually quite accurate, but the primers are notoriously hard to detonate reliably in anything other than AK-series rifles. Even my SKS will not pop them 100 percent of the time. I figured the Galil ACE's AK influence would help it digest this ammo, but unfortunately I had an 80-percent failure to fire rate using Golden Tiger. That is in no way the rifle's fault—this ammunition is just plain unreliable. After hand cycling through most of a dozen rounds to get my scope on paper, I dropped the problem ammo out of testing and moved on.
The 7.62x39 mm's recoil was understandably tamer than that of its big brother and was helped along by a synthetic rubber buffer installed on the return-spring guide. Trying to shoot groups with the long, stiff triggers was difficult with each rifle. They tended to shoot three shots in five in a respectably tight group with two shots typically going wide somewhere along the way. I attribute that to the triggers, or rather my manipulation of them. Neither of these rifles was a tack-driver in their current configurations. Fortunately, ALG Defense debuted a purpose-built trigger for the Galil ACE rifle and pistol platforms during the 2017 SHOT Show. I have not laid hands on one, but if it is anything like the company's AKT family of AK triggers, the new AGT will be worth every penny paid for the retrofit. Overall grouping tended to hover around 2 MOA, which is about what I expected considering their lineage and design. That is not quite up to par for DMR duties nowadays, but it is still well within what is required for a standard infantry-type carbine. As with so many out-of- box longarms I have evaluated, I am positive that better triggers would clean up these groups dramatically.
Missions in some environments necessitated keeping my rifles readily accessible, but still out of the way until needed. I usually slung one across my chest, cinched in tightly with the buttstock folded or collapsed. We trained to quickly bring our carbines to bear on close targets with our guns carried this way. It is difficult under the best circumstances, but a fast-deploying sling, good sighting system and well-designed (ergonomic) rifle allow a practiced shooter to make hits quickly.
I repeated this drill using the 7.62 NATO rifle, with an SOB Tactical B-Sling attached. The fast-deploying B-Sling did its part and the Galil ACE, with stock folded and Meprolight sight attached, never failed to register hits. 
Each rifle digested 100 rounds after initial zeroing and no malfunctions were noted beyond the bad ammo already mentioned. The 7.62 NATO model really put a hurtin' on its brass during the extraction and ejection processes. It was not quite at the Heckler & Koch/fluted-chamber level of damage, but it was almost universally banged up to the point of being non-reloadable. 
While time and exposure to other firearms have dulled the romanticism of my youthful battle-rifle dreams, I fully appreciate any gun that performs its core tasks with total reliability. You can train yourself to work with firearms that are not as ergonomically familiar (or friendly) as those you are used to. On several overseas tours, I carried heavily modified/butchered rifles that had lineages dating to the first half of the 20th century. They lacked several key features, but my teammates and I made them work. The Galil ACE is every bit a 21st-century redesign of a storied and battle-tested platform. Either of the ACEs I tested could fulfill the battle-rifle role with aplomb.