Most guys in college spend their time arguing over girls, the best parties and who pulled off the latest practical joke. Fortunately, Dan Coonan's recurring higher-education debate pitted his long-term love affair with the 1911 and its chambering against his roommate's insistence a .357 Mag. revolver was more formidable. Where their differing opinions finally met in a semi-automatic pistol is a fascinating tale of innovation, disappearance and resurrection. Coonan's pistol combined the battle-tested reliability of the 1911 with the power of the .357 Mag. The company's
Coonan Compact
.357 Mag. pistol, boasts the hybrid versatility Coonan devotees expect in a scaled-down version that's sure to catch the eye of any student of defensive handguns.

Petite size in a self-defense handgun is highly desirable, but is certainly not the most important attribute. While alluring choices abound in gun-store display cases, what captures glances and wins gunfights is a pistol possessing a mesmerizing myriad of qualities. Though there are plenty of semi-automatics out there vying for the attention of serious handgunners, diminutive semi-autos with perfectly proportioned subcompact frames can make pistoleros stumble all over themselves, and their reduced size make them the logical choice for everyday carry. However, other criteria—accuracy, effective terminal performance and felt recoil—play an equally important role for a self-defense handgun. 
Of the handful of manufacturers that manufacture semi-auto handguns in rimmed magnum chamberings, the Coonan Compact (and its predecessor) is the only one that boasts sleek lines and slender profile that will merit more than a passing glance from 1911 enthusiasts.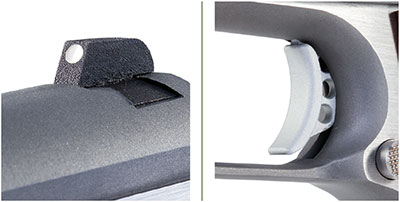 As the "Compact" in its name implies, two key components contributing to the pistol's concealability are its truncated grip and 4-inch barrel. At 7.8 inches overall, the Coonan Compact may be small, but what it lacks in size it makes up for with superb balance and its potent chambering. To accommodate the larger cartridge, its length and width are slightly larger, but are minute enough the difference in grip circumference relinquishes nothing pertaining to comfort and essential purchase.

The pistol's elongated magazine well accommodates a six-round magazine, beneath smooth black walnut grips. (For those who prefer sidearms that dress to impress, this beauty can easily transform from avant-garde to noir by selecting Coonan's svelte checkered-aluminum panels.) Though oversize when compared with grandaddy's warhorse, both choices are beveled and contoured, offering ergonomic enhancements in all the right places. The addition of a full-length dustcover provides a sense of continuity to the ensemble by allowing the pistol's lines to flow together, while the added weight beneath the barrel aids in mitigating felt recoil.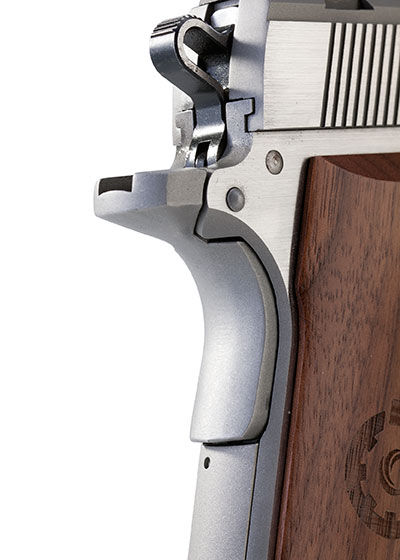 Several features of the Coonan Compact's frame promote an optimum firing grip, such as a flat mainspring housing and beavertail grip safety. The latter is built up to promote positive sear disengagement by placing the hand closer to the pistol's bore axis, lessening muzzle flip. Perhaps the Compact's most provocative feature is its revolver-style, hinged trigger, which boasts a wide, scooped shoe that boldly affirms the pistol's unique design. The marriage yields an ultracrisp let-off. But, how reliably would a rimmed case designed for revolvers function in a semi-automatic pistol?
The angle of the magazine's articulated follower fostered nearly flawless function. (Failures to feed were limited to DoubleTap's 125-grain load.) The follower's geometry allows each round to have a greater angle than the one above it, preventing case rims from contacting one another. The Compact's barrel has function-oriented refinements. Its linkless design features an oversize bottom lug, a single top lug and an extended hood that mitigates potential stovepipes. Interestingly, the pistol's biggest benefit proved to be something it lacked.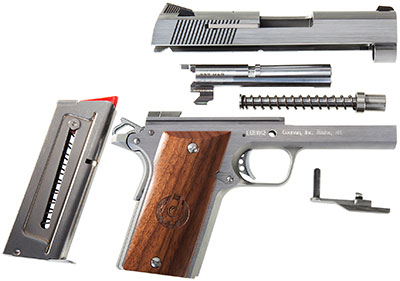 Most associate the .357 Mag. with harsh recoil, but not the Coonan—considering the Compact's short grip. Recoil aside, the pistol retains its muzzle blast—colossally so. The truncated magnum shared a penchant for DoubleTap 125-grain and American Eagle 158-grain fodder when it came to accuracy: Each load produced groups slightly larger than 2 inches at 25 yards. 
Blending the discretion of a mid-size 1911with the terminal performance of .357 Mag., the Coonan Compact provides an educational experience offering the best of both worlds.