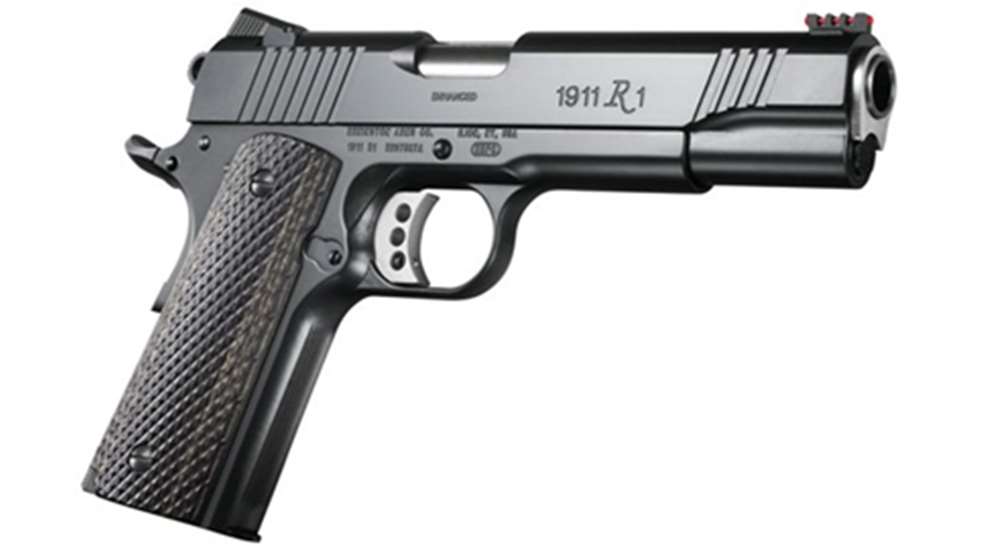 It's great when everything goes according to plan. We remember these events because they're rather rare. Such an event occurred recently when Remington invited a few writers to Gunsite Academy to introduce the company's enhanced version of its basic 1911. We opened the green boxes, briefly admired the handsome, upgraded-classic fighting handguns enclosed and prepared to shoot. After the initial classroom session with Range Master Bill Hughes, we headed for one of the outdoor ranges to see how much of a Gunsite five-day 250 class we could cram into our three days in the beautiful high country near Prescott, AZ. But our first look into that green box deserves some comment.
When Remington introduced the 1911 R1 in 2010, it was a pretty fair copy of an early Model 1911, meaning it was a very basic piece of hardware befitting the 100th anniversary of the old warhorse and celebrating the company's re-entry into the handgun business. The word "Enhanced" had me expecting an upgrade from the original model, but I was surprised and impressed by the extent and nature of the improvements. Starting at the bottom of the pistol, its eight-round magazines have bumper pads and the magazine well is gently beveled to ease and expedite reloads. The mainspring housing is checkered, and the checkering extends up about .25 inch onto the grip safety, covering its raised bump-like portion. Grip safety deactivation was 100-percent reliable with my normal shooting grip. This handgun contains the almost mandatory beavertail-contour grip safety and spur (or Commander-style) hammer seen on many modern 1911s.
Its grip panels appear quite thick, are made of alternately light- and dark-colored layers of wood and feature rather coarse, but aggressive, checkering. The combination of different colored wood layers creates an interesting variation in color pattern throughout the checkering. The magazine-release button is also large and has a dished-out section in the grip panel behind the button to facilitate easy access and fast magazine changes. With my short fingers, I had to shift my grip slightly to depress the button, but all reloads were quick and positive with magazines falling clear of the pistol every time. In addition, the gun has ambidextrous thumb safeties. Serrations are found at the front and rear of the slide, and while I almost always use rear serrations for loading and clearance drills, I like front serrations for chamber checks.
But it was the sights, both front and rear, that really caught my attention. Like most serious rear sights on 1911s, the one found on the R1 Enhanced is dovetail mounted, which allows windage adjustments. Upon closer examination, I realized although the rear sight on Remington's newest 1911 resembles other fixed sights on the market, it is actually adjustablefor elevation, too. On a concealed-carry, combat-oriented handgun, I always prefer the enhanced ruggedness of a fixed sight, but on this gun, I'm thinking Remington made the right choice. Once I started using the red fiber-optic front sight on the R1 Enhanced, I really began to like its front/rear sight combination. The fiber-optic does surrender some ruggedness, but the pipe is surrounded by metal. In bright light, the sight picture is the classic square, metal blade framed in a square rear notch—wide enough to permit some light on both sides of the blade. Yet, the red dot up front attracted my eye immediately after clearing the holster. I've never really mastered the flash sight picture necessary for serious speed, but at close range my eye was instantly on the red dot, and I was unaware of using the rear sight or obtaining a true sight picture.
As we increased the range to target, I did start to acquire a more traditional sight picture, but the red dot still dominated my vision, resulting in much faster times to first hits. Although the R1 Enhanced was sighted for 230-grain Remington FMJ and no adjustments were necessary, the ability to switch bullet weights and recalibrate your handgun is a nice feature. This is particularly true of the R1 Enhanced, since it just begs to compete in whatever event you're considering.
Initially, nobody cleaned any of the guns. In fact, we decided to see if we could get through 500 rounds without any cleaning or lubrication. At the end of the second day, the untouched guns were still running strong and we were ready for low-light drills.
By the time it was dark and we were ready to get serious, the ammo count was up around 450 rounds, each. With our flashlights, we could see the targets quite well from the various shooting positions Hughes demonstrated, but it was only when shooting from the neck-index position that we were lighting up our handgun sights in addition to the targets. It did make things easier in terms of vision, but more difficult in terms of having to shoot strong hand only. Still, the Remington R1 Enhanced could be controlled from this position, despite slower shot-to-shot recovery times.
At some point during the low-light exercise (between 450 and 500 rounds), I experienced my first hiccup—or so I thought. When I pulled the trigger and nothing happened, I immediately initiated a tap-rack drill and realized I ran the gun dry and the slide had locked back. A quick reload put me back in action. A couple of magazines later, I had a repeat of the incident. This time a tap-rack cleared the gun without a reload and I was blazing away again.
Two reasons Gunsite teaches clearing a stoppage without looking are you can't see what's wrong when it's dark, and you don't have time for detailed analysis when you're in a gunfight. You could cure the darkness problem by shining a flashlight on your firearm, but that tends to amplify the second issue.
I almost made it through 500 rounds without performing any maintenance on the new R1, and while I don't know whether most of the credit should go to the gun or the plated Remington 230-grain ammo, I was impressed with both.
The final event was the Donga. This training exercise involves walking along the bottom of a sandy arroyo and taking out a gang of "bad guy" steel targets. With the previous night's dose of lubricant, the R1 Enhanced gallantly soldiered on, downing the outlaws with one shot each.
Following the event at Gunsite, only two tests remained for the R1 Enhanced, specifically accuracy testing and chronographing velocities. With a target at 25 yards, the chronograph 10 feet from the muzzle and an extremely crisp 5-pound trigger pull that felt even lighter, the enhanced Remington produced some good groups. When I mixed four different loads in one magazine, all 12 shots landed in a group smaller than 4 inches.
I made two minor adjustments during the three days at Gunsite. First, early in day one I switched from a leather holster to a polymer model due to a couple of sharp edges on the pistol's front sight that inflicted some cuts on my discontinued Galco Gunsite training holster. Second, I put a Band-Aid on the heel of my shooting hand to protect a sensitive spot from being rubbed by the handgun's checkered grip panels. This was done late in day two, when I had fired approximately 400 rounds.
I suspect Remington will offer additional 1911s with different features, but as a general-purpose 1911 suitable for many occasions, I think the company got the R1 Enhanced just right. Its only mistake was not having more writers present for an outstanding debut.